Essential Guide
Complete guide to backup deduplication
A comprehensive collection of articles, videos and more, hand-picked by our editors
Q
Dedupe tools available today
Brien Posey discusses who is using deduplicating disk arrays today and the latest dedupe tools in this Expert Answer.
FROM THE ESSENTIAL GUIDE:
Who is using deduplicating disk arrays today and what are the latest dedupe tools in that space?
Deduplication arrays tend to be marketed toward enterprise-class organizations. Many of the deduplication array tools that are currently on the market are specifically designed for enterprise-class workloads. Such devices may be able to process several TB of data each hour and have capacities measured in PB. Needless to say, this type of scalability is overkill for the SMB market. Furthermore, deduplication arrays usually also come at a price point that is beyond the reach of all but the largest organizations.

Download this free guide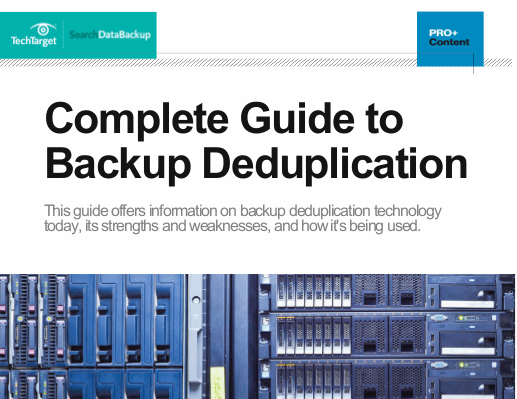 Free Download: Complete guide to backup deduplication
Access all of the 31 articles in our Data Deduplication Essential Guide by downloading our comprehensive PDF version so that you can access all of this expert content in one, easy-to-read resource.
By submitting your email address, you agree to receive emails regarding relevant topic offers from TechTarget and its partners. You can withdraw your consent at any time. Contact TechTarget at 275 Grove Street, Newton, MA.
You also agree that your personal information may be transferred and processed in the United States, and that you have read and agree to the Terms of Use and the Privacy Policy.

Probably the biggest development in dedupe tools is that of deduplication acceleration. Deduplication acceleration is based on the principle of workload distribution. Rather than allowing a single device to handle the full burden of the backup deduplication workload, the workload is distributed across multiple devices and can therefore be performed more quickly thanks to parallel processing.
One of the problems with deduplication arrays has always been that they work great in single-tier environments but not so well with backup architectures that rely on multiple storage tiers. Tiered backup-and-archiving systems typically move data from one storage tier to the next as the data ages. For example, an organization might store its freshest backup data on spinning disks but move aging backup data to tape or to cloud storage.
Moving deduplicated data from one storage tier to another typically requires the data to be rehydrated prior to the move. Deduplication accelerators make it possible to move deduplicated data among storage tiers without the need for rehydration.
PRO+
Content
Find more PRO+ content and other member only offers, here.
Browser malware can make it impossible to access websites you might need for work. Luckily, there's a simple way IT and end users can get rid of ...continue reading
There are four common execution policies IT administrators can choose from to secure PowerShell against malicious attacks. Figure out which one is ...continue reading
If you're looking to get away from nightly tape backups, and want to replicate data to various types of storage media, a continuous data protection ...continue reading
Have a question for an expert?
Please add a title for your question
Get answers from a TechTarget expert on whatever's puzzling you.