Essential Guide
Develop copy management systems for streamlined production
A comprehensive collection of articles, videos and more, hand-picked by our editors
Q
Evaluate
Weigh the pros and cons of technologies, products and projects you are considering.
How copy data management differs from traditional backup
Independent backup expert Brien Posey discusses what the term 'copy data management' means and how it differs from traditional backup.
FROM THE ESSENTIAL GUIDE:
What is copy data management, and how does it differ from traditional backup?
Copy data management is one of those terms that seem to mean different things to different people. Generally speaking however, it refers to an approach to data protection that reduces storage consumption while making the data easier to use.

Download this free guide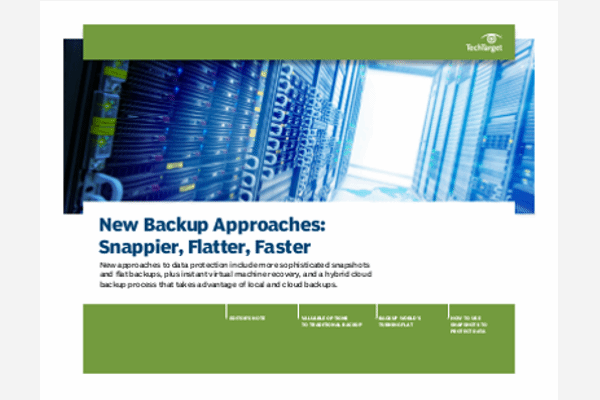 Drill down into today's new backup approaches
Due to the features of most modern backup software – which include snapshot management, DR elements, cloud support, VM protection – backups can do so much more than simply restoring data in the event of a storage or server failure. Download this guide and not only discover the latest upgrades to today's top enterprise backup vendors, but also learn where backup software works best in your computing environment.
By submitting your personal information, you agree that TechTarget and its partners may contact you regarding relevant content, products and special offers.
You also agree that your personal information may be transferred and processed in the United States, and that you have read and agree to the Terms of Use and the Privacy Policy.
The reduction in storage consumption is based on the fact that organizations often store redundant copies of their data. For example, an organization might back up its primary data to a backup server, then restore a portion of that data to a lab server that is to be used for testing or development purposes. In this example, the data set is being stored three times.
Copy data management seeks to reduce the number of copies to two -- the primary data and the backup copy. When additional data copies are required, an underlying snapshot mechanism is used to create a virtual copy of the data. In reality, no additional copies of the data are ever created. Instead, the software creates a read/write differencing disk (or a similar mechanism) that has a parent-child relationship with the backup copy of the data.
The benefit to this approach is that the data can be used on an as-needed basis without the organization having to worry about someone accidentally modifying the contents of the backup. Write operations are directed to the differencing disk, never to the actual backup copy of the data. In a development or test environment, this means that the environment can be based on an exact replica of the organization's production data, but without unnecessary storage space being consumed.
A number of vendors offer copy data management features. Some refer to this technology as copy data management or copy data virtualization. Other vendors refer to the technology as a virtual lab. In any case, the technology is becoming much more common.
PRO+
Content
Find more PRO+ content and other member only offers, here.
There are many factors to consider when building a private cloud, so planning is crucial. Policy changes and hardware choices are just some ...continue reading
When companies choose a private cloud storage provider, it's important that they understand what the internal IT department is responsible for, as ...continue reading
It might be effective, but Windows Firewall is not the be-all and end-all of security. In some cases, third-party firewalls add the extra layer of ...continue reading
Have a question for an expert?
Please add a title for your question
Get answers from a TechTarget expert on whatever's puzzling you.