Definition
LTO-2 (Linear Tape-Open 2)
LTO-2 is the second tape format from the Linear Tape-Open (LTO) Consortium. It followed the initial LTO-1 version in 2000 and was succeeded by LTO-3 in 2005.

Download this free guide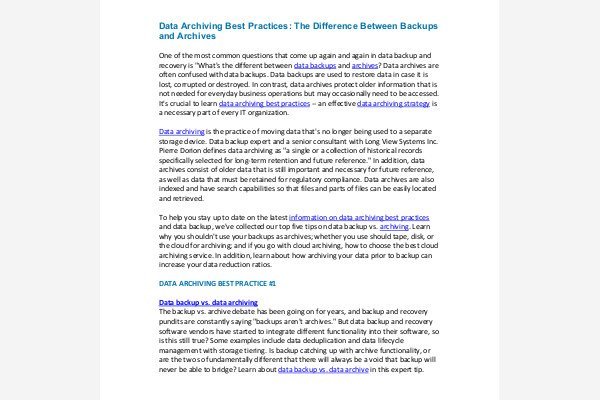 Archive vs. Backup and Why You Need to Know the Difference
Differentiating data backups from archives is one of the most common questions among IT pros when it comes to data recovery. Download this invaluable guide to discover why you need to know the difference between the two, and for important tips and best practices on building or refining the best data archiving strategy for your organization.
By submitting your personal information, you agree that TechTarget and its partners may contact you regarding relevant content, products and special offers.
You also agree that your personal information may be transferred and processed in the United States, and that you have read and agree to the Terms of Use and the Privacy Policy.
The Consortium released LTO-4 in 2007, LTO-5 in 2010 and LTO-6 in 2012. The LTO-7, LTO-8, LTO-9 and LTO-10 tape formats are on the drawing board, but not yet available as of September 2015.
Released in 2002, LTO-2 doubled the speed and capacity of LTO-1. It offered 200 gigabytes (GB) native capacity (400 GB compressed). Throughput was increased to 40 megabytes per second (MBps) or 80 MBps compressed.
Previous LTO specs
LTO-1, with 100 GB native capacity (200 GB compressed) and a native transfer speed of 20 MBps (40 MBps compressed), was the first LTO magnetic tape to serve as an open standard substitute to the available formats of the day.
LTO-2, LTO-3 and LTO-4 each doubled native capacity and data transfer rates, bringing the LTO-4 version to 800 GB native capacity or 1.6 terabytes (TB) compressed, and a transfer rate of 120 MBps (240 MBps compressed). LTO-3 was the first LTO format to feature write once, read many (WORM) technology, while LTO-4 offered 256-bit Advanced Encryption Standard-Galois Counter Mode drive-level encryption.
LTO-5 boosted native capacity to 1.5 TB (3 TB compressed) and data transfer rates up to 140 MBps (320 MBps compressed).
LTO-6 features 2.5 TB native capacity (6.25 TB compressed) with native throughput as high as 160 MBps (400 MBps compressed).
Future LTO formats and specifications
The Consortium also has LTO-7, LTO-8, LTO-9 and LTO-10 tape formats in its roadmap, but none of them have been released as of September 2015. The projected specifications for each format are as follows:
LTO-7: 6.4 TB native capacity (16 TB compressed) and native throughput of 315 MBps (788 MBps compressed).
LTO-8: 12.8 TB native capacity (32 TB compressed) and native throughput of 472 MBps (1,180 MBps compressed).
LTO-9: 26 TB native capacity (62.5 TB compressed) and native throughput of 708 MBps (1,770 MBps compressed).
LTO-10: 48 TB native capacity (120 TB compressed) and native throughput of 1,100 MBps (2,750 MBps compressed).
Continue Reading About LTO-2 (Linear Tape-Open 2)
Dig Deeper on Tape backup and tape libraries
PRO+
Content
Find more PRO+ content and other member only offers, here.