Definition
serverless backup
Serverless backup is a method of offloading backup procedures from a production server so that the time ordinarily devoted to backup functions can be used to carry out other server tasks. Ordinarily, the amount of time a production server can devote to processing requests from applications is limited by the backup window -- the amount of time reserved for data backup.

Download this free guide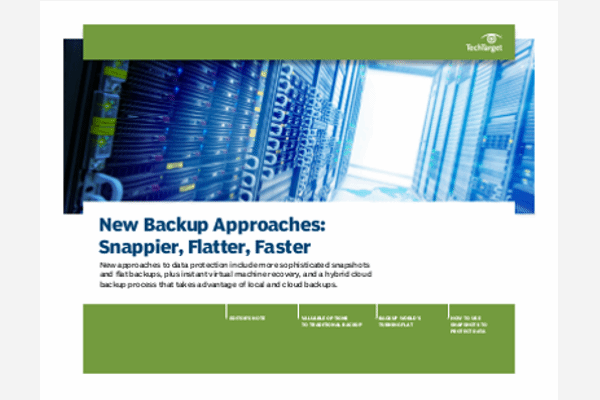 Drill down into today's new backup approaches
Due to the features of most modern backup software – which include snapshot management, DR elements, cloud support, VM protection – backups can do so much more than simply restoring data in the event of a storage or server failure. Download this guide and not only discover the latest upgrades to today's top enterprise backup vendors, but also learn where backup software works best in your computing environment.
Serverless backup is a storage area network (SAN) implementation designed to lower hardware costs and to improve time-effectiveness, scalability and fault tolerance. This process is achieved through the use of a data mover appliance, which can be an actual physical device or a software function in a larger storage management product.
A number of companies offer serverless backup products, including Arcserve with its Arcserve Unified Data Protection (UDP), Dell EMC and its NetWorker software and Veritas Technologies' NetBackup appliances. Specifically serving the medical data market is a joint effort between Meditech and BridgeHead Software, based on the integrated serverless backup (ISB) protocol introduced in 2002. The Meditech ISB protocol defines how data can be backed up without having any impact on the mission-critical production servers in a Meditech system used in a healthcare organization.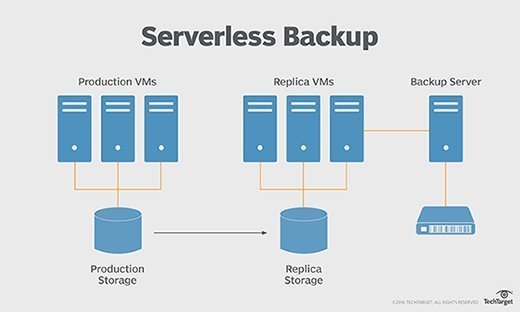 Serverless backup enables disk-to-tape or disk-to-disk backup without having to rely on server resources or network bandwidth.
The CA and Veritas products are based on a process known as disk imaging. These applications use an intelligent agent to make a snapshot copy of pointers to the data. The snapshot copy consists of an image of the pointers, which indicate the location of the data, but is not yet a backup of the data itself. The actual backup still needs to happen, based on the snapshot. The intelligent agent and backup procedures communicate through the Network Data Management Protocol (NDMP).
The Dell EMC serverless backup function has become part of the NetWorker software, based on technology EMC received from its acquisition of Legato Systems in 2003. Proprietary software within the hardware platform is used to mark logical backup objects and to back up data on the list.
Another method of performing a serverless backup is via XCOPY, the extended copy function within SCSI. In this case, the server initiates and manages the backup, but is not involved in actually backing up the data. The SCSI XCOPY command simply tells the data to replicate from one device or location to another.
Continue Reading About serverless backup
PRO+
Content
Find more PRO+ content and other member only offers, here.