Definition
source deduplication
Source deduplication is the removal of redundancies from data before transmission to the backup target.
Data Archiving 101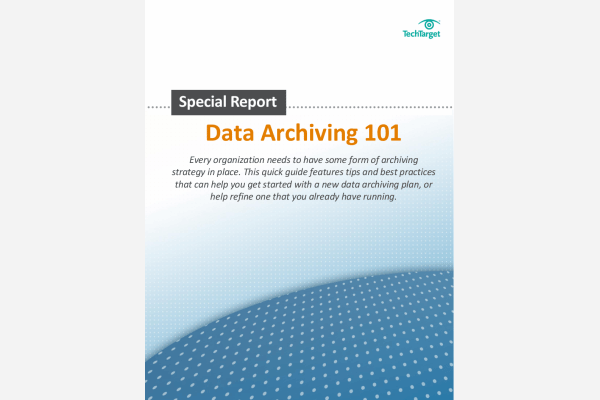 A comprehensive storage strategy and approach to data retention includes processes for backup, recovery, and protection – but also for archiving. This quick guide features tips and best practices that can help you get started with a new data archiving plan, or help refine one that you already have running.
By submitting your email address, you agree to receive emails regarding relevant topic offers from TechTarget and its partners. You can withdraw your consent at any time. Contact TechTarget at 275 Grove Street, Newton, MA.
You also agree that your personal information may be transferred and processed in the United States, and that you have read and agree to the Terms of Use and the Privacy Policy.

Source deduplication products offer a number of benefits, including reduced bandwidth and storage usage. No additional hardware is required to back up to a remote site and many source deduplication products also support automation for offsite copies. On the other hand, the source-based method can be slower than target deduplication, especially for large (multiple terabyte) amounts of data. Because of the increased workload on servers, overall backup times may increase
Source deduplication works through client software that communicates with the backup server to compare new blocks of data with previously stored blocks of data. If the server has previously stored a block of data, the software does not send that block and instead notes that there is a copy of that block of data at that client. If a previous version of a file has already been backed up, the software will compare files and back up any parts of the file it hasn't seen. Source deduplication is well suited for backing up smaller remote backup sets.
This was first published in
August 2010
Continue Reading About source deduplication
Dig Deeper on Data reduction and deduplication
PRO+
Content
Find more PRO+ content and other member only offers, here.