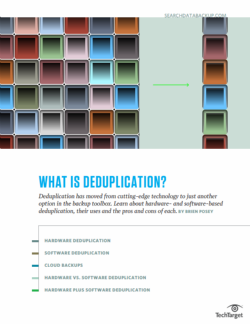 Overview
Deduplication technology is mature and there are a variety of options available depending on your organization's specific needs. This e-book compares hardware- and software-based deduplication, source and target deduplication, global deduplication and things to consider about how dedupe is performed to help readers make the right dedupe decisions for their organization.
About the Author
Brien Posey
Brien M. Posey, MCSE, has previously received Microsoft's MVP ... Read More
Chapters Available For Free Access
More Premium Content Accessible For Free
E-Handbook

Remote backup of data on endpoint devices like laptops and smart phones is a challenge for IT staffs. Because these devices are often disconnected ...

E-Handbook

IT pros continue to move away from tape for backup, opting instead for backup to disk. And users performing disk-based backup have a number of ...

E-Handbook

Technologies that have traditionally been managed separately are increasingly becoming integrated into the backup process. Two of these technologies,...