Evaluate
Weigh the pros and cons of technologies, products and projects you are considering.
Modernizing data protection and disaster recovery technology
Data protection and disaster recovery have changed a lot in the past few years. If it's time to update your organization's data protection and disaster recovery technologies, our guide can help.
Introduction
We have never been more dependent on our data than we are today, period. Just as important, we are dependent on all of our data -- regardless of where it resides. It wasn't that many years ago that a vast majority of our business data was all conveniently stored within the data center, where full-time backup administrators ensured its protection. Those days are over. While a significant amount of data still resides within the data center, platforms are diversifying and data is starting to live outside the traditional purview of IT.

Download this free guide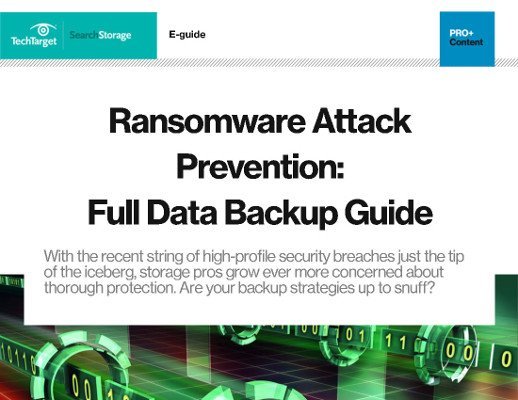 SearchStorage experts combat ransomware in this comprehensive backup guide
Download our editors' ransomware guide, in which you'll discover the full value of mature DRaaS, blockchain technology, and copy data management techniques in detecting and fighting the scourge of ransomware. Additionally, we review backup tools from Acronis and Unitrends used for ransomware protection.
By submitting your personal information, you agree that TechTarget and its partners may contact you regarding relevant content, products and special offers.
You also agree that your personal information may be transferred and processed in the United States, and that you have read and agree to the Terms of Use and the Privacy Policy.
1

21st-century data protection

-
Dealing with data growth and decentralization
Learn about the challenges associated with data protection and disaster recovery today and the technologies available to address these issues.
Feature
Completing backups of data within a reasonable time frame has increasingly become an issue for organizations. And in the event of an outage, restores are an even bigger issue. Some organizations today are opting for alternatives to traditional backup in order to address these challenges. Continue Reading
Feature
Today's workforce is increasingly mobile and BYOD has taken hold in many organizations. The use of a variety of devices not directly connected to a local network is a challenge for IT staffs tasked with protecting data on those devices. Learn about what's available today to address these challenges. Continue Reading
Feature
This piece looks at how the cloud factors into disaster recovery planning today with information about "recovery-in-place" technologies, as well as data protection for critical data created in the cloud. Continue Reading