Evaluate
Weigh the pros and cons of technologies, products and projects you are considering.
Why a tape backup system is still a good storage option
Tape backup isn't going anywhere just yet. Get the rundown on current use cases for tape, accompanying technologies and vendor updates in this essential guide.
Introduction
Contrary to what disk vendors may tell you, tape backup technology is not outdated. Tape libraries just recently made headlines as the data backup method of choice for the 2016 Rio Olympics. A tape backup system is still a data protection staple, and recent innovations have made it more of an asset, and even brought some defectors back into the fold.
One of tape's major strengths has always been cost. When compared to flash or disk, there's no competition concerning price. But the prevalence of tape in storage is also dependent on the technology's reliability, resilience and evolution.
Tape storage technology has kept up with ever-changing backup requirements. Data is growing exponentially, and increased capacities have made tape a dependable option for tackling big data. When it comes to moving large amounts of data, transporting tape is faster and less expensive than transporting data over a network.
Previously, accessibility led some organizations to use tape primarily for cold storage, since it may have taken more time to retrieve archived data. However, with the linear tape file system (LTFS), data on a tape can be organized and indexed for quicker access. Likewise, active archiving products can help facilitate data collection.
While some users find the cloud to be an adequate replacement, the technology is not going anywhere just yet. Some observers believe the advent of cloud storage has only emphasized the importance of having a reliable tape backup system on hand.
Explore the links below to review the latest news and expert advice on tape backup systems. When you're done, make sure to test what you have learned with our tape backup quiz.
1

It's alive!

-
The case for tape
Tape backup may be seen as outdated, but its longevity in the data storage industry is in large part due to its reliability over other, newer forms of backup.
2

Innovation

-
Tape backup advancements
Along with reliability, tape's evolving nature has kept it a storage staple. Explore how vendors are keeping tape backup fresh as data continues to grow.

Download this free guide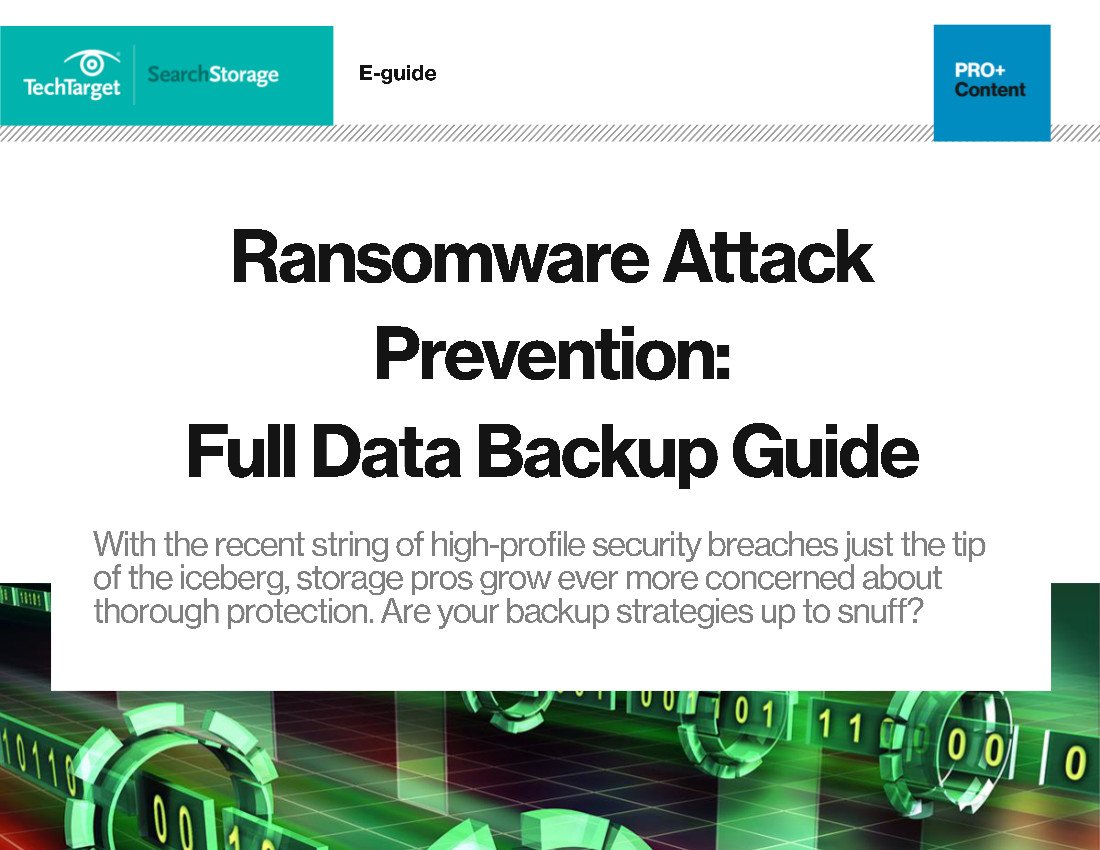 Protect Against Ransomware with Comprehensive Backup and Recovery
Download this handbook to learn how to prepare your backup system to handle the mounting ransomware threat. Inside, you'll discover the importance of adopting canary files for quick infection alerts, as well as the individual merits of using a cloud-based DR to repair selective files or folders versus full enterprise file sync-and –share, and more.
By submitting your personal information, you agree that TechTarget and its partners may contact you regarding relevant content, products and special offers.
You also agree that your personal information may be transferred and processed in the United States, and that you have read and agree to the Terms of Use and the Privacy Policy.
3

Tape buddies

-
Tape and other technologies
Tape backup systems are resilient and reliable, but that doesn't mean they need to do the job alone. Learn which other technologies can be used alongside tape backups to take them that extra mile.
4

Glossary

-
Essential definitions
Whether you're learning something new or just getting a refresher, here are some of the key terms surrounding tape backup.
5

Quiz

-
Test your knowledge
You've read the guide, now see what you have retained with our tape backup system quiz.
Take This Quiz