Advanced Backup School: Quiz for Lessons 1-3
Test yourself after you take Lessons 1-3 of our Advanced Backup School.
This Article Covers
RELATED TOPICS
Looking for something else?

Now that you've attended the webcasts for Lesson 1, Lesson 2 and Lesson 3 of our Advanced Backup School, take the quiz below to test your knowledge. To check if you answered correctly, hover your mouse cursor over the word 'Answer' in red text. Good luck!


Download this free guide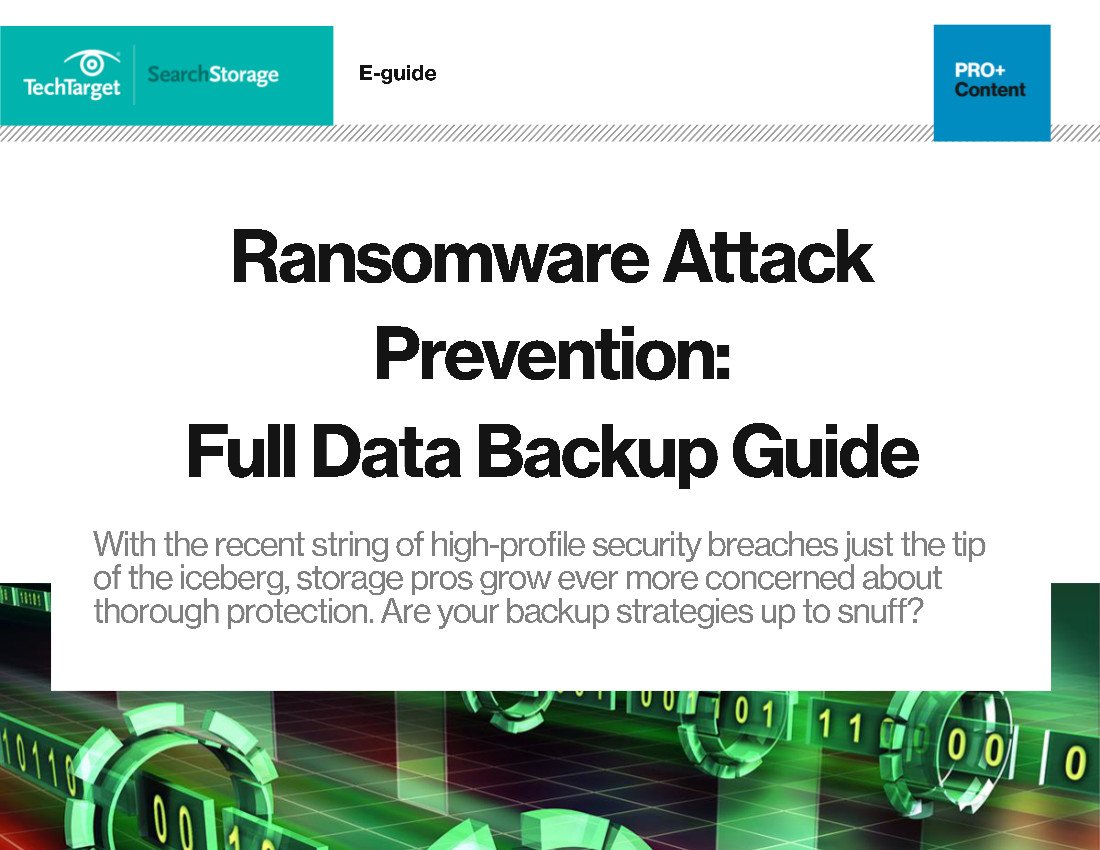 Protect Against Ransomware with Comprehensive Backup and Recovery
Download this handbook to learn how to prepare your backup system to handle the mounting ransomware threat. Inside, you'll discover the importance of adopting canary files for quick infection alerts, as well as the individual merits of using a cloud-based DR to repair selective files or folders versus full enterprise file sync-and –share, and more.
By submitting your personal information, you agree that TechTarget and its partners may contact you regarding relevant content, products and special offers.
You also agree that your personal information may be transferred and processed in the United States, and that you have read and agree to the Terms of Use and the Privacy Policy.
| | |
| --- | --- |
| ADVANCED BACKUP SCHOOL HITS THE ROAD! | |
Would you like to see this webcast series in person? Join W. Curtis Preston when Advanced Backup School Hits the Road -- coming to a city near you. This FREE one day seminar can help you formulate a backup plan for any size shop. You'll come away with strategies and tools that you can begin using in your storage strategy immediately.


Click for a full agenda, tour dates and an application for this FREE can't miss event
TO SEE THE CORRECT RESPONSE, HOVER YOUR MOUSE CURSOR OVER THE WORD "ANSWER"
| | |
| --- | --- |
| Q1: | According to W. Curtis Preston what can hamper your tape backup and restores? |


Too much tape drive power




Incremental backups




Multiplexing




Multistreaming




ANSWER

| | | |
| --- | --- | --- |
| Q2: | | You can increase your tape throughput by REMOVING tape drives? |


True




False




ANSWER

| | | |
| --- | --- | --- |
| Q3: | | When factoring the price of tape you must also consider: |


Drives




Slots




Media




All of the above




ANSWER

| | | |
| --- | --- | --- |
| Q4: | | Which step can help you best determine the amount of multiplexing stream groups for your environment? |


Create a custom configuration for each backup environment




Use include lists




Determine compression ratio




Installing disk-based backup




ANSWER

| | | |
| --- | --- | --- |
| Q5: | | How can you determine how fast a multistream should be? |


This is typically based on the multiplexing setting




Knowing how many backup jobs you have




Counting tape drives




Both the first and second choices




None of the above




ANSWER

| | | |
| --- | --- | --- |
| Q6: | | According to W. Curtis Preston, FEWER backups mean: |


More successful backups




More cost




More difficult restores




More data lost




ANSWER



An insect repellant




Disk-to-disk-to-tape




A new Arnold Schwarzenegger movie




I have no idea




ANSWER

| | | |
| --- | --- | --- |
| Q8: | | In a D2D2T environment how can you connect to the backup servers? |


Fibre Channel




NFS or CIFS




GbE




All of the above




None of the above




ANSWER

| | | |
| --- | --- | --- |
| Q9: | | What is the biggest issue W. Curtis Preston sees with using file systems for backup? |


Too expensive




Hard to restore from




Provisioning and sharing




Management




ANSWER

| | | |
| --- | --- | --- |
| Q10: | | According to Curtis, sending your original tapes off-site to be archived is? |


A good idea, better than nothing




A very bad idea, you must copy your original tapes




Cost effective




A solid recovery plan




ANSWER

ABOUT THE AUTHOR:
Return to the top of the page

W. Curtis Preston is the Vice President of Data Protection Services at GlassHouse Technologies . He authored Using SANs and NAS and Unix Backup and Recovery, the seminal O'Reilly book on backup. He has been designing storage systems for more than 10 years and has designed systems for environments ranging from backup systems for small businesses to enterprise storage systems for Fortune 100 companies. His passion for backup and recovery began with managing the data growth of a 24x7, mission-critical environment. Since that time, Preston has been able to help many companies design resilient storage systems, and his client list includes many Fortune 100 and Fortune 500 companies. Copyright 2005 TechTarget
Dig Deeper on Tape backup and tape libraries
PRO+
Content
Find more PRO+ content and other member only offers, here.