Essential Guide
Best data storage products 2013: Products of the Year
A comprehensive collection of articles, videos and more, hand-picked by our editors
Asigra Inc. Cloud Backup Version 12.2 with Recovery License Model
The latest version of Asigra's software bills customers based on the amount of data they recover rather than on how much they back up.
FROM THE ESSENTIAL GUIDE:
Asigra Cloud Backup version 12.2 offers backup across physical, virtual and cloud environments. With version 12.2, Asigra Inc. unveiled a new pricing model that bills customers based on the amount of data they recover rather than on how much they back up.

Download this free guide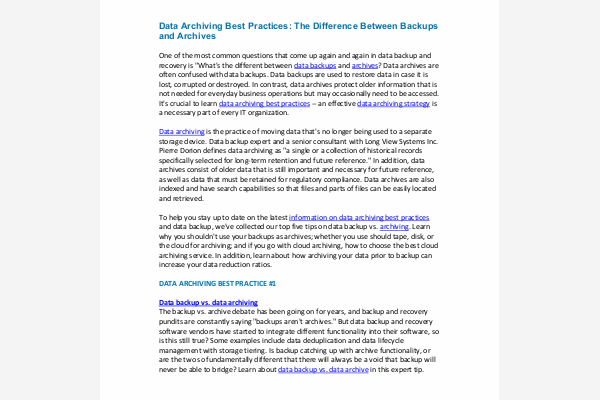 FAQs: Data backup and archiving
What's the difference between data backups and archives? Can tapes be used for archives? Should I use disk for archives? In this free guide, the experts from SearchDataBackup.com answer these common, but nevertheless important questions to help you construct the right data protection strategy for your organization.
By submitting your personal information, you agree that TechTarget and its partners may contact you regarding relevant content, products and special offers.
You also agree that your personal information may be transferred and processed in the United States, and that you have read and agree to the Terms of Use and the Privacy Policy.

The cost for backup is fixed at $0.166 per gigabyte (GB) per month and recovery billing is based on a sliding scale. The higher the percentage of data recovered, the higher the per-GB cost. The highest rate is $0.50 per GB per month for customers who recovered 25% of their data over the previous six months. This cap keeps fees from escalating if a customer needs to restore a large amount of data in a short period of time. An analytics engine monitors recoveries, tracking how many are performed, the amount of data recovered and the source of data losses.
Version 12.2 of Asigra Cloud Backup also offers cloud-to-cloud backup for Google Apps, single-pass backup for Microsoft Exchange and SharePoint, and VMware VDR enhancements for failover/failback.
One judge said "from a feature function basis, version 12.2 [of Asigra Cloud Backup] does not add a lot, but from a business model perspective, it is a paradigm shift."
PRO+
Content
Find more PRO+ content and other member only offers, here.