Evaluate
Weigh the pros and cons of technologies, products and projects you are considering.
The future for VMware's vStorage APIs for Data Protection looks promising
VMware's vStorage APIs for Data Protection offer a lot of new features that outweigh the benefits of VCB, so it's predicted to take the place of VCB in virtual server environments.
This Article Covers
RELATED TOPICS
Looking for something else?
VMware Inc.'s latest release, vSphere 4.0, offers the vStorage APIs for Data Protection, which were added to vSphere 4.0 to improve the efficiency of data backups. Eric Siebert, an IT industry expert focusing on virtualization and author of the website VMware-land.com, discusses vStorage APIs in this Q&A. His answers are also available as an MP3 below.

Download this free guide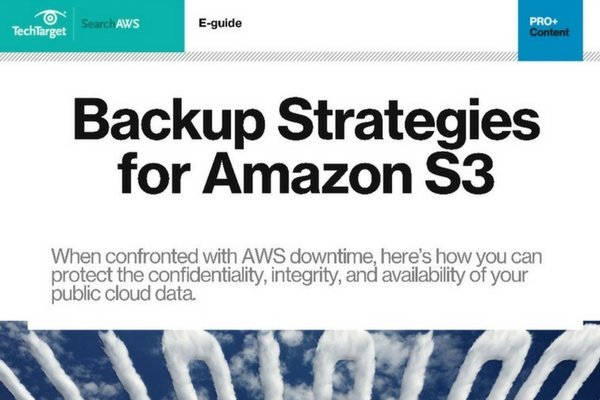 Amazon S3 in the spotlight: Your 34-page backup guide
In this guide curated by the SearchAWS.com editors, you'll evaluate and overcome the DR tradeoffs associated with Amazon S3, with guidance on solidifying an AWS backup plan and securing S3 buckets. Download your copy now.

By submitting your personal information, you agree that TechTarget and its partners may contact you regarding relevant content, products and special offers.

You also agree that your personal information may be transferred and processed in the United States, and that you have read and agree to the Terms of Use and the Privacy Policy.

Listen to the vStorage APIs for Data Protection FAQ

Table of contents:

>> What are the main features of VMware vStorage APIs for Data Protection?
>> How is VMware vStorage APIs for Data Protection different from VMware Consolidated Backup and other virtual machine backups?
>> What are the benefits of using APIs in your data backup environment?
>> Are there any cons to using vStorage APIs?
>> Are there any things that you need to look out for or keep in mind when using vStorage APIs?
>> What does the future look like for vSphere?

What is VMware vStorage APIs for Data Protection? What are its main features?

The vStorage APIs for Data Protection are new in vSphere. They consist of a group of sub-APIs that are the vStorage APIs for array integration for multitasking, Site Recovery Managers and data protection. vStorage APIs for Data Protection are particularly valuable to data backup and replication applications. The VCB model has to access virtual machine (VM) data through a proxy server to get to the data, but vStorage APIs allow direct integration with vSphere so you can access the data directory without going through a third party.

There are also a lot of new features in vStorage APIs for Data Protection. Changed Block Tracking (CBT) is one significant feature in vStorage APIs because it allows the VMkernel to track the disk blocks that change. So a backup or replication application that wants to see what has changed since the last backup or replication simply queries the vStorage APIs for Data Protection to find out exactly what blocks have changed. The VMkernel keeps track of that, so it quickly provides the blocks that need to be backed up in incremental backups. That itself greatly improves the time of incremental backups and replication.

There are some other features in the vStorage APIs for Data Protection that allow for things like directly accessing disk and for hot adding disk, which can both increase the efficiency of backup applications.

How is this different from VMware Consolidated Backup and other virtual machine backups? Will this eventually outrun VCB?

The vStorage APIs are basically the successor to VMware Consolidated Backup, so they will replace VCB. VCB is an application that VMware developed for VI3. It allows a middleware proxy server for backup applications to access virtual machine data without going through traditional methods of using an operating system (OS) agent. Basically, VCB allows the backup application to go through this proxy to get the virtualization layer, which is different from the traditional methods. The vStorage APIs replace the VCB method and this is more efficient because you no longer have to go through another layer to get directly to the virtualization layer. The APIs allow for direct integration into the virtualization layer without going through that VCB proxy that you previously had to go through. This allows for a much easier and efficient data backup integration. Most of the backup vendors today have already switched over to vStorage APIs. They still support VCB, but VCB will eventually go away and the vStorage APIs will be the best method for accessing data from backup applications.

What are the benefits of using APIs in your data backup environment?

The main benefits of using APIs in your data backup environment are that you get direct integration. You don't actually have to go through other layers or other methods to get to the data that's inside the virtualization layer. The APIs allow for the backup vendors that write the applications to directly interface with the virtualization layer and to make calls and queries to that layer to access the virtual disks. The vStorage APIs offer several benefits over other virtual machine backup methods. It takes out extra layers that exist from some of the unconventional methods some people use to get to a virtualization layer, and it allows the backup applications to directly interface with vSphere without going through another application or utility.

Are there any cons to using vStorage APIs?

Not really. The vStorage APIs are very beneficial and a big improvement over VCB. There aren't really any cons for those who are switching to the vStorage APIs -- it's mostly all positive stuff.

Are there any things that you need to look out for or keep in mind when using vStorage APIs?

The vStorage APIs are particular to certain vendor integrations, so you need to watch out for that. For example, with the Site Recovery Manager (SRM) APIs, each vendor has to develop their own site recovery adapter that's specific, and has to be approved by VMware to be included in vStorage APIs. So, each vendor for some of the vStorage APIs has to develop their own type of integration and get it approved by VMware. In other words, you need to make sure that the vendor that you're dealing with has an approved integration from VMware to access what they're trying to get to at the vStorage APIs.

For the vStorage Data Protection APIs, there aren't any major things you need to keep in mind. As I mentioned earlier, the Change Block Tracking feature is probably one of the biggest things used in the Data Protection APIs, and that feature is more universal. Any backup vendor can make a call to that VMkernel and get the blocked changed data. But make sure you check with your vendor. Different vendors offer different support for vStorage APIs. For example, some vendors like Veeam are fully integrated and use all the available capabilities of vStorage APIs for Data Protection. Other vendors have been slower and integrated their products to take full advantage of only some of the features offered. So when looking up vendors you might want to check out their level of integration with APIs and see if they're taking advantage of all of its features.

What does the future look like for vSphere?

It looks great. VMware has put a lot of effort into improving their product and staying ahead of the competition by adding all sorts of features, specifically for the vStorage APIs. The next release of vStorage APIs is based on array integration that allows for storage hardware to offload some of the paths that are normally handled inside of the VMkernel. The next release will allow for a lot of vStorage APIs for integration to emerge and be available for use. A lot of operations that are time consuming on the VMkernel will be offloaded to storage and be a little more efficient.

Overall, VMware is doing a good job of improving all areas of its product, especially when it comes to automation, management and trying to make their whole package as much of a cloud-friendly offering as they can. So I think this next release of vSphere will have a lot of great new features. Beyond that, I except to see more great things come out of VMware for vSphere.
Dig Deeper on Backup for virtual servers
PRO+
Content
Find more PRO+ content and other member only offers, here.