Archiving, DR join backup as online services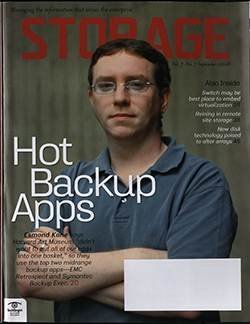 Download
Continue Reading This Article
Enjoy this article as well as all of our content, including E-Guides, news, tips and more.
By submitting your personal information, you agree that TechTarget and its partners may contact you regarding relevant content, products and special offers.
You also agree that your personal information may be transferred and processed in the United States, and that you have read and agree to the Terms of Use and the Privacy Policy.
online storage services are proliferating and becoming more diverse. While backup is the driving force for the market, services like email archiving, disaster recovery and primary storage are beginning to hop on the bandwagon--especially archiving.

"The majority of activity that's happened in the marketplace, it's been on the backup side," says Arun Taneja, founder and consulting analyst at Taneja Group, Hopkinton, MA. "That's the No. 1 place where SaaS [storage as a service] has been successful."

That's starting to change. Non-backup-related products like Amazon's Simple Storage Service (S3), Hewlett Packard's online services and Atempo's digital archiving product are making headway in the market.

Email archiving, for one, is beginning to explode. "Email archiving is a hot, hot trend because email has become a common person's repository," says Taneja.

Home users and small- and medium-sized businesses (SMBs) now make up the bulk of SaaS customers. Still, larger organizations seem to be catching on quickly, especially with email archiving. And many public companies need to adhere to compliance laws, and keep emails for ediscovery matters.

Archiving vendors are staking their claims. EMC announced in April plans to offer archiving SaaS. Mark Lewis, president of EMC's content management and archiving division, and Howard Shao, founder of Documentum and now EMC's senior VP of enterprise content management and archiving, told SearchStorage.com they'll offer some service online and some offline. EMC plans to update Documentum by the end of this year. Part of that effort will comprise the Documentum Archive product, which will combine data archives from several apps, including email, files and databases.

Also bringing storage online is Symantec. "For a lot of reasons, storage is on the forefront, and online is a very intuitive way of doing it," says Chris Schin, senior director of product management for Symantec's Protection Network, which hosts customer servers, manages software and stores user data offsite in a redundant data center for disaster recovery. "There's no question there's a strong and growing market need," he says.
Applications from Nirvanix, which offers the Storage Delivery Network (SDN), include CloudNAS, announced in June and in beta testing at press time. CloudNAS combines Nirvanix software agents with Linux or Windows servers at the customer's site for traditional NAS storage online. It runs on a laptop, and is used for backup, archiving and other apps that can endure latency.
"We knew we needed a way for the average IT manager in the average office to embrace this abstract idea of storage in the cloud," says Jonathan Buckley, Nirvanix's chief marketing officer. "A lot of companies set up their own data center. We're starting to take some of that data and put it up in the cloud as they're expanding their facilities."
Neil Hamilton is the managing director at Miana Technologies (which offers the WizzDrive online backup and file-sharing service) and a user of Nirvanix's SDN. He feels more than comfortable as a user in the current market. "If you start talking about using the Internet, it's just a hard drive, not a big barrier to jump through," he says.
Taneja says primary storage will pick up online, but others think it won't see the light of day for a while. "People tend to not want to outsource their primary data storage," says Jo Maitland, analyst at Cambridge, MA-based Forrester Research's IT infrastructure and operations group. "[But for] secondary storage for backup and archiving, they're willing to let a third party manage a copy of their data."
But there's time for things to improve on primary storage's end. "The market is in its infancy," says Taneja, "and we're just going to see tremendous growth."
--Matt Perkins
Dig Deeper on Remote data protection
PRO+
Content
Find more PRO+ content and other member only offers, here.