Connecting the backup dots: Editorial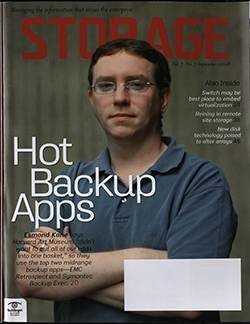 Download
Continue Reading This Article
Enjoy this article as well as all of our content, including E-Guides, news, tips and more.
By submitting your personal information, you agree that TechTarget and its partners may contact you regarding relevant content, products and special offers.
You also agree that your personal information may be transferred and processed in the United States, and that you have read and agree to the Terms of Use and the Privacy Policy.
Connecting the backup dots

Connect the dots, they say, and a clear picture will emerge. I've been trying to connect the dots related to the state of backup and, I have to admit, the picture is still a little hazy. Our research has revealed some interesting data points, but some of them seem to defy connecting.
Everyone knows disk has become an integral part of pretty much every enterprise backup environment, but the "disk revolution" has also moved down the ladder to smaller businesses. Gone are the days when SMBs skipped backups entirely in favor of fervent prayer, hoping against hope that nothing bad would happen. Even the days of doing occasional backups to rudimentary tape devices are history. In the most recent Diogenes Labs-Storage magazine Quality Awards survey on backup and recovery software (see the September 2008 issue of Storage), we found that more than 60% of users of midrange backup apps (ostensibly smaller outfits) back up to disk.
In addition, overall use of tape appears to be dwindling. In our Spring 2008 Purchasing Intentions study, we saw the lowest numbers regarding plans to buy tape devices in the six years we've conducted these surveys. Early returns on the latest edition of the survey show that trend continues. The same surveys also tell us that when storage managers do plan to buy more tape libraries, they're buying smaller ones.
So disk is in and tape is on its way out or becoming less of a backup factor. Oddly enough, we haven't seen a corresponding pickup in spending plans for backup disk systems. So where's all that tape data going? Some of it disappeared when wider use of things like snapshots and replication provided the same level of assurance that dozens of copies of the same data on tapes did. And the growing use of dedupe in disk-based backup has enabled some shops to taper off tapes. But while the interest level in dedupe is off the charts, our data says that fewer than 15% of you use it.
One of tape's claims to fame has been that it's easy to ship to some safe offsite location. Remote replication eliminates some of that, but it's still too costly for a lot of companies to secure all of their data that way. Eighty-six percent of our respondents say that they still spin off some or all of their backup data to tape.
Connecting these backup data dots isn't easy. Maybe the missing link has something to do with the use of online backup services. There's been a barrage of these services lately and somebody must be using them, right? But if we go back to the survey data, the answer is actually no--87% of those surveyed say they're not using any online backup services.
Maybe online backup isn't the missing link, but it looks as though it might be a missed opportunity. It's probable that all of those tapes shipped offsite were overkill and some judicious pruning cut the volume significantly, but backup data has to get offsite somehow. And that's where online backup services could come into the picture.
My guess is that online backup is still used mostly by consumers and very small companies given the numbers we've seen and the reluctance of most enterprise shops to rely on outside services for backup. And it's likely that the recent flurry of online backup services will include more than a few flashes in the pan that flame out long before they gain a footing. But if some of those online outfits could recast their services more as online archiving facilities, I think there would be a lot more interest in them. Instead of file-sharing and online apps, maybe onliners should add archiving tools like search, versioning and other document management functions.
I'm not sure if that would be the dot that would complete this backup picture, but it would make a lot of sense and certainly fill a need.
Dig Deeper on Data storage backup tools
PRO+
Content
Find more PRO+ content and other member only offers, here.