Do you encrypt your backup tapes?
Do You Encrypt Your Backup Tapes?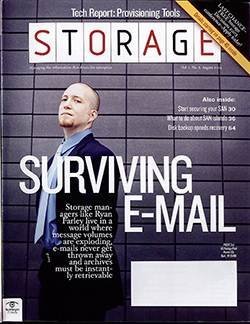 Download
Continue Reading This Article
Enjoy this article as well as all of our content, including E-Guides, news, tips and more.
By submitting your personal information, you agree that TechTarget and its partners may contact you regarding relevant content, products and special offers.
You also agree that your personal information may be transferred and processed in the United States, and that you have read and agree to the Terms of Use and the Privacy Policy.
Do You Encrypt Your Backup Tapes?
Do you encrypt your backup tapes?
If not, why?
Where should encryption take place?



Storage security companies take note: Hardly anyone encrypts their backup tapes, nor do they really feel like they should. A measly 4% of respondents indicate that they encrypt all their backup tapes, while another 6% say that they encrypt some of them. Why is that? First and foremost, users think it's unnecessary (62%), resting their hopes on their vaulting provider instead. "As long as the off-site storage location provides adequate security, encryption of data on the tapes does not seem necessary," writes one user. At the same time, users worry about being able to restore. As one user put it: "Tape restore of a large database is still a 50/50 proposition. Adding encryption doesn't help those odds."
Dig Deeper on Tape backup and tape libraries
PRO+
Content
Find more PRO+ content and other member only offers, here.