Manage
Learn to apply best practices and optimize your operations.
It still comes down to good old backup and restore
Storage Bin: After all these years, it still comes down to good old backup and restore.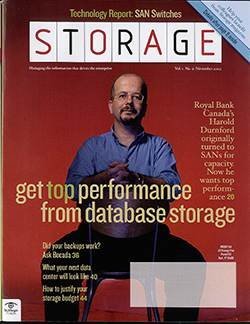 Download
I've been out in the field and heard a few misconceptions I'd like to clear up about InfiniBand and world peace
At the recent Storage Decisions conference (run by the owners of this magazine), I had a few interesting conversations...
Continue Reading This Article
Enjoy this article as well as all of our content, including E-Guides, news, tips and more.
By submitting your personal information, you agree that TechTarget and its partners may contact you regarding relevant content, products and special offers.
You also agree that your personal information may be transferred and processed in the United States, and that you have read and agree to the Terms of Use and the Privacy Policy.
with some of you real people, which led to this little article. Figured I'd clear up a few things for the masses.
Is InfiniBand dead? Nope. IB has fallen prey to horrific marketing, but the bottom line is it will rear it's not-so-ugly head exactly where it always was going to–in high-performance computing and database implementations, such as Oracle 9iRAC and IBM DB2. IB is a super low-latency, megafast bus that will tie your data center servers together sooner or later. You'll be able to effectively build supercomputers out of commodity gear.
I even suspect that perpetual technology follower Dell (albeit they tend to follow, then run over everyone else) may even lead the pack as far as the server guys go. They've figured out that IB puts them in a position to potentially crush giant Unix boxes, and at the same time, bring parallel databases to the masses.
Two guys to watch in this space are InfiniCon and Paceline. IB is not anything you storage-only guys need to care about for a while, but I figure it will be showing up in your data center, so why not mention it?
There is no national storage services company. Wrong. Callisma is a company you most likely have never heard of unless you're also on the IP side of the house. These guys are a serious infrastructure player that have hopped into the storage game big time, and have some of the smartest minds I've seen. I was fortunate enough to steal a bunch of thoughts (which show up in a previous article in this very magazine) from their CTO George Orlov, who is one of the few guys I know that really understands the "business" of IT. Here in New England, fellow Storage columnist and GlassHouse CTO Richard Scannell is another former CIO that gets what it means to say "business."
World peace is what you want (but not as it relates to storage). When push comes to shove, you all admit that it's the boring, mundane, same old stuff you really need help with. I saw some awesome presentations about amazing software that will not only wash the dog but also perform real-time interplanetary replication. Yet I can't tell you how many of you-more than four, I swear-told me that your real issue of the day is still backup and restore.
Amazing, but I thought we beat that to death in 1992. Perhaps our industry gets bored and moves on to create answers to problems that you couldn't care less about in order to keep themselves occupied since they haven't been able to solve the basics. Bocada and Vyant have tremendously simplistic, way too boring tools that actually tell you what worked and what didn't in your backup world. So boring that they will most likely be millionaires soon. Wait till you see what Avamar is doing, and you may never back up the same again. Then again, you probably will.
Dig Deeper on Data storage backup tools
PRO+
Content
Find more PRO+ content and other member only offers, here.