Midrange online backup offerings help SMBs get on the cloud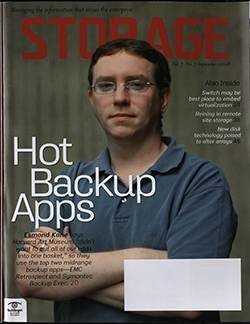 Download
Continue Reading This Article
Enjoy this article as well as all of our content, including E-Guides, news, tips and more.
By submitting your personal information, you agree that TechTarget and its partners may contact you regarding relevant content, products and special offers.
You also agree that your personal information may be transferred and processed in the United States, and that you have read and agree to the Terms of Use and the Privacy Policy.
somewhere between Web-based storage you can buy with your pocket change (Amazon's S3) and pricier options from vendors who own their remote hosting facilities and offer things like support for virtual machines and 24/7 monitoring portals (IBM's Arsenal), there are online backup services making a play for your business.

"In the middle ground there are a whole bunch of firms that don't own their own data center," says Eran Farajun, COO at Asigra, which specializes in agentless backup and restore solutions. "They co-locate; they buy one or two blocks of space and host their vaults or storage repositories there." One such firm is AmeriVault Corp., an Asigra partner.

AmeriVault's online storage service is built and offered on top of three technologies: Seagate Technology's EVault, EMC's Mozy and Asigra. In that way, AmeriVault competes with EVault by offering it, too.

"EVault would probably say [to potential customers] 'Well, we make the stuff,'" says Scott Bush, AmeriVault's director of marketing. "We say 'Well, we don't have to pay developers.'"

AmeriVault built its pricing strategy on variable data needs such as recovery time objectives (RTOs) and recovery point objectives (RPOs), says Bush. "The idea is matching the priority of data [to price]," he says. "We don't want to put data that's archived on a CDP [continuous data protection] platform." Farajun says pricing based on the age of data is one of the biggest trends in storage-as-a-service (SaaS) offerings.

Another is the growing number of firms competing for customers who couldn't afford SaaS options before now.

John Horne, VP of IT at Associated Industries of Massachusetts in Boston, a membership trade organization that lobbies on behalf of businesses in the state, says AmeriVault provided him with an entry point for online backup services that a storage industry veteran like EMC couldn't.

Horne, whose organization likes to do business with local companies, checked out MA-based EMC, but "we couldn't touch that stuff," he says. With Associated Industries' 50 employees and 900 gigabytes of data, AmeriVault's services were also out of reach a while back. But when a new pricing plan became available, Horne reconsidered.
Horne is using the AmeriVault-Asigra product to back up data at an offsite facility. It didn't matter to him, he says, whether AmeriVault owned the remote hosting facility or rented space there. "It just was important to me to know that it was going out of state, going far enough away so if there were a problem locally, it would be unaffected," he says.
But even with pricing just for SMBs, something that many SaaS vendors are competing with, Horne couldn't afford to keep multiple, historical backups of his data.
"So if I delete a file today that was backed up last night, that [newer version] is gone," says Horne. "Basically, I just kept in place our original backup process, on tape, for archival functionality."
Still, Horne says he's more than satisfied now that he knows his data is automatically and incrementally (depending on how it changes) being stored at an offsite location without requiring any of his time or space. He reached his goal of spending less than $8 per gig for that peace of mind.
Backup online vendors have each other to compete against, but it's the IT shops, which just don't like the idea of shipping data offsite to anyone, that have a true aversion to the term "cloud" and are the chief challenge to selling online backup services.
"The people who keep us awake at night," says Bush, "are the people who want to do it all themselves."
--Ellen O'Brien
Dig Deeper on Data storage backup tools
PRO+
Content
Find more PRO+ content and other member only offers, here.