Old tapes can lead to sticky situations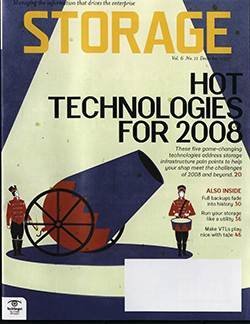 Download
Continue Reading This Article
Enjoy this article as well as all of our content, including E-Guides, news, tips and more.
By submitting your personal information, you agree that TechTarget and its partners may contact you regarding relevant content, products and special offers.
You also agree that your personal information may be transferred and processed in the United States, and that you have read and agree to the Terms of Use and the Privacy Policy.
Travis Means, director of sales at ISSI Data, an IT services provider in Bothell, WA, makes it very clear to his clients that storing data on old tapes is a bad idea. How bad? When one of Means' clients, an architectural firm, accidentally deleted some files, they couldn't recover the original drawings and renderings because they'd been backed up to an old tape. That resulted in the firm losing a competitive project bid. "Their failure to make a $300 investment in tape probably cost them $100,000 in sales," says Means.

It seems like the storage industry should have moved beyond such mistakes, but industry observers and users say the problems associated with old tapes persist. Companies store data on tape for three good reasons: lower cost per gigabyte, lengthy shelf life and infinite capacity. The problem is that when companies try to recover data from tapes, they often discover that they no longer own the right tape drive to mount the tape or their backup software can't recognize the data on the tape.

Kelly Polanski, a data protection specialist at KEHP Group, a NJ-based data management consulting firm, deals with clients who find old tapes in everything from offsite vaults to boxes and file cabinets. These tapes are often stored in an environment where the tape media deteriorates over time. However, the larger concern for most of her clients is determining the tape's worth. "They have no idea what data is on the tape or what its value is," explains KEHP Group's Polanski.

Jeff Pederson, manager of data recovery operations at data recovery service provider Kroll Ontrack, says there are some simple techniques that backup administrators can try to recover data from old tapes. First, the obvious: Put the tape in the tape drive and see if the drive can mount the tape and if the backup software can read and restore the data.
Administrators still need to exercise some caution before taking this tactic. If the tape media snaps or the media peels off the substrate, some of the data may be lost forever. Kroll Ontrack can repair physically snapped tapes and, says Pederson, "tape has some amount of leader [sometimes feet], so if some media does peel off the tape it isn't necessarily doomed."

A more conservative approach should be taken if there's only one copy of the tape. If you don't know what data is on a specific tape, sending it to a data recovery company may be your safest route.

Here's something that might surprise you: Pederson says it's sometimes easier to recover data on older tapes than newer ones. That's because tape cartridge vendors now try to squeeze as much data on the tape and as much tape in the cartridge as possible. "Newer media is thinner, more susceptible to stretching and data is written to the very edge of the tape," says Pederson.

Kroll Ontrack is among the vendors that have developed their own proprietary software to read data from old tapes. It recognizes the data layouts generated by all backup software products. As it streams data from tape, it's designed to identify which backup software product created the data and then recover it in a readable format. Successful data recoveries depend on the tape's condition.

To avoid getting into this predicament in the first place, ISSI Data recommends its clients not keep data on tape longer than five years before migrating it. In the case of the architectural client that used the same tape for too long, "they will never make that mistake again," says Means.

--Jerome M. Wendt
Dig Deeper on Tape backup and tape libraries
PRO+
Content
Find more PRO+ content and other member only offers, here.