Pick the right database backup option
Pick the right database backup option.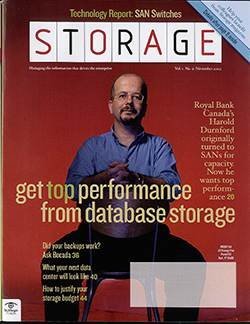 Download
When it comes to backing up databases, there are a number of imperfect options. Picking the right one, though, is critical to success
Databases may house an organization's most critical information, but to a backup administrator, they are a major...
Continue Reading This Article
Enjoy this article as well as all of our content, including E-Guides, news, tips and more.
By submitting your personal information, you agree that TechTarget and its partners may contact you regarding relevant content, products and special offers.
You also agree that your personal information may be transferred and processed in the United States, and that you have read and agree to the Terms of Use and the Privacy Policy.
headache. Appearing as monolithic containers, they are often backed up full, increasing backup time and consuming CPU, network and storage resources. Recovery is always an issue as well. No wonder that the quest for improved database backup and recovery capability is at the heart of many storage hardware and software purchase decisions.
Often, people don't fully understand the multitude of options open to them. They may overbuy software from backup and storage vendors that have overlapping or redundant functionality, and end up never using one or the other of their purchases. Or they select an approach that isn't the best fit for their environment. Once you understand your options, you can pick the appropriate solution.
@exb
Dig Deeper on Data storage backup tools
PRO+
Content
Find more PRO+ content and other member only offers, here.