Snapshot: Reusing tape cartridges
Reusing tape cartridges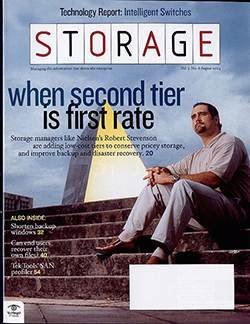 Download
Continue Reading This Article
Enjoy this article as well as all of our content, including E-Guides, news, tips and more.
By submitting your personal information, you agree that TechTarget and its partners may contact you regarding relevant content, products and special offers.
You also agree that your personal information may be transferred and processed in the United States, and that you have read and agree to the Terms of Use and the Privacy Policy.
How Many Times Do You Reuse a Tape Cartridge?
What kind of tape do you use?
How many times do you reuse a tape cartridge?
Percent that reuse tape until malfunctions, by tape type:



To our surprise, the majority of Storage readers don't seem to institute set policies about how many times to use a tape (59.1% across all tape types). Instead, they take their cues from the tape itself, and discontinue its use when it starts exhibiting too many errors. That may not be as worrisome as it sounds. Tape media has come a long way, says Hossein ZiaShakeri, vice president of advanced engineering at tape library manufacturer Spectra Logic. In the lab, his team regularly brings tapes to 10,000 passes. Furthermore, the higher quality the tape, the higher the likelihood storage managers do not have set policies about tape reuse--75% of IBM 3490/3590 users reuse tapes until errors set in, but only 44% of DAT users do.
Dig Deeper on Data storage backup tools
PRO+
Content
Find more PRO+ content and other member only offers, here.