Manage
Learn to apply best practices and optimize your operations.
Symantec users find improved licensing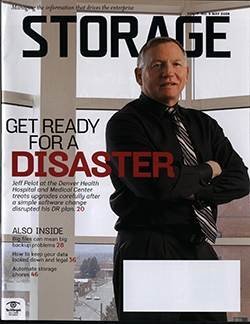 Download
Continue Reading This Article
Enjoy this article as well as all of our content, including E-Guides, news, tips and more.
By submitting your personal information, you agree that TechTarget and its partners may contact you regarding relevant content, products and special offers.
You also agree that your personal information may be transferred and processed in the United States, and that you have read and agree to the Terms of Use and the Privacy Policy.
In February, Symantec released Version 12 of its Backup Exec software. The new version supports Microsoft Windows Server 2008; speeds backup and restore of Microsoft Exchange, SQL Server, Active Directory and SharePoint environments; and has an improved granular recovery feature. But the important thing may be that customers report that licensing the new version of Backup Exec has been a snap.

That must be music to Symantec's ears, because the last time the company updated its flagship backup software (in late 2006), the licensing experience was hellish. Typical was the experience of one IT manager who told SearchStorage.com in March 2007 that when he tried to upgrade his licensing from Backup Exec 10d to 11d, the GUI on the Symantec customer portal didn't work. "It wouldn't generate a license key," he said then. "And there was no way to get hold of support through the portal."

Other 11d customers reviewing the product on Amazon.com reported going through the online activation process, getting a license key and then being told by the program that the license key was invalid when they went to install it.

The licensing problems spilled over to customer service, where users who are members of the Boston Area Windows Server User Group reported spending hours trying to resolve problems. One 11d user was dreading upgrading to Version 12. "I figure I lost at least a few weeks off my life waiting on hold last year," wrote Steve Aschettino, IT director at Waltham, MA-based Liquid Machines, in an email.

But this time around, licensing the Version 12 upgrade seems to have been relatively painless. "We've received over 15 notifications for our various clients," writes Bradley Dinerman, founder and president of the National Information Security Group (NAISG), in an email. "We registered each one of them, taking less than one minute per client." He added that his actual installation of Backup Exec 12d was also painless, with no errors observed (although he added the qualifier "yet").

Tim Siekmann, CIO at Screenprint/Dow in Wilmington, MA, asked Symantec to send the upgrade via email so he could move from Version 10d to 12. "The upgrade to 12 was almost flawless. I was shocked," he wrote in an email. "Upon starting the upgrade it asked for the licenses. I entered them and it finished with no problems. All the settings and configurations work fine in version 12. Nothing was lost. The Windows, SQL and Exchange agents are working with no problems."

"They seem to have fixed their earlier problems," notes Lauren Whitehouse, an analyst at Enterprise Strategy Group, Milford, MA, who follows backup software.

Those earlier problems stemmed from the launch of a combined Symantec and Veritas licensing portal around the time of the release of Backup Exec 11d. Symantec has now gone back to its old way of delivering the licensing information directly with the initial purchase of the product. "We've reverted back to form," says Pat Hanavan, the firm's VP of product management. "The reaction from users and resellers has been very positive."

While the user portal is still there, it's now seen mostly as a resource for customers to get an inventory of what their backup environments look like, he adds.

However, the sense of foreboding Liquid Machines' Aschettino had was justified. He says the upgrade email he received from Symantec contained his Exchange licenses but not those for SQL. While he resolved that issue, his Linux remote agents and SQL remote agents failed to port, and Symantec couldn't find his Library Expansion option, even though he had the certificate.

But Symantec has resolved the problems. "It was better this time around than last time," says Aschettino. "But then, it had to be."


--Peter Bochner
Dig Deeper on Data storage backup tools
PRO+
Content
Find more PRO+ content and other member only offers, here.