The lure of open-source backup programs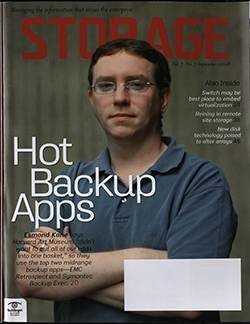 Download
Continue Reading This Article
Enjoy this article as well as all of our content, including E-Guides, news, tips and more.
By submitting your personal information, you agree that TechTarget and its partners may contact you regarding relevant content, products and special offers.
You also agree that your personal information may be transferred and processed in the United States, and that you have read and agree to the Terms of Use and the Privacy Policy.
Many people who use open-source backup software become quite attached to their program, whether it's BackupPC, Amanda or Bacula. System administrators responsible for protecting data at small- and medium-sized companies or at the departmental level typically gravitate to these free programs because they're comfortable writing custom scripts; working with Unix and Linux; and using open-source backup tools such as rsync, which synchronizes files and directories between different locations, and tar, an archiving program.

Tony Schreiner, a Unix system administrator for biology and physics at Chestnut Hill, MA-based Boston College, has used Symantec's Veritas NetBackup and EMC's NetWorker, but moved to BackupPC because he wanted a free product. But, says Schreiner, "some very large files, greater than 50GB, never complete [their backup.]" He hasn't found a workaround yet except to exclude those files.

"I don't have a good scheme for backing up SQL databases, some of which are very large," he adds. "I could script a mysqldump as a pre-backup, but the dump takes several hours."

BackupPC is a disk-based backup and recovery system that was designed to work with desktops, servers and laptops. According to a recent report on open-source backup programs by Eric Burgener, a senior analyst and consultant at Hopkinton, MA-based Taneja Group, BackupPC is "weak in the areas of media management and security, but excels in its ease of use, and offers a unique feature in the world of open-source data protection: integrated data deduplication." He adds that because "BackupPC uses hard links to store identical files, the entire backup repository must be on a single file system, limiting the scalability of BackupPC configurations."

Bacula, an open-source backup program with the slogan "It comes by night and sucks the vital essence from your computers," supports heterogeneous clients and can encrypt data in transit. Its backup catalog resides on a MySQL database, and it supports snapshots via Windows VSS. Data backed up by Bacula must be recovered by Bacula.

Of the three open-source backup programs discussed here, Burgener writes that Bacula is the "least mature" and "user postings online indicate that it can be quite complex to set up."

Users of Amanda can back up Linux, Unix, Mac and Windows clients to tape, disk and storage grids, such as Amazon Simple Storage Service (S3). Last year, Amanda distributor Zmanda Inc. began offering Amanda Enterprise, a beefed-up commercial version of Amanda with added features such as a Web-based GUI management console; one-click restore; and reporting and application agents (priced additionally) for Microsoft Exchange, SQL Server and SharePoint, and Oracle (just released) that allows hot backups of Oracle databases on Windows, Solaris and popular Linux distributions.
Amanda Enterprise costs about one-third the licensing fee of widely used commercial backup programs. Besides adding new features to Amanda, Zmanda offers 24/7 customer support and an "orderly new feature release schedule," says Ann Ruckstuhl, VP of sales and marketing.
Chris Hoogendyk, system administrator for the biology and geology departments at the University of Massachusetts Amherst, chose Amanda over Bacula in 2005 for three main reasons: "The maturity of the Amanda user community; it wasn't extremely dependent on a single programmer; and for the software design's simplicity, elegance and insight in breaking away from standard approaches to do something unique," he says.
More specifically, Hoogendyk says that some departments around campus were using Veritas NetBackup, but his department co-workers felt it "didn't provide that much more benefit for the cost, and it took significant expertise to configure and manage."
Also helping to sway Hoogendyk's decision to adopt Amanda is its use of native tools, such as ufsdump for his Solaris servers, which meant Hoogendyk could leverage his Solaris experience and, if needed, read the backup tapes without Amanda.
Hoogendyk says he's "pretty happy with Amanda," but would like to see a more mature tape catalog that can scan a barcode on a tape to determine "not just what Amanda has done with that tape and when, but where the tape is stored."
Hoogendyk says tracking tapes could be done manually with a handheld barcode scanner, but that "requires work that sys admins are typically lousy at. It requires discipline."
--Rich Friedman
Dig Deeper on Data storage backup tools
PRO+
Content
Find more PRO+ content and other member only offers, here.