CTOs weigh in on disk-based backup
Disk-based backup has been making a name for itself over the past year, yet the majority of users are still combining disk and tape in their backup environments. But as the cost of disk continues to drop and its benefits as a backup medium become more well-known, will tape soon be used only for archival purposes?
To answer this question and others, we picked the brains of three executives at vendors that provide disk-based backup products: Rory Bolt, CTO of Avamar Technologies Inc., Irvine, Calif., Kai Li, co-founder and chief scientist of Data Domain Inc., Palo Alto, Calif. and John Matze, CTO of Overland Storage Inc., San Diego, Calif. Here are their thoughts on the advantages and challenges of moving to a disk-based backup environment.
This Article Covers
RELATED TOPICS
Looking for something else?

Download this free guide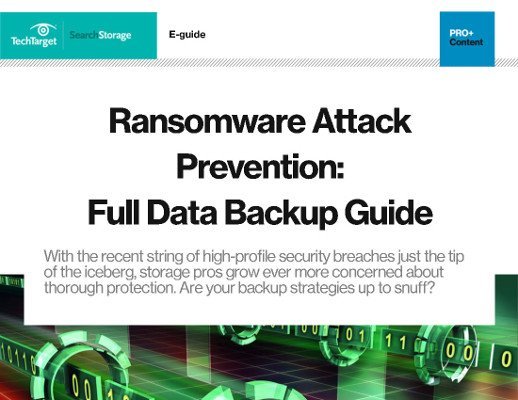 SearchStorage experts combat ransomware in this comprehensive backup guide
Download our editors' ransomware guide, in which you'll discover the full value of mature DRaaS, blockchain technology, and copy data management techniques in detecting and fighting the scourge of ransomware. Additionally, we review backup tools from Acronis and Unitrends used for ransomware protection.

By submitting your personal information, you agree that TechTarget and its partners may contact you regarding relevant content, products and special offers.

You also agree that your personal information may be transferred and processed in the United States, and that you have read and agree to the Terms of Use and the Privacy Policy.

The majority of users out there are still using tape in their backup infrastructure. What are the hesitations they have to eliminating tape and just using disk?
One big reason is a preconceived notion of price. People just assume they can't afford it. They only think about the amount of disk they need to buy, not that it will reduce the amount of data they manage by 10.

The majority of users out there are still using tape in their backup infrastructure. What are the hesitations they have to eliminating tape and just using disk?
I think it's primarily because of price. But the compression rates of disk ultimately reduce costs. The overriding factor is that data is growing at 100% a year, so if you're backing up to tape and it takes eight hours, next year it will take 16 hours.

The majority of users out there are still using tape in their backup infrastructure. What are the hesitations they have to eliminating tape and just using disk?
I think because tape is removable, it will always be a medium for long-term storage. Most companies back up to disk and then archive to tape. Never going to tape? That's not happening right now.

We've heard from users that disk-to-disk backup systems are proprietary, that the media labeling and volume labeling between disk and tape can cause problems and that there are hidden costs with disk such as electrical power and maintenance charges. How does your product deal with these complaints?
The basis of these complaints is in the comparison of disk-to-disk-to-tape (D2D2T) products. Avamar's Axion was designed from its inception to be a total data protection solution using disk drives, with no reliance upon tape whatsoever. Axion's commonality factoring technologies make it affordable to keep long retention data sets on disk, instead of treating disk as a staging area for tape. As such, the issues of media labeling and volume labeling are moot. As to the hidden costs, once again the problem is that disk-to-disk-to-tape products add cost and management. This remains true if the customer continues to create backup tapes with the same frequency as before the introduction of disk-based data protection. By using the Axion product, many customers are able to completely eliminate the use of tape or relegate tapes to purely archival duties.

We've heard from users that disk-to-disk backup systems are proprietary, that the media labeling and volume labeling between disk and tape can cause problems and that there are hidden costs with disk such as electrical power and maintenance charges. How does your product deal with these complaints?
Our product implements standard file system interfaces: NFS and CIFS, which all major backup software vendors can use. The media labeling and volume labeling issue does not exist with the backup software packages we know of. Customers can make tapes to ship off site by moving data from the disk-to-disk backup systems to tape drives. In fact, backup software has been doing staging and then writing to a tape library for years. DataDomain replaces both the staging storage and on-site tape library at the tape library cost. As for hidden disk costs, DataDomain's DD200 is a 4U rack mount unit, which replaces a big rack of tape library. The electrical power consumption is much less than a tape library with multiple tape drives. In addition, DD200 automates the entire backup and recovery process, removing most of the human labor costs that a tape library imposes.

We've heard from users that disk-to-disk backup systems are proprietary, that the media labeling and volume labeling between disk and tape can cause problems and that there are hidden costs with disk such as electrical power and maintenance charges. How does your product deal with these complaints?
I would say that there are some hidden costs in disk-based backup if you are using RAID and not some sort of virtual tape on disk. There are file system issues and not all backup software works well in these environments. As far as maintenance, most tape vendors charge for that as well.

What are the main storage challenges that disk-based backup helps solve?
It helps shrink the backup window. We have one customer with 100 servers and 12 TB of storage and their weekly full backups were taking 80 hours and our Axion server brought them to eight hours. Also, for compliance, disk allows you to restore data when requested, whereas 27% of tape restores fail.

What are the main storage challenges that disk-based backup helps solve?
Disk is faster and more reliable -- but people expect that. What they don't expect is disk to be cost-effective, but it is. You can buy our product [the DD200 Restorer] for the price of a tape library.

What are the main storage challenges that disk-based backup helps solve?
Depending on your tape drive technology, disk may not always shrink your backup window. Some LTO 2 tape has throughput of 30 MBps. So it's not all about speed. Disk is more consistent -- it's always spinning and working. I think disk is more about reliability and restorability than anything else. Tape has an image of jamming, stretching and inconsistency. Some of that is true, but some of it is poor management.

Have any of your users taken the plunge and eliminated tape from their backup plan? What types of users are likely to do this?
We have seen users who have eliminated tape. An example is The Steamship Authority, a state agency that runs ferries between Massachusetts and Martha's Vineyard and Nantucket. They back up their servers to our Axion, and replicate the data off site to a second Axion. You don't have to be a large enterprise to eliminate tape.

Have any of your users taken the plunge and eliminated tape from their backup plan? What types of users are likely to do this?
Yes, and many are eager to do it. Small and medium enterprises (SMEs) are experiencing the largest growth of data and there's a lot of interest there.

Have any of your users taken the plunge and eliminated tape from their backup plan? What types of users are likely to do this?
People lose jobs if data is lost. Tape's been around for 20 years and people are afraid to change.

What's your forecast for disk-based backup over the next year? Will users move from evaluating disk backup to implementing it?
I think over the next five years, there will be a coexistence of disk and tape. We're still in the adoption phase for disk-based backup. Disk-to-disk-to-tape (D2D2T) is not disk-based backup. That's more of a band-aid.

What's your forecast for disk-based backup over the next year? Will users move from evaluating disk backup to implementing it?
The momentum is here. All the backup software vendors and many users are talking about disk-to-disk backup. I think you will see more implementing in the next few years.

What's your forecast for disk-based backup over the next year? Will users move from evaluating disk backup to implementing it?
There's a huge market for online disk. In addition to our REO 4000 and 1000 appliances, we will be shipping new products with more functionality that ties disk and the tape libraries closer together. I see lots of people purchasing disk-based backup products now and they are happy with the response. I see that continuing.


Dig Deeper on Data storage backup tools
PRO+
Content
Find more PRO+ content and other member only offers, here.