News
Stay informed about the latest enterprise technology news and product updates.
Top 10 backup tips of 2004
Some things never change. Our top hitters in the backup tips section reflected your continued interest in disaster recovery planning and budget technologies such as SATA and RAID. And speaking of low-cost storage, tape continued to draw, despite an increased interest in disk-based backup. The bottom line is that even with new and better technologies emerging, your focus is on reliable backup at the lowest price point possible.
This Article Covers
RELATED TOPICS
Looking for something else?

Download this free guide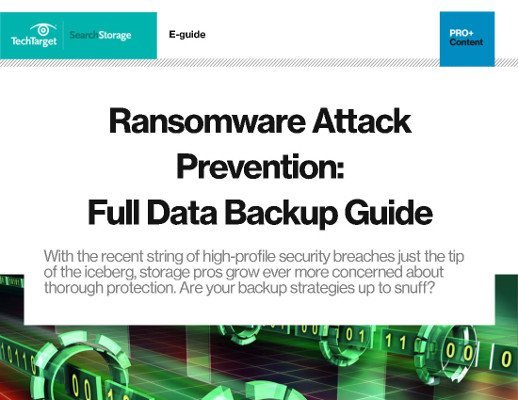 SearchStorage writers evaluate backup's role in ransomware detection
WannaCry, NotPetya, the list of dangerous ransomware viruses goes on and on, well beyond the most highly-publicized attacks. Use this guide to learn about the extent of the threat posed by ransomware, and bolster protection of your data, apps, and systems by using the backup strategies detailed within.

By submitting your personal information, you agree that TechTarget and its partners may contact you regarding relevant content, products and special offers.

You also agree that your personal information may be transferred and processed in the United States, and that you have read and agree to the Terms of Use and the Privacy Policy.

Some things never change. Our top hitters in the backup tips section reflected your continued interest in disaster recovery planning and budget technologies such as SATA and RAID. And speaking of low-cost storage, tape continued to draw, despite an increased interest in disk-based backup. The bottom line is that even with new and better technologies emerging, your focus is on reliable backup at the lowest price point possible.
Top 10 backup tips of 2004
1. Resource guide to disk-based backup
By SearchStorage.com editorial staff
Disk-based backup has been making a name for itself this past year especially since costs continue to drop. SearchStorage.com's readers have come to us seeking answers on the best way to implement disk-to-disk backup and even disk-to-disk-to-tape.
2. The advantages of serial ATA over parallel ATA
By Dorian Cougias
This year, the storage industry began transitioning from the legacy parallel ATA interface to serial ATA.
3. DR planning phase one: Completing a preliminary risk analysis
By Jon William Toigo
Disaster recovery planning has become a war cry in many organizations as the result of high profile natural and manmade disasters and increasingly strict regulations and laws mandating the protection and long-term retention of data -- an organization's most irreplaceable asset second only to skilled personnel.
4. Experts pick top backup products
By Pierre Dorion and W. Curtis Preston
Recently, one of our readers asked our backup experts to name their favorite backup products. Curtis Preston and Pierre Dorion weighed in with their lists, including IBM Tivoli Storage Manager, Legato NetWorker, Veritas Backup Exec and Veritas NetBackup.
5. How long does tape last, really?
By Rick Cook
The most commonly quoted figure for the archival life of magnetic tape is 30 years. Even in an era of heightened concern about compliance and records retention, that is long enough to make storage administrators comfortable -- perhaps a little too comfortable.
6. Comparing different backup strategies
By Simon Gordon
Backup is still an area where many administrators have significant pain and yet many do not implement storage area networks (SANs) to improve their backup environment. Even when they do, they may struggle to see all the benefits they should expect. Why is this? be the seed employees for your new storage management group
7. How will you implement RAID?
By Rick Cook
Most storage administrators are very familiar with the difference between implementing RAID in software and implementing RAID with specialized hardware, and the tradeoffs in cost, performance and reliability the different methods offer. However there are different kinds of both hardware and software RAID implementations and each has its own set of trade offs.
8. The problems backing up big databases
By Jon William Toigo
Anyone who has ever worked with backup/restore knows the hassles of backing up databases to and restoring them from tape -- especially big databases.
9. Distance benchmarks for data replication
By Brendan Reilly
Until recently, Fibre Channel fabrics connected by dark fiber, T3, and/or DWDM (dense wave division multiplexing) could only span metropolitan distances, typically well under 100 miles. Today, new IP SAN technologies have abolished those limits, with demonstrated connectivity of thousands of miles.
10. How to do hybrid backup
By Mark Teter
Traditionally, backups have been usually targeted to tape drives, but more and more disk storage is being incorporated into the backup process. One common approach with disk-based backups is using disk as a staging area before copying data to tape, which is known as a two-stage backup architecture.
Dig Deeper on Data storage backup tools
PRO+
Content
Find more PRO+ content and other member only offers, here.