News
Stay informed about the latest enterprise technology news and product updates.
StorageTek serves up half-baked CAS system
StorageTek unveiled its CAS system, but important features like tape support, broad application integration and encryption are not available in the first release.
This Article Covers
RELATED TOPICS
Looking for something else?
Louisville, Colo., tape giant Storage Technology Corp. (StorageTek) entered the fixed content market Wednesday with an archival system that will compete head-to-head with EMC Corp.'s Centera, but it's late to the party and missing some key features.

Download this free guide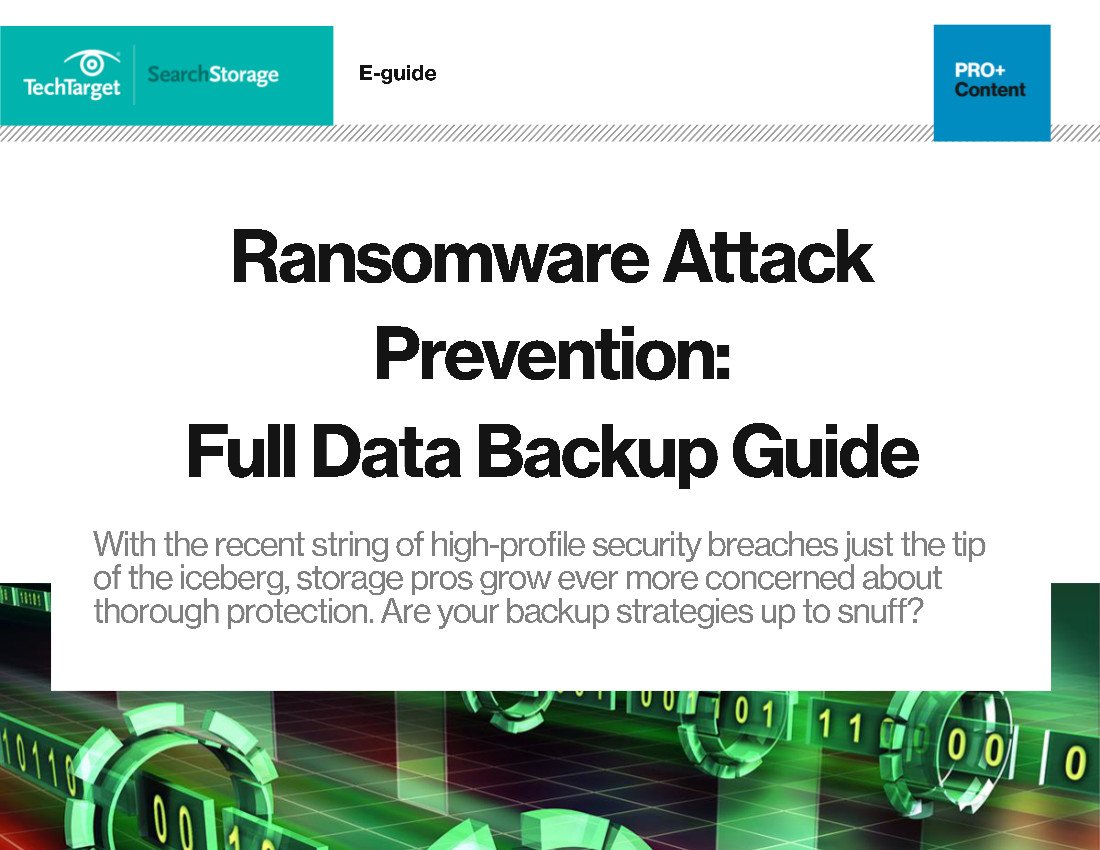 Protect Against Ransomware with Comprehensive Backup and Recovery
Download this handbook to learn how to prepare your backup system to handle the mounting ransomware threat. Inside, you'll discover the importance of adopting canary files for quick infection alerts, as well as the individual merits of using a cloud-based DR to repair selective files or folders versus full enterprise file sync-and –share, and more.

By submitting your personal information, you agree that TechTarget and its partners may contact you regarding relevant content, products and special offers.

You also agree that your personal information may be transferred and processed in the United States, and that you have read and agree to the Terms of Use and the Privacy Policy.

IntelliStore, code-named Trinity, will not support tape out of the gate as this feature requires the company's VSM Open disk-based virtual tape library software, which isn't ready yet. StorageTek announced VSM Open last fall and was hoping to ship it this summer.

"We ran into a few glitches in some environments," said Brenda Zawatski, vice president and general manager at StorageTek. "It's coming in September." She declined to give any more details on the glitches.

The disk piece of the product is ready. It's based on the new FlexLine 600, which is the second generation of StorageTek's BladeStore and combines Fibre Channel and ATA disks in the same box. StorageTek claims IntelliStore offers 15 times the managed file capacity of its nearest competitor and is 10 to 20 times faster than legacy content-addressed storage (CAS). It didn't break out these numbers though, so these statements don't mean much.

IntelliStore can combine data from multiple different applications in a single system and each pool of data can have different service attributes associated with it. Pools of data can be assigned different policies for expiration time, write once, read many, remote replication or duplicate detection so that e-mail data can be given the correct priority over human resources data, for example.

StorageTek uses the SHA-256 algorithm --- a cryptographic hash function -- to create a character string or digital fingerprint of each object stored. This is designed to ensure that no duplicates of the same file are ever stored.

The ability to house multiple applications within one box differs from EMC's early approach with Centera. Most installations of Centera today contain a single application as the company originally touted the product as requiring a one-to-one relationship with the application supported on it. This was not cost effective for customers to manage, and EMC has since introduced a search capability via an OEM deal with Fast Search and Transfer. This technology enables Centera users to search across multiple applications stored on one system at the same time. Before this deal, they would have to search each application separately.

StorageTek claims IntelliStore is different from other CAS systems because it supports disk and tape in a single offering and can subsequently scale to hundreds of petabytes. However, this is yet to be proven until VSM Open ships and is tested in the real world. StorageTek was unable to provide any customers or benchmark data for this announcement.

Analysts point out that StorageTek has probably been distracted recently by Sun Microsystems Inc.'s $4.1 billion takeover of the company, announced last week.

"This product is overshadowed by the Sun deal, which is the larger story … they probably have a better chance of capturing the archiving market together than they did alone," said Mike Kahn, managing director of the Clipper Group. He likes the fact that IntelliStore will eventually support both disk and tape. "It has scale in mind … tape plays an important part in archiving, which makes this more than just another box." He added: "It's a serious attempt [by StorageTek] to move into the disk business and integrate, under an archive solution, the rest of its portfolio."

Similarly, Dianne McAdam, senior analyst and partner with Data Mobility Group, said a clear interface to tape will separate this product from the rest. To hook EMC's Centera up with a tape library, users must use their backup application, at which point Centera loses track of the data, she said.

However, the problem with IntelliStore is that "out of the shoot they don't have many ISVs [independent software vendor] lined up and no API [application programming interface] yet … Centera has that," McAdam said. StorageTek's application partners so far include IXOS Software AG, KVS (owned by Veritas Software Corp.), Zantaz Inc., FileNet Corp., Open Text Corp., Mobius Management Systems Inc., SAP, Oracle Corp., Applimation Inc. and Princeton Softech Inc. StorageTek's application partners can talk to the IntelliStore via Common Internet File System and Network File System today, and the company will have an application programming interface later this year. EMC has 180 ISV partners already integrated with Centera.

Still, EMC launched Centera in 2002 and only recently announced its one thousandth customer, so it's not as if people are scrambling over walls to deploy this technology. "It's still an early and adjusting marketplace," Kahn said.

Future releases of the product will support security features, including disk-based encryption and digital shredding and historical capabilities to ingest old data such as e-mail from tape, into the system, Zawatski said. The ability to search on the content itself and not just the metadata about the content is also in the works for a future release.

A compliance solution will be available for the product in 60 days. When this is available, StorageTek will kill its short-lived OEM deal with Cambridge, Mass., startup Permabit Inc., according to Zawatski

The two companies struck up an agreement in January under which Permabit licensed its Permeon compliance software to StorageTek. It was sold by StorageTek under the brand name Lifecycle Fixed Content Manager 100 appliance (LFCM 100).

"It's not been wildly successful in the marketplace, we only had two customers for it," noted Zawatski. "Customers want a name, rank and serial number attached to this kind of product and one throat to choke." She said StorageTek only ever intended the Permabit product to be a stopgap until IntelliStore launched. "We needed a solution in the marketplace." Permabit did not return calls for comment.

Entry-level pricing for IntelliStore starts at $75,000 for 4 terabytes (TB) and additional capacity can be purchased for $9,000 per TB. The compliance version of the system will cost an extra $15,000.

In addition to the product introduction, StorageTek announced an archive compliance consulting practice in conjunction with Deloitte & Touche to help companies assess their compliance needs.
Dig Deeper on Disk-based backup
PRO+
Content
Find more PRO+ content and other member only offers, here.