News
Stay informed about the latest enterprise technology news and product updates.
Small business offloads storage growth on Iron Mountain
RL Corp. chose to outsource its storage operation to Iron Mountain, but warns users to test the recovery system thoroughly.
This Article Covers
RELATED TOPICS
Looking for something else?
There comes a time in a growing small business' life when it must choose: develop the resources to handle mushrooming IT demands in-house, or outsource them. RL Corp., a holding parent company for two accounting services firms in Westchester, Pa., chose to offload both its backup and disaster recovery (DR) operations on Iron Mountain Corp.

Download this free guide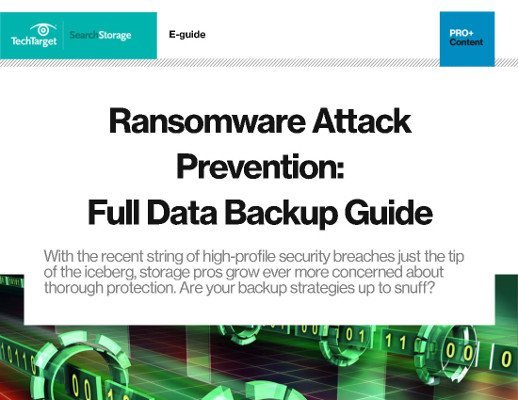 SearchStorage writers evaluate backup's role in ransomware detection
WannaCry, NotPetya, the list of dangerous ransomware viruses goes on and on, well beyond the most highly-publicized attacks. Use this guide to learn about the extent of the threat posed by ransomware, and bolster protection of your data, apps, and systems by using the backup strategies detailed within.

By submitting your personal information, you agree that TechTarget and its partners may contact you regarding relevant content, products and special offers.

You also agree that your personal information may be transferred and processed in the United States, and that you have read and agree to the Terms of Use and the Privacy Policy.

RL, which manages two subsidiaries, accounting services provider Lordi Consulting LLC. and accounting staffing agency Peopleflex, has gone from three employees at its founding in 2003 to just under a 100 today. Its storage needs have increased accordingly -- from approximately 50 GB in the beginning to close to 600 GB now.

The company found itself at a storage crossroads in early 2005, when it became clear that in-house tape backups, which had begun to take up to 16 hours to complete, wouldn't work anymore. Furthermore, its system of IT administrators taking tapes home wasn't a secure enough proposition for a financial services company storing sensitive information.

"We are in some cases the single source of some highly sensitive financial data, and we were basically going without a net," said RL's director of operations Will Whitman, who joined the company in December 2004. "We had no internal experience in DR, a rapidly increasing backup window, and no way to be sure our restores would be accurate. It was scary."

A snag occurred in negotiations with Iron Mountain, according to Whitman, when he asked them to test its restores on all his different data sets, including Word files and SQL, Paradox, Clarity and Access database data.

"They acted as if that was an atypical request," he said. Still, they allowed for the restore tests.

"We were asking for a year's worth of critical services," Whitman said. "We have to know for sure it'll work." So far, Whitman said, the restores have worked as promised.

The company considered a SAN, but decided to put that plan on the back burner as too expensive and time consuming. "We needed something right away. We had just two full time IT guys serving 100 people. The IT demand was just crushing."

Whitman said Iron Mountain got his attention with the offer of a seven-year data retention period and unlimited restores included in the fee. He also said its backup is near continuous and that he has confidence that its data center in Pittsburgh, Pa., is well protected for DR purposes.

To other users at the storage crossroads, Whitman offered some advice: think about what resources you have internally, and, in an ideal world, what it would take your IT staff to execute a DR plan. Think about backup windows, managing growth and what it takes to do a backup restore or DR test.

"There may be a lot more than you really think about at first -- it's not just buying an autoloader and a tape drive, and you're done," he said. "You have to think about whether you want to pay to build your own environment and develop your competency in that, or invest in other things. For me, outsourcing enables us to focus more resources on our main business."

Still, he said he hasn't ruled a SAN out in the long term. As part of his decision to upgrade from tape storage, Whitman said he evaluated quotes from EMC Corp., Dell, Inc., Hitachi Data Systems Inc., Toshiba Corp., IBM and Lefthand Networks Inc.

He said Lefthand's IP SAN was interesting, but that his company would probably opt for Fibre Channel when it came time. They use Dell already for servers and laptops, but haven't always been happy with its customer service.

Ultimately, the jury's still out, according to Whitman. "We're postponing the decision for at least a year. Even if we do start using a SAN for backup, we might still use Iron Mountain for DR."
Dig Deeper on Data storage backup tools
PRO+
Content
Find more PRO+ content and other member only offers, here.