Hot Technologies for 2006
Storage's editors considered a wide range of technologies before settling on the five that we feel will be the hottest storage technologies for 2006. Among the many technologies available to storage shops, we see e-mail archiving, midrange arrays, virtual tape and disk-based backup, SAS/SATA drives and remote office support emerging as the technologies that will be most in demand next year.
This Article Covers
RELATED TOPICS
Looking for something else?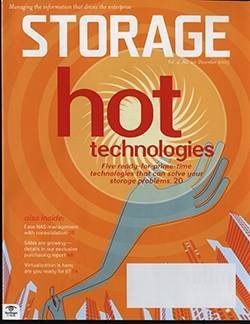 Download
E-mail archiving, midrange arrays, virtual tape and disk-based backup, SAS/SATA drives and remote office support are the technologies that will be most in demand next year.
Scorecard: How our 2005 predictions fared

CDP. Some startup companies are still trying to gain traction, but the technology is being incorporated into mainstream products, such as Microsoft Corp.'s Data Protection Manager (DPM) for Windows Server 2003 and Windows Storage Server 2003. We may have been a bit ahead of the adoption curve on our prediction that CDP would be hot in 2005.

Intelligent Switches. Brocade Communications Systems Inc., Cisco Systems Inc. and McData Corp. now offer switches capable of running sophisticated virtualization software or incorporating blades dedicated to virtualization and data migration.

NAS Accelerators. Boasting 17% growth last year, according to research firm IDC, and more than doubling the growth rate of storage systems, NAS was hot. We expect this trend to continue.

Storage Encryption. Last year we said encryption would be hot, although we felt it might be a hard sell. But high-profile security slip-ups have propelled encryption to the top of everyone's must-have list.

Virtualization. Every major storage vendor enhanced or introduced storage virtualization products in 2005, making it the year when virtualization hype turned into real, deployable products. But because virtualization technologies have the potential to lock users into specific vendors' products, users are implementing virtualization slowly and cautiously.
The editors of Storage considered a wide range of technologies, from sexy products like flash memory and holographic storage to workhorses like midrange arrays, when narrowing the list of what we feel will be the hot storage technologies for 2006. Subsequent discussions with analysts and IT managers confirmed our final choices. In this assessment, "hot" means those products IT organizations are most likely to need and will seriously consider in the coming year. Serial-attached SCSI (SAS) and serial ATA (SATA) disk technology underwent long-overdue, major upgrades over the past year. Next year, these technologies will figure prominently in almost every disk buying decision. Remote replication and virtual tape libraries (VTLs) have been around for a while. In 2006, they'll attract renewed attention as backup and disaster recovery move to the forefront in the wake of a flurry of devastating natural disasters. And the midrange array, which has been an essential storage option for years, will become an even more popular alternative in 2006. This will occur as a result of the combined influences of vendors pushing down market by adding capabilities and cutting costs, and information lifecycle management, which is driving organizations to set up tiers of storage to make the most cost-effective use of their storage investments.

We also expect WAN accelerators, remote vaulting and remote office technologies—which have been hovering on the periphery of the industry for several years—to gain prominence as organizations look to simplify their storage environments by reining in satellite offices. E-mail archiving, which seemingly came out of the blue following a huge fine levied against Morgan Stanley for failing to deliver documents requested by the court, may become the hottest of the hot storage technologies in 2006. Panicked corporate executives willing to spend whatever it takes to avoid a similar fate in our increasingly litigious business environment will propel the rush to archive e-mail.

The path from hype to hot is a slippery slope, strewn with technologies that, for one reason or another, never reached the hot, must-have plateau. Storage expects the following technologies to make the perilous transition from hype to hot in 2006.

Click here to view the first hot technology on our list
Dig Deeper on Disk-based backup
PRO+
Content
Find more PRO+ content and other member only offers, here.