News
Stay informed about the latest enterprise technology news and product updates.
HP snaps up OuterBay for database archiving
HP beats out the competition to acquire database archiving software maker OuterBay, helping users improve database performance.
Looking for something else?
Hewlett-Packard Co. (HP) users will benefit from improved database performance and more efficient structured-data backups once the newly-acquired OuterBay Technologies, Inc. comes on board, analysts say.

Download this free guide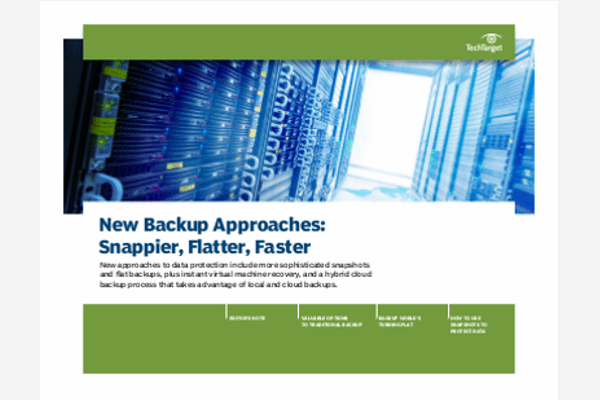 Drill down into today's new backup approaches
Due to the features of most modern backup software – which include snapshot management, DR elements, cloud support, VM protection – backups can do so much more than simply restoring data in the event of a storage or server failure. Download this guide and not only discover the latest upgrades to today's top enterprise backup vendors, but also learn where backup software works best in your computing environment.

By submitting your personal information, you agree that TechTarget and its partners may contact you regarding relevant content, products and special offers.

You also agree that your personal information may be transferred and processed in the United States, and that you have read and agree to the Terms of Use and the Privacy Policy.

OuterBay's line of products, known collectively as the ADM Suite, "slim down" databases by identifying files that have not been accessed according to a set period of time and moving them to secondary storage. By moving data out of the primary database, the software frees up the database server's processing power for running reports, retrieving data and backing up new information.

The product has already seen successful deployment in a number of large shops. "We had 32 sets of books running in one instance of Oracle several years ago," said Lois Hughes, senior manager of business application systems at Tektronix Inc., the second of OuterBay's 100 customers to date. "You can imagine how fast data was collecting -- and we do business in 29 different countries, each with its own retention requirements. We turned to archiving to get our database down to a useable size."

According to Hughes, after moving OuterBay's LiveArchive into production in 2002, Tektronix saw an immediate primary storage space reduction of 56% with a performance boost of 52% in the Oracle environment. The company's accounts receivable database saw a space reduction of 48% and an immediate performance improvement of 40%.

"It did all that while maintaining access to data and keeping data retention policies compliant by country," Hughes said.

LiveArchive was already being used by HP as the foundation for an OEM product, RIM for Database, which it beginning selling in December. Now that OuterBay has been acquired, HP said its archiving capabilities will be pulled under its Reference Information Storage System (RISS) archiving product group over the next year or so, with the goal of making RISS an all-in-one archive for structured as well as semi-structured and unstructured data.

It's a move that's been a long time coming and will be greeted by an eager market, analysts said -- some 93% of respondents to a recent Enterprise Strategy Group (ESG) survey said they were looking to implement database archiving in the near future, and HP estimated some 60% of its Integrity server customers were running at least one Oracle database.

"When vendors go in to talk to actual IT managers and use words like 'structured' and 'unstructured', the customer just goes, 'What the heck are you talking about?'" said Arun Taneja, founder and analyst with the Taneja Group. "To them it's all data -- and they need the vendors to solve the total problem, not tell them they can just archive one kind of data or another."

Archiving in XML: A boon for data migration

In addition to performance boosts, OuterBay also claims to make databases easier to use with a tiered storage infrastructure by automating the migration of structured data to secondary storage and indexing it for easy access if it is needed again.

OuterBay's product, in particular, converts the archived data into XML format, which makes it accessible to a wide variety of applications, even databases other than the one from which it originated -- or, more commonly, newer versions of databases when a user makes an upgrade.

"Users need to make data available to both new and old applications, especially while migrating to a new environment," said ESG analyst Brian Babineau. "Archiving in XML is a good way to do that."

In fact, according to HP StorageWorks CTO Michael Feinberg, OuterBay's XML conversion was the chief reason it chose the California-based startup over its competitors, including Princeton Softech, Inc., Applimation, Inc., and CopperEye.

"OuterBay was the leader in the use of standards like XML in the way it stored data on secondary storage," Feinberg said. "We wanted that capability for long-term archiving."

The industry picture

HP is the first of the large vendors to make an acquisition in order to add database archiving, but with the market for structured-data archiving heating up, the other big players are sure to be close behind, analysts said.

"HP wasn't the only company trying to acquire OuterBay, let me just put it that way," Taneja said.

Steve Duplessie was a little more to the point on who, exactly, was vying for OuterBay behind the scenes -- none other than its largest OEM partner.

"How does EMC let this happen again?" he said. "HP beat them to AppIQ, and now to OuterBay. How do they keep missing these opportunities?"

Reached for comment, EMC spokesman Dave Farmer told SearchStorage in an e-mail that it planned to continue its relationship with OuterBay. "Upon close, HP will OEM the OuterBay products to EMC, delivering on roadmap commitments and product enhancements." The e-mail continued, "EMC has embarked on a strategy to eliminate the complexity of disconnected archiving silos -- [a strategy that] involves helping customers benefit from a holistic set of archiving policies and access tools for all information, regardless of origin, type or location."

"It's a very hard problem to solve -- structured data is always very intricately interrelated," noted Taneja. "Many of these database archiving startups have been in business for 8 to 10 years without much to show for it until recently."

The financial terms of the deal, which is expected to close within two weeks, were not disclosed. But Wall Street analyst firm Robert W. Baird & Co. estimated a price tag of approximately $100 million for the firm.

For HP, the acquisition seemed as much a reiteration of its intentions to get serious about storage as it was the addition of a new product to its portfolio; according to Daniel Renouard, senior analyst with R.W. Baird, "While the acquisition is not material financially (only 60 employees), we believe … it highlights HP's renewed focus on enterprise storage."

The revitalization of HP's storage business began last spring, when it made a massive set of refreshes and additions to its storage product line, and continued with its acquisitions of AppIQ for an undisclosed amount and Peregrine Systems for $425 million in Sept. 2005.
Dig Deeper on Data Backup Resources
PRO+
Content
Find more PRO+ content and other member only offers, here.