News
Stay informed about the latest enterprise technology news and product updates.
Electronic Arts slashes costs with WAN optimization
EA replaced Exchange servers and tape libraries in more than 30 offices across the globe with Riverbed WAN optimization devices, saving over a million dollars.
This Article Covers
RELATED TOPICS
Looking for something else?
TECHNOLOGIES
Global games developer Electronic Arts (EA) has saved over $1 million in server and storage costs since deploying Riverbed Technology Inc.'s WAN optimization appliances, a project the company initially thought was way beyond its budget.

Download this free guide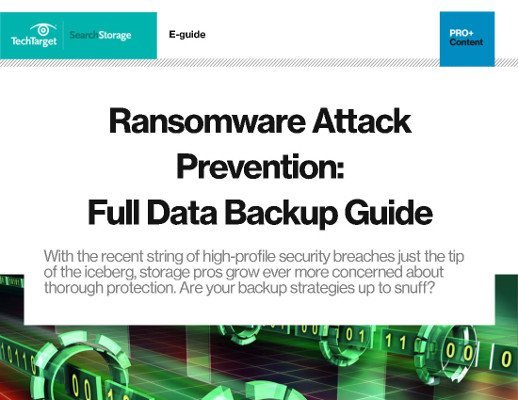 SearchStorage writers evaluate backup's role in ransomware detection
WannaCry, NotPetya, the list of dangerous ransomware viruses goes on and on, well beyond the most highly-publicized attacks. Use this guide to learn about the extent of the threat posed by ransomware, and bolster protection of your data, apps, and systems by using the backup strategies detailed within.

By submitting your personal information, you agree that TechTarget and its partners may contact you regarding relevant content, products and special offers.

You also agree that your personal information may be transferred and processed in the United States, and that you have read and agree to the Terms of Use and the Privacy Policy.

In the process of centralizing its IT infrastructure for several years, EA discovered that not enough emphasis had been placed on performance. "People wanted to force [centralization] to save X amount of dollars," said Ruben Cortez, chief network architect at EA. The result left developers in remote offices frustrated as they attempted to share files and use e-mail over the slow performing WAN.

In early 2004, EA evaluated Peribit Networks' (now owned by Juniper Networks Inc.) and Riverbed's WAN optimization appliances specifically to speed up the

performance of Microsoft Exchange, FTP transfers and HTTP traffic over the WAN. Cortez sent the devices to EA's offices in Australia where it tested the performance between Sydney and Brisbane.

The Peribit device "actually slowed things down," according to Cortez. EA gave the Peribit engineers access to their network but "our teams are stretched as it is and I didn't want to take too much time trying to get the thing to work," he said. Riverbed's Steelhead appliances, however, improved traffic times by 67%, according to Cortez. EA also looked at Cisco Systems Inc.'s product, but at the time it only focused on accelerating TCP traffic. "Riverbed's device makes higher level decisions improving traffic for Exchange and other applications …All these things tend to collapse into the router eventually," but Cortez didn't feel Cisco or the rest of the market was even close to this point.

He decided to deploy 50 Riverbed appliances across Europe and Asia, but getting the return on investment he needed meant scaling back on Exchange servers and tape libraries in these remote offices. Without doing that "it was completely out of the scope of our budget," he said. The company saved a quarter of a million dollars immediately just in the cost of licenses and upgrades, and the total savings were closer to a $1 million, and counting, Cortez estimated.

Disaster recovery challenges

For the smaller offices with only one WAN connection, the Steelhead would be vulnerable should the network go down. However, Cortez says if the whole site went down, the Steelhead would be the least of his worries. For those sites that have more than one WAN connection, EA built redundancy at the router layer, which means the Steelhead will continue to pass and optimize traffic as long as it has a path to the remote site. The responsibility for routing correctly to the remote site lies with the routers, not the Steelhead.

As the company sends more of its development work to Asia, the growth of its staff and offices in remote areas is increasing, making it more dependent on devices like Riverbed's Steelhead. "Eventually, all I can see us sending out to remote offices is a VPN (virtual private network) and a Steelhead regardless of their network connection."

Cortez says he'd like to see Riverbed increase the WAN capacity of the appliance to push several hundred Mbps instead of the upper limit of 45 Mbps today. Access to larger files over the WAN at LAN-like speeds "could change how we develop games if we could shorten the development cycle," Cortez said.

EA has hub studios in Redwood Shores, Calif.; Los Angeles; Orlando; Vancouver, B.C.; and Chertsey, U.K., along with development studios in Chicago, Montreal and Tokyo -- a development team that is more than 4,100 people strong. "We might have 11 guys developing snow texture in different studios around the globe, which is not an effective use of time but if we could centralize things like sound clips and music into one common area, this would be a huge cost saving." Cortez has talked with Riverbed about building a bigger version of the Steelhead, which he says the startup jokingly code-named "the Ruben."

Right now Riverbed appears to be more focused on scaling its technology down rather than up. This week the company unveiled two new Steelhead appliance models, the 100 and 200. The Steelhead 100 has a capacity of 25 simultaneous TCP connections, which is sufficient to support up to about five users, and the Steelhead 200 supports up to 75 TCP connections and about 20 users. The Steelhead 100 is priced at $3,495. Similarly, Riverbed competitor Tacit Networks Inc. just announced a scaled down version of its WAFS appliance, dubbed the Ishared Mini. It offers the same features as the larger appliance, including file, e-mail, web caching, print, networking and management, but supports five users and is approximately half the price of the original device at $4,000.
Dig Deeper on Remote data protection
PRO+
Content
Find more PRO+ content and other member only offers, here.