News
Stay informed about the latest enterprise technology news and product updates.
User ditches Iron Mountain for EVault
After Iron Mountain failed to deliver its tapes during a power outage, a Canadian mattress manufacturer turned to EVault to back up its critical data.
This Article Covers
RELATED TOPICS
Looking for something else?
Iron Mountain Inc. might be the dominant player in the data protection services market, but one former customer of the vaulting giant found an alternative with competitor EVault Inc., following a data recovery that went horribly wrong.

Download this free guide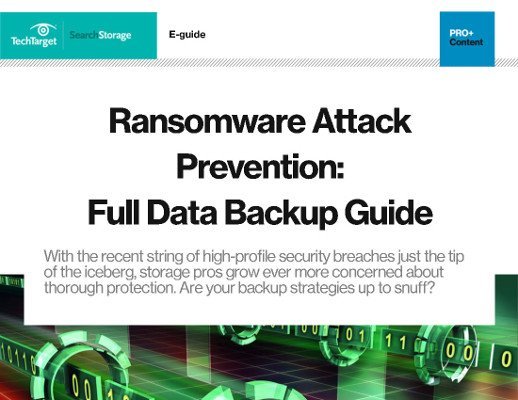 SearchStorage experts combat ransomware in this comprehensive backup guide
Download our editors' ransomware guide, in which you'll discover the full value of mature DRaaS, blockchain technology, and copy data management techniques in detecting and fighting the scourge of ransomware. Additionally, we review backup tools from Acronis and Unitrends used for ransomware protection.

By submitting your personal information, you agree that TechTarget and its partners may contact you regarding relevant content, products and special offers.

You also agree that your personal information may be transferred and processed in the United States, and that you have read and agree to the Terms of Use and the Privacy Policy.

After a major grid failure in August 2003 plunged much of the Eastern seaboard of the U.S and Canada into darkness, Mississauga, Ont.,-based mattress maker Simmons Canada Inc. put its disaster recovery plan into motion, heading to its IBM-hosted recovery site and calling on Iron Mountain to send tapes containing application and systems data to the recovery site to be brought online.

But according to IT manager Les Tomczak, Iron Mountain didn't come through with the data as required -- techs at its Markham, Ontario, site, he said, were unable to access the tape repository due to the power outage.

"They're supposed to be the leader in this business," Tomczak remembered. "You'd think they'd have a contingency plan."

Luckily for Simmons Canada, its main plant is located near an airport, considered a critical area for power restoration -- power was back on at its facility 10 hours after it had gone off, unlike regions of Pennsylvania, Ohio and New York, particularly New York City, which remained without power for days.

"We did some quick backups before we had to shut our servers down," Tomczak said. "But if the power hadn't come back on for us so quickly, I'm not sure what we would have done."

Above all, Tomczak said, the incident soured his company on using Iron Mountain's service -- to the point where, for a year afterward, Simmons Canada employees were taking backup tapes home with them, rather than leaving them in the hands of Iron Mountain.

"We figured at the time it was as secure as anything else," Tomczak said. "But of course, we didn't have a very warm and fuzzy feeling about it."

The company decided to look at backing up data over the wire in early 2005 and came across Iron Mountain competitor EVault.

"Eventually, we want to do our own replication off site to our own NAS device," Tomczak said, saying in-house replication would likely be put in this year. But for now, the company is backing up some 300 GB of critical data from its AS400 mainframes over the wire to EVault.

Because it had been burned before, Simmons Canada made sure to run a disaster recovery test on the product once it was operational. In the event of a disaster like that of 2003, data can either be piped to the hot site, which the company still maintains, over the Internet or hand delivered in a portable NAS device for an additional fee.

Iron Mountain does offer backup services to customers over the wire through first a partnership, and then the acquisition last December of LiveVault. But Tomczak said he hadn't evaluated the service because of what had happened in 2003. Iron Mountain did not return phone calls for comment as of press time.

EVault updates product

EVault was also a good fit, Tomczak said, because of its integration with the IBM mainframes Simmons Canada uses to house critical data -- the AS400. EVault recently updated its DeltaPro snapshot software to do a more efficient job of backing up AS400 data.

The DeltaPro is meant to capture changes to data, like any snapshot software, but because the AS400 API embeds some application data inside the stream from DB2 databases, avoiding data duplication becomes more difficult. The new and improved algorithm in EVault's software has reduced the rate of change in backups from an average of 30% to as low as 1%, the company claims.

The enhancements, according to Tomczak, were welcome but missed one feature he's been looking for.

"We've been doing backups for a long time using IBM's VMRS, and one of the nice features of that is a recovery script that gives you a step-by-step list of objects you need to restore and the order to do them in," he said. "If EVault could come up with something similar, it would be a help to a lot of people, especially in a disaster when your mind's on a million things."
Dig Deeper on Data storage backup tools
PRO+
Content
Find more PRO+ content and other member only offers, here.