News
Stay informed about the latest enterprise technology news and product updates.
Cisco sheds light on WAFS plans
George Kurian, VP and GM of Cisco's Application Delivery Business Unit, talks with SearchStorage.com about the company's WAFS and WAN optimization product strategy.
This Article Covers
RELATED TOPICS
Looking for something else?
TECHNOLOGIES
Cisco Systems Inc. has sunk approximately $200 million into the WAFS and WAN optimization market in the past 18 months, acquiring Actona Technologies Inc. and FineGround Networks Inc. and is slowly but surely fitting the pieces together.
What products are you selling today for WAFS and WAN optimization?
George Kurian: The WAN Application Engine [previously the File Engine Appliance] provides file services optimization, and there are additional software options to improve the performance of more applications like Web, video, FTP …today you must pick an option for a specific application. But we are extending it to support generalized TCP traffic.

Download this free guide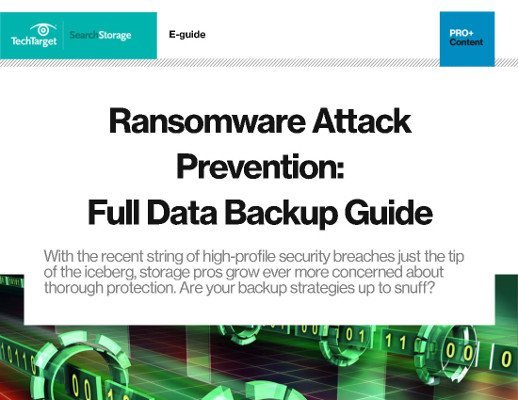 SearchStorage writers evaluate backup's role in ransomware detection
WannaCry, NotPetya, the list of dangerous ransomware viruses goes on and on, well beyond the most highly-publicized attacks. Use this guide to learn about the extent of the threat posed by ransomware, and bolster protection of your data, apps, and systems by using the backup strategies detailed within.

By submitting your personal information, you agree that TechTarget and its partners may contact you regarding relevant content, products and special offers.

You also agree that your personal information may be transferred and processed in the United States, and that you have read and agree to the Terms of Use and the Privacy Policy.

What do you mean by generalized TCP traffic, and when will this be available?

Kurian: By midyear we will support e-mail … we are moving from a point solution to a broader WAN optimization product to accelerate all TCP traffic, regardless of what it is. We will also add support for Citrix.

Will this functionality eventually be available in your routers? Kurian: File services are already available on the 2800 and 3800 series of integrated services routers for the branch office. We will expand that for generalized TCP traffic in the summer.

Will you kill the appliance product at that point?

Kurian: No. We're going to sell this as an appliance but also as a module in the routers.

Where does the FineGround Networks technology fit into this picture? Isn't it basically the same thing as the WAN application ngine? [Cisco acquired FineGround for $70 million in cash last May. The startup's appliance sits in the data center and accelerates Web-based applications over IP networks.]

Kurian: FineGround's VFS [Velocity-FS] technology sits in front of an application server in the data center and accelerates Web applications, portals, heavy PowerPoint documents, big objects that would impact the performance of general purpose WAN optimization technology.

In other words, users have to manage multiple boxes to optimize different traffic? That sounds like a headache.

Kurian: Every application requires different optimization. The FineGround technology can be bought as an appliance, but we are also collapsing this functionality into the Catalyst 6500 series switches. Expect an announcement midyear on this.

Why is the file services functionality in the branch office router and the Web application optimization in the Catalyst 65 data center router?

Kurian: It's the way the services are deployed. On the WAN optimization side, these capabilities fit neatly into the network with QoS [quality of service], access control lists for filtering out unwanted traffic and then apply WAN optimization, then apply encryption on the wire -- all integrated for the branch. In the data center you want Web application optimization and server load balancing next to the servers.

Your competitors are already offering WAFS and WAN optimization in a single appliance. Cisco appears to be lagging behind.

Kurian: I would challenge the notion that building it right means we're slower. Our differentiator is that we are integrated into the network infrastructure.

Can you elaborate on that?

Kurian: Riverbed [Technology Inc.], Perebit [Networks] and others break policies at the networking layer like security functions in order to get the performance improvements. Riverbed replicates a bunch of routing functionality in its product to make it work. You recreate QoS functionality on the Riverbed, you recreate access control lists on Riverbed, but you still need to manage this on the router too. You're managing all this on two separate boxes.

Riverbed has the notion of a traffic tunnel, which puts all the traffic onto a single port and compresses security, compresses header information, so then the network gear can't read the header. However, there are QoS policies based on header information so then the security breaks.

All these workarounds become a kluge over time. This is not just a Cisco infrastructure issue. Cisco, Nortel [Networks] all other routers need to work cleanly with this technology.

It sounds like a lot of the router functionality can be performed in a WAN optimization appliance like Riverbed's. What's to stop them from removing the need for the Cisco router altogether?

Kurian: A lot of this technology has been developed over 15 years and with billions of dollars in R&D [research and development]. It would be inappropriate for me to comment. Customers have decided this was the way to do it. Why do you need to forklift your whole infrastructure when you can get this capability from Cisco?

Ah, the billion dollar question. Why buy from anyone but Cisco? Many of the startups you mention have announced 500 or more customers, including major banks, entertainment companies, and oil and gas firms. How many WAFS or WAN optimization customers does Cisco have?

Kurian: We have several hundred. We match up with any competitor.
Dig Deeper on Remote data protection
PRO+
Content
Find more PRO+ content and other member only offers, here.