Factories pick monolithic IP SANs for DR
Modular scaling seems all the rage in IP SANs, but two manufacturing firms say they've saved on DR by using EqualLogic's more traditional monolithic storage in multiple locations.
This Article Covers
RELATED TOPICS
Looking for something else?
Some IP SAN makers tout the fact that their products will allow users to scale capacity and performance modularly, as opposed to EqualLogic Corp.'s monolithic -- and, some would argue, old-fashioned -- approach of scaling by buying a whole new box to add capacity and performance. However, users in the manufacturing sector argue that the predictability and "set it and forget it" design of EqualLogic's boxes make it a good fit for DR.

Download this free guide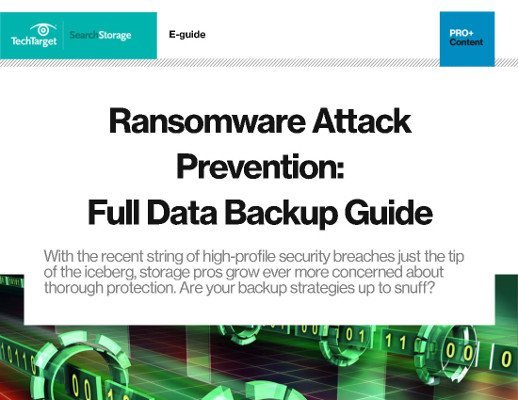 SearchStorage writers evaluate backup's role in ransomware detection
WannaCry, NotPetya, the list of dangerous ransomware viruses goes on and on, well beyond the most highly-publicized attacks. Use this guide to learn about the extent of the threat posed by ransomware, and bolster protection of your data, apps, and systems by using the backup strategies detailed within.

By submitting your personal information, you agree that TechTarget and its partners may contact you regarding relevant content, products and special offers.

You also agree that your personal information may be transferred and processed in the United States, and that you have read and agree to the Terms of Use and the Privacy Policy.

According to Sandra Gospodarec, senior network administrator for Ambrake Manufacturing Ltd., which provides brakes to automotive manufacturers, including Honda, Toyota and General Motors located in Elizabethtown, Ky., the simplicity of the EqualLogic PS 100E boxes has been a plus in a market where companies are constantly under pressure to cut costs; and most can't afford a big IT staff. Gospodarec said the monolithic architecture of EqualLogic's storage is welcome at her company where half a dozen people, including herself, manage IT for 1,200 employees.

"We just don't have to worry about it," she said. "We don't have to deal with deciding what to scale or how to scale it. You just get another building block."

Ambrake previously had two parent companies, each with a 50% share. Recently, one of the companies, a Japanese auto parts manufacturer, bought out Ambrake completely. Gospodarec said part of consolidating with new "sister" facilities elsewhere in the state will be reconfiguring one of her "expansion" EqualLogic boxes at another site for that site's storage as well as a disaster recovery (DR) site for the Elizabethtown facility.

According to Gospodarec, the fact that EqualLogic includes replication on its arrays without requiring additional licensing or server software and its boxes come in predictable sizes, makes it easier to deploy and manage.

"We're able to repurpose an expansion box from this facility to that facility for their storage consolidation and also get that box to double as a place for replication of data from our primary facility for DR," she said. "I can also manage both boxes from one location, and there's no additional training required for my staff. You just stack and unstack the building blocks."

Another EqualLogic user, Steve Meckling, network services administrator for Shiloh Industries Inc., is using a PS100E, two PS200Es and one PS300E array spread between three locations in Michigan and Ohio.

To help facilitate the process of mirroring one site to another, Meckling said Shiloh relies almost entirely on VMware Inc. virtual servers and disks running on the EqualLogic boxes, which he said gives him added flexibility if machines have to failover to a different location.

Where scaling is concerned, Meckling said that, like Gospodarec, he prefers EqualLogic's "set it and forget it" approach.

"I don't have time to mess with where data resides on arrays," he said. "When I added our second PS200E, I did nothing but the basic configuration and it restriped the data across both boxes automatically.

"I also like the fact that when we add another box, we double the amount of paths through which our servers can connect to the disk," he added. "I don't know why you wouldn't want to add performance whenever you add capacity, anyway. It seems like a no-brainer to me."

Vendors selling IP SANs that allow you to buy capacity and processor nodes separately include Isilon Systems Inc., LeftHand Networks Inc. and Panasas Inc.

One area, however, in which Meckling said he'd like to see improvements to EqualLogic's boxes is in the ability to do two-way replication. Right now, he said, one box can failover to another in the event of disaster, but it's a cumbersome process to try to bring the data back over to the first box once it's back up and running.

"It won't let me set up a master-slave relationship between boxes that I can switch around," he said. "The way it works now is kind of a master-dormant master setup, where you have to copy all the data back over manually."

Meckling said he thinks he understands why EqualLogic doesn't yet offer the capability -- since the replication it offers is not synchronous, the secondary SAN will contain "stale" data. So, for example, if there's a replicated snapshot on the secondary SAN from midnight the night before and a failover happens at 9 a.m., the nine hours of data could be lost.

"Which I understand," Meckling said, "but I think there should be a way for me to override that precaution if there's an emergency that makes it worthwhile to do so."
Dig Deeper on Remote data protection
PRO+
Content
Find more PRO+ content and other member only offers, here.