News
Stay informed about the latest enterprise technology news and product updates.
IBM and HP at odds on database storage
IBM's new release of DB2 and HP's acquisition of OuterBay put the two server/storage titans on opposite sides of the database storage spectrum.
Looking for something else?
IBM has announced that users can take "test drives" of its new database management system (DBMS), known as DB2. The newest release of DB2, code-named "Viper," claims to deliver new storage benefits, as well as greater efficiency in database queries.

Download this free guide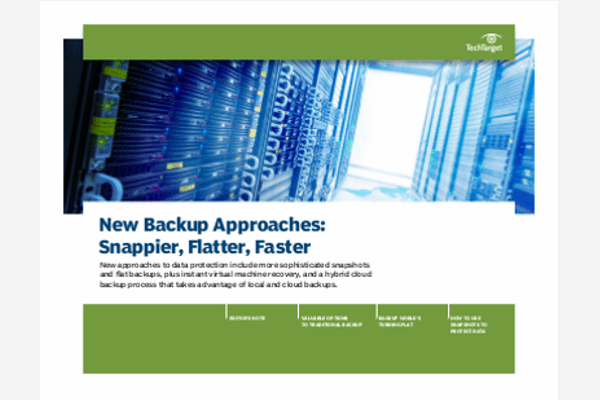 Drill down into today's new backup approaches
Due to the features of most modern backup software – which include snapshot management, DR elements, cloud support, VM protection – backups can do so much more than simply restoring data in the event of a storage or server failure. Download this guide and not only discover the latest upgrades to today's top enterprise backup vendors, but also learn where backup software works best in your computing environment.

By submitting your personal information, you agree that TechTarget and its partners may contact you regarding relevant content, products and special offers.

You also agree that your personal information may be transferred and processed in the United States, and that you have read and agree to the Terms of Use and the Privacy Policy.

IBM is pushing two new storage-centric features with the new version of DB2, called cache hinting and I/O prioritizing, both of which improve response time between back-end storage and the database server. Cache hinting tells the storage what frequently accessed data to keep in cache, and I/O prioritizing tells the storage what to send back first.

Hewlett-Packard Co.'s (HP) newly acquired subsidiary, OuterBay Technologies Inc., boasts a similar awareness in its software of which data is most frequently accessed but takes action in the opposite direction by archiving data according to user policies or frequency of access in a lower tier of storage, removing it from the primary database server and allowing that server to function more efficiently.

IBM claims DB2's efficiency comes from the fact that compression of data is done at the server level, meaning data doesn't have to be uncompressed and recompressed to be sent over the wire and is sent to storage already compressed, freeing up the storage CPUs. IBM also claims that it has actually seen performance increases in beta tests of DB2's new version, despite the fact that it's also doing compression.

"But the question," according to Greg Schulz, founder and analyst with the StorageIO Group, "is not whether or not there's a performance hit, but whether or not it increases the processor load on the database server's CPU."

IBM's director of database servers Bernie Spang was quick to mention the lack of performance degradation but did acknowledge that the compression is handled by software on the database processor. By definition, this can place a greater workload on the database server than OuterBay's approach, which conducts compression on the storage box.

An IBM official was quoted elsewhere as saying that users could see a reduction in storage of 54%, but Spang admitted his statement had come from the example of one beta tester's shop and not an across-the-board average compression rate.

"We aren't prepared to discuss that feature in detail at this point," Spang said. "Before we dive into that feature we have to have more depth to share with you".

HP also did not provide the exact numbers on its compression ratio as of press time.

Despite the hype about compression, where DB2 really could save users storage costs is in its native XML capabilities. XML is a language that surrounds unstructured data, making it accessible to different applications. It is also used like a label to define the data object, like a video file contained within.

Such objects are often either embedded in relational databases' rows and tables as a single large object (known as a BLOB or CLOB) or "shredded" -- forcibly broken apart into rows and tables, the better to be searchable by a relational database interface. DB2 Viper will put XML objects into their own separate repository behind the database interface and search on that data without trying to force it into relational database format. Essentially, DB2 will contain two databases beneath one search interface.

"Usually, even users who are shredding XML data into a relational database then have to keep a separate large object elsewhere for fidelity," said Spang. "Being able to search on XML data in its native format means you don't have to keep multiple copies of that information."

Where it gets confusing is that OuterBay also hypes its use of XML language. Here though, it's an entirely different concept. The OuterBay software puts an XML "wrapper" around archived database data so that its relationship to data still in the primary database can be preserved, and it can be accessed by later versions of the database.

"It's kind of six of one, a half dozen of the other," Schulz said. "Storage vendors are always going to advertise that their products will take the load off the server. Server vendors are going to say they'll take the load off your storage -- frankly, I'd be disappointed in a server vendor like IBM that didn't try to leverage its servers."

In fact, the connection between DB2 and IBM server iron was the reason at least one current Oracle user left DB2 behind years ago.

"Why should I buy heavyweight IBM hardware when I can get light Oracle stuff to run on Linux?" said Dick Goulet, a senior Oracle database administrator at Vicor Corp..

Another user, Michael Grant of Simon & Schuster Inc., said his company had dumped its DB2s recently in favor of SQL servers. The decision to leave DB2 behind, he said, went hand in hand with his decision to migrate away from an IBM mainframe system and into a distributed Windows infrastructure. (See also: Publisher aims to save a million moving off mainframe, SearchDataCenter.com, March 14).

However, a recent Gartner Inc. survey of 1,800 shops showed that nearly 19% of respondents planned to install DB2 -- the number was 50% higher than the number of respondents who said they planned to install Oracle.

"DB2 has long been a strong DBMS offering but has suffered from multiple versions, perceived lack of portability and a lack of third-party support," according to the Gartner report on the survey. "IBM has been marketing heavily during the past several years to change this perception and encourage software vendors to port to DB2. It would appear their efforts are working."

Arun Taneja, founder and senior analyst with the Taneja Group, points out that in the database arena, HP can only focus on the storage side.

"IBM has its own database product -- HP has to rely on other people's database technology. HP can't improve the functionality of a database -- it can only improve the functionality of the storage behind the database."

Taneja also pointed out that the two are not mutually exclusive products. "IBM still needs an archiving product," Taneja said. "You can't just keep adding data to a database -- you have to take it out at some point, because I don't care how efficient it is -- a 10 terabyte database is going to be totally unmanageable."

IBM currently resells a database archiving product from OuterBay competitor Princeton Softech.

Microsoft has also taken some strides to improve its DBMS, a.k.a. SQL Server, adding a fully functional version of database mirroring, which the company withheld from the first version of SQL Server 2005. SQL Server 2005 Service Pack 1 will ship at the end of April with the final version of database mirroring, according to Microsoft. IBM has also said it is at work on another version of DB2, code-named "Python," but declined to give any hints as to what features it will include.
Dig Deeper on Data Backup Resources
PRO+
Content
Find more PRO+ content and other member only offers, here.