News
Stay informed about the latest enterprise technology news and product updates.
Revamped Cisco WAFS worth the wait, users say
Months late, Cisco has finally released a combined WAN optimization and WAFS product, while startups like Riverbed have been snapping up the customers. But some Cisco beta testers say it has been worth the wait.
This Article Covers
RELATED TOPICS
Looking for something else?
Cisco Systems Inc., has finally released a combined WAFS/WAN optimization product, which it calls the Wide Area Application Service (WAAS). The product is late -- the wide area data services (WADS) market has been thriving for months without the networking giant, something even Cisco acknowledges -- and, according to beta testers, still a little rough around the edges. But beta users of the Cisco product are also saying they feel it's been worth the wait to have one throat to choke.

Download this free guide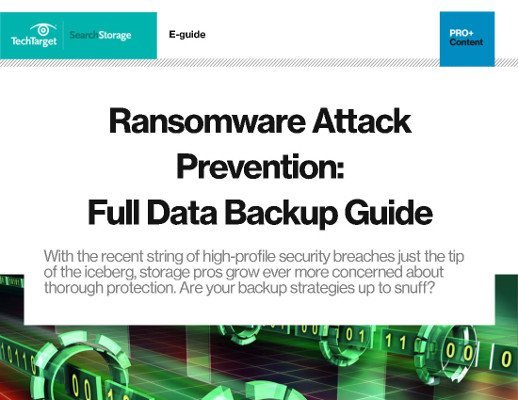 SearchStorage writers evaluate backup's role in ransomware detection
WannaCry, NotPetya, the list of dangerous ransomware viruses goes on and on, well beyond the most highly-publicized attacks. Use this guide to learn about the extent of the threat posed by ransomware, and bolster protection of your data, apps, and systems by using the backup strategies detailed within.

By submitting your personal information, you agree that TechTarget and its partners may contact you regarding relevant content, products and special offers.

You also agree that your personal information may be transferred and processed in the United States, and that you have read and agree to the Terms of Use and the Privacy Policy.

Cisco explained that the delay in the release of the product -- which can either be run as an appliance or, as of November 1, as a module in the Catalyst 65 router -- was due to wanting to avoid a method of sending WAN traffic called "tunneling," which collapses traffic down into one data stream, breaking access-control security policies and quality of service (QoS) prioritization schemes set on the local network.

The Cisco product, following its long development process, can optimize the transmission of traffic within the original TCP sessions opened by the application several different ways, depending on the type of traffic involved. One process, called TCP flow optimization (TFO), cuts down on the amount of time a TCP connection waits for a response from the other end of the line. Other methods include caching to eliminate redundant data and load balancing between different optimization boxes.

The ultimate goal of the WADS market is to eventually make the product a native function of the WAN, according to Cisco, and this product -- especially the router module -- is part of that evolution.

"We are entering the market with as competitive, or more competitive, a product as any that's out there," Weiner said.

According to WAAS beta tester Harold Hamm, vice president of IT at architectural engineering firm Reynolds, Smith and Hills Inc., the fact that WAAS was produced by Cisco and optimizes data transmissions without tunneling were what' made it worth waiting for.

"The fact that we have an all-Cisco network is a key element in the whole deal," said Hamm. "[Because it doesn't use tunneling] we know it'll be aware of our other traffic, like VoIP."

Hamm's fellow beta tester, Clifford Clarke, CIO for the City of Fort Wayne Ind., said that the city is in the process of switching out the last few remaining pieces of non-Cisco network gear for Cisco equipment. Though he declined to specify the other vendor or why the city was moving away from their product, Clarke, a user of Cisco's older WAFS product, said having one vendor for both the network and its optimization -- and within that, for both WAFS and TCP optimization -- was ideal.

"I'm a municipality and I'm always worried about cost," Clarke said. "I want everything packaged in one box, and I want additional capabilities to come in the form of add-ons, not a rip-and-replace."

Beta testers: traffic optimized, but features still lacking

So far, Clarke said he's seen a 40% increase in headroom on a previously "completely tapped" 1.5 Mbps T1 connection. The city had been considering putting in bigger pipes from the main data center to some 20 branch locations for video-conferencing purposes but found the WAN optimization approach vastly cheaper.

"We'll have ROI on it in 18 months," Clarke said.

The product doesn't yet have support for video streaming, which was the main impetus for the city to use WAN optimization in the first place. However, it has been helpful to free up space for that traffic by optimizing other applications, Clark said.

"They're getting there, but it's not available in the current offering," Clarke said.

Hamm said the product is a vast improvement over the system of a rotating set of DVD-ROMs his architectural engineering firm had been using to circulate data between offices. With caching in place, Hamm said, he'd seen traffic over the 1.5 Mbps WAN approach 100 Mbps LAN speeds. Moreover, being able to send the large CAD files the firm works on back and forth over the network will cut personnel costs .

In the course of beta-testing the product, however, Hamm said that WAAS has only recently gotten good at optimizing large files, which are the bulk of his concern when it comes to optimizing the WAN.

"It has gotten to the level within the beta where it works well on large files, though it could be improved further," he said. "But earlier releases worked much better on small files, which don't take up much bandwidth anyway."

Cisco will be marketing the product to non-Cisco customers, Weiner said, and the product will work with competitors' networking equipment. But, while it is possible that Cisco could market the product outside its customer base, "I doubt you'll ever see that case," said analyst Zeus Kerravala, vice president of infrastructure research and consulting at the Yankee Group.

"It's sort of an add-on for Cisco," he said. The product will probably not overtake Riverbed Technology's Steelhead product, which has more than 500 customers, several OEM deals and a recently released software update that provides for QoS. The Steelhead appliances, according to Riverbed officials, also do not use tunneling. Steelhead is more transparent to the network than Cisco's product, according to Kerravala, and it has support for more applications.

"Riverbed is still going to be perceived as the leader in this space," he said. Generally, the biggest appeal of the Cisco product will be to customers who already have the latest Cisco ISR, because slipping a module -- once it becomes available -- into that router is easier than installing new boxes, according to Kerravala.
Dig Deeper on Remote data protection
PRO+
Content
Find more PRO+ content and other member only offers, here.