News
Stay informed about the latest enterprise technology news and product updates.
Architectural firm swaps online data backup service providers
As online data backup services take off, one early adopter slashed costs dramatically by switching to a newer service on the market.
This Article Covers
RELATED TOPICS
Looking for something else?
Online data backup and storage Software as a Service (SaaS) have been growing over the last six months, with the arrival of Web 2.0 titans Google Inc. and Amazon.com in the storage and backup markets. Meanwhile, lesser known players on the Web are also gobbling up users and not just from traditional in-house backup environments. Some users, who had already embraced managed services, are finding the new Web-based services cheaper and easier to deploy.

One such user, Chuck Ladd, principal for Strahan Associates Architects, a Raleigh, N.C.-based architectural firm, was previously interviewed by SearchStorage.com last year about his decision to use a backup service provider called ViaRemote from Arsenal Digital Solutions Inc. through his Internet service provider (ISP), Time-Warner Cable Co. At the time, Ladd praised the service as an alternative to weekly drives to an offsite vault for tapes and daily wrestling with backup software and tape drives. But, he said, by February of this year he'd soured on some aspects of ViaRemote.

Download this free guide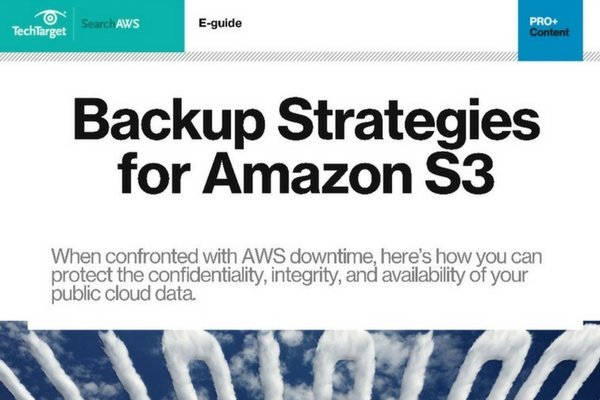 Amazon S3 in the spotlight: Your 34-page backup guide
In this guide curated by the SearchAWS.com editors, you'll evaluate and overcome the DR tradeoffs associated with Amazon S3, with guidance on solidifying an AWS backup plan and securing S3 buckets. Download your copy now.

By submitting your personal information, you agree that TechTarget and its partners may contact you regarding relevant content, products and special offers.

You also agree that your personal information may be transferred and processed in the United States, and that you have read and agree to the Terms of Use and the Privacy Policy.

Chief among them was cost. "We were paying [ViaRemote] $899 per month when we stopped. They weren't making the cost/benefit analysis anymore," Ladd said. That charge was for approximately 60 GB of protected data, averaging about 400 MB to 500 MB of nightly backups.

Ladd said his first recourse was to try to reduce the amount of data being backed up by archiving some older files to DVD. But, he said, it barely made a dent in the amount of data as new projects were filed and so made little difference in the cost.

Meanwhile, Ladd said he'd been intrigued by the idea of a Web-based data backup service, but searched for several months in late 2006 and found none of the vendors to his liking. "I liked how cheap they were," he said, "but none of them offered the level of service that ViaRemote did, like a hardened site and automated backup."

In December, Ladd said he came across a service called MozyPro, a new offering from consumer data backup services provider Berkeley Data Systems Inc., targeted at the enterprise market.

"They were the first service I saw at a lower price that had a professional-grade facility for storing data," Ladd said, recalling another service he evaluated for even less that consisted of someone who would back up his data to the basement of his home. MozyPro, meanwhile, like other SaaS offerings from Google and Amazon, is part of much larger Berkeley Data, which also stores data for 170,000 consumer backup customers with a petabyte of storage at its data center. The enterprise service includes additional features for business users, like encryption and bandwidth throttling on workstations being backed up. Ladd signed up, but he didn't discontinue ViaRemote right away.

While testing the service, Ladd said he was particularly impressed with the bandwidth throttling feature, since he is working with a standard Internet connection. "That way if our backup server is still running when we come to work, we can throttle the backup bandwidth down to 128 Kbps between the hours of 8 a.m. and 6 p.m., so it doesn't interfere with our business," he said. ViaRemote charges separately for backing up PCs and servers, and due to budget restrictions Ladd said he had to maintain Outlook inboxes on a centralized file server rather than on employees' workstations. With MozyPro, according to Ladd, each workstation is backed up directly.

Most of all, Ladd said, he was happy with the cost, which so far has worked out to around $60 per month. "That was the bottom line," he said. "There was nothing actually technically wrong with ViaRemote." Ladd also added that Arsenal Digital's relationship with his ISP meant initial backups had been much easier with that service, because Time Warner opened up more bandwidth for it after he signed up. With MozyPro, the initial backup took several days over the Internet connection at Strahan. (Arsenal Digital, meanwhile, announced two new services this week that perform initial backups and whole-site restores using an Arsenal technician and a portable server, rather than relying on the WAN, priced at $1,500 for initial backups and $2,500 for recoveries.)

Meanwhile, MozyPro, which was officially launched last week after collecting, according to Berkeley Data's claims, 2,500 enterprise users in 90 days since its first release in December, isn't just appealing to little shops, according to Berkeley's founder and CEO, Josh Coates. Coates said that this includes a Fortune 10 company which recently signed a global contract with MozyPro and dumped the No. 1 online remote data service provider to do so (we're not supposed to say who they got rid of, but we're sure you can guess).

As for Strahan's case, Arsenal Digital spokesperson Adam Trunkey responded, "There are a lot of products on the market and customers should pick one with a track record of success protecting business critical information."
Dig Deeper on Data storage backup tools
PRO+
Content
Find more PRO+ content and other member only offers, here.