SNW: Users wary of outsourcing backup
Symantec unveiled plans for outsourced, online data backup services this week, but users at Storage Networking World are more cautious than ever about letting go of their data.
This Article Covers
RELATED TOPICS
Looking for something else?
SAN DIEGO -- Symantec Corp.'s new online data backup service met with a frosty response from users of all sizes at Storage Networking World (SNW), Tuesday.

Download this free guide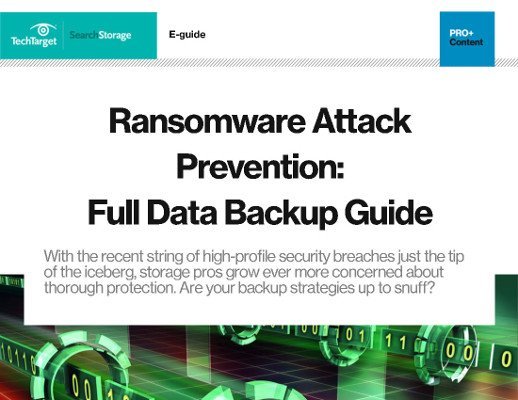 SearchStorage experts combat ransomware in this comprehensive backup guide
Download our editors' ransomware guide, in which you'll discover the full value of mature DRaaS, blockchain technology, and copy data management techniques in detecting and fighting the scourge of ransomware. Additionally, we review backup tools from Acronis and Unitrends used for ransomware protection.

By submitting your personal information, you agree that TechTarget and its partners may contact you regarding relevant content, products and special offers.

You also agree that your personal information may be transferred and processed in the United States, and that you have read and agree to the Terms of Use and the Privacy Policy.

Symantec Protection Network Online Backup Service is the first Software as a Service (SaaS) offering from the company and is aimed at small and midsized businesses that require many of the data protection functions of larger organizations but do not have the budget or expertise to implement them in-house.

A Symantec official at SNW added that the service, which will encrypt backup data sent over the wire, will allow users to have "disaster recovery advancements without the costly upgrade cycles of traditional approaches." Symantec did not release pricing details or a date for when the service will be officially available.

Despite the stated advantages of SaaS, many users are more concerned than ever that outsourcing will not meet their company's security and control requirements, and will turn out to be as expensive as implementing the systems themselves.

Andrew Leopold, microsystems support manager at Loma Linda University said security and bandwidth issues are the key reasons why he wouldn't consider outsourcing backup over the wire. "We can't even get our LAN fast enough for backups, never mind doing them over the WAN, and the price of bandwidth at $61 per megabit makes it cost prohibitive," he said. Loma Linda University, a medical institute, backs up under 10 terabytes (TB) of data with retention procedures that are governed by the Health Insurance Portability and Accountability Act (HIPAA). "We don't know what security the service provider has and whether it would protect our data for HIPAA … it's just way too risky," he said.

Another user, Richard Carpenter, director in the technical services group at AllTel Communications, said his company debates the pros and cons of outsourcing backup regularly. "Our biggest concern is privacy … when it's not our employees handling our data it's a worry." Another stumbling block he foresees is in the restore process and how that would be handled as his storage and application groups work very closely. "They are tightly tied together … so how does that work if and when we want to recover data?"

AllTel is a 2 petabyte (PB) EMC Corp. shop, running Symantec NetBackup along with Advancedd Digital Information Corp. (ADIC) and StorageTek tape drives. Carpenter said, "If you'd asked me five to six years ago before we'd staffed up, I might be more interested." Although he added that outsourced services back then were often very expensive compared with managing the operation internally.

Symantec's response to the security worries users have is encryption. All data crossing the wire is encrypted, and only the changes to that data need to be sent, reducing the bandwidth consumption issues, the company claimed.

Industry analysts said the offering is far from a slam-dunk for Symantec, but that the opportunity does exist for the right market. Arun Taneja, founder and consulting analyst with the Taneja Group believes that vendors today are cognizant of the mistakes made during the late 90s when Storage Service Providers (SSP) lead by companies like StorageNetworks Inc. were offering capacity on demand to hungry dot-coms. "They have learned, I hope, that large companies will not part with their primary data, but if I am a small business, with no staff, having someone else take care of my backups and RTOs and RPOs is absolutely a good thing," he said.

Similarly Jerome Wendt, lead analyst and president of Datacenter Infrastructure Group Inc., believes smaller businesses that do not have a staff of IT folks worrying about losing their jobs, will be the companies that adopt these services the fastest.

Coincidently, Symantec wasn't the only product company throwing its hat into the online data backup services arena this week. EMC, during its earnings call Tuesday, announced its intention to move into this market, although offered no details on when or what its service will look like.

Meanwhile, Iron Mountain Corp. with LiveVault, Seagate Technology with EVault, Arsenal Digital Solutions Worldwide Inc., AmeriVault Corp. and Berkley Data Systems Inc. among many others, are all building online data backup businesses that appear to be thriving right now. It seems the reservation many users have with incumbent players, like EMC and Symantec, is whether they can shift their business models sufficiently to support SaaS and can build the trust required to offer such a service.

"It's quite a leap to go from buying a few software licenses to handing you all my backup data," said one user who preferred to remain anonymous, as he is not authorized to speak with the press.
Dig Deeper on Data storage backup tools
PRO+
Content
Find more PRO+ content and other member only offers, here.