News
Stay informed about the latest enterprise technology news and product updates.
F5 unveils virtual snapshots for Acopia switches
F5 adds support for virtual snapshots and a management console to Acopia ARX switches, but integration between its app delivery and file virtualization technologies must wait.
Looking for something else?
F5 Networks Inc. added support for snapshots of file systems on multiple heterogeneous devices in its first upgrade of the Acopia Networks Inc. file virtualization switch.

Download this free guide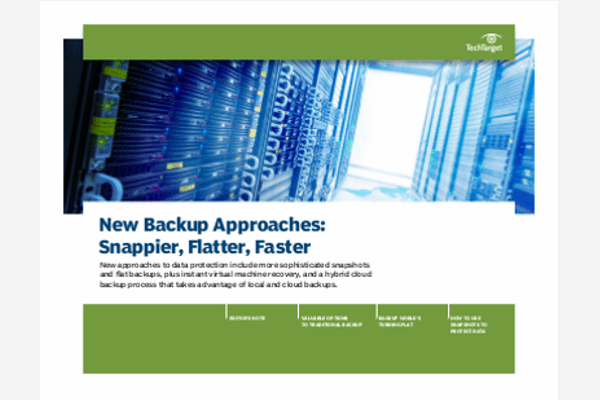 Drill down into today's new backup approaches
Due to the features of most modern backup software – which include snapshot management, DR elements, cloud support, VM protection – backups can do so much more than simply restoring data in the event of a storage or server failure. Download this guide and not only discover the latest upgrades to today's top enterprise backup vendors, but also learn where backup software works best in your computing environment.

By submitting your personal information, you agree that TechTarget and its partners may contact you regarding relevant content, products and special offers.

You also agree that your personal information may be transferred and processed in the United States, and that you have read and agree to the Terms of Use and the Privacy Policy.

However, no roadmap for convergence between F5 and Acopia products has been set five months after F5 paid $210 million to acquire startup Acopia.

F5 is adding a feature it calls virtual snapshots to version 3.0 of the FreedomFabric network operating system that runs on Acopia's ARX switches. Virtual snapshots allow users to take snapshots of file systems on multiple heterogeneous devices through the Acopia switch. Acopia first demonstrated this feature in February 2007, but it took nearly a year to qualify it with NAS vendors, according to Nigel Bermeister, product manager in F5's Data Solutions group.

F5's virtual snapshots are limited to EMC Corp. Celerra and Network Appliance Inc. filers in this release. (File virtualization competitor Attune Networks Inc. has been shipping the virtual snapshot feature since last spring. Attune's heterogeneous snapshots cover NetApp filers and Windows file servers.)

F5 plans to support more NAS vendors, though Bermeister isn't giving any time frame for doing so. "We have to go through extensive QA and beta testing to harden features like this for enterprise environments," he said. Heterogeneous snapshots are managed through a command-line interface within Acopia's FreedomFabric Network Manager, a new standalone console that includes automated configuration wizards. Network Manager is priced starting at $3,500 for one ARX cluster with lower license fees for additional clusters. The software runs on a commodity server attached to the switch.

The first module released for Network Manager provides automated discovery of file systems in a user's environment and auto-generates configurations to optimize the way the software virtualizes the environment. "Many users don't have a holistic view of the configuration of all of their file servers, and it can sometimes lead to mismatches between the ARX configuration and the file server configurations," Bermeister said. Network Manager will also allow users to create inventory reports based on the automated configuration discovery.

F5 claims six beta testers for the first version of the feature, but none are available to speak with the press.

Integrating network mangement, file management still on to-do list

While F5 has demonstrated with this release that it doesn't intend to quash Acopia the way Cisco Systems Inc. did when it acquired another file virtualization startup, NeoPath Networks, in March, there is little network management and file management synergy visible in this release.

The ARX switch can produce SNMP information, which in turn can be read by overarching data center management software from F5. But otherwise, "We're initially targeting simplifying the deployment of Acopia's software among storage administrators," Bermeister said. "Today it's probably still storage administrators who purchase and manage Acopia products, and primarily network administrators who purchase and manage F5 products."

Bermeister didn't shed much light on integration between network application delivery and file virtualization technologies. "There are obvious similarities between products, like F5's BigIP, which acts as a proxy for TCP traffic the way Acopia acts as a proxy for CIFS and NFS traffic," he said. "But I don't know that [our plans] have been fully fleshed out yet."

Integration is often difficult enough when two storage companies merge, let alone a storage and networking vendor.

"Integration will probably take a little bit," said John Webster, an Illuminata Inc. analyst. "Storage is still new to F5's customer base and sales force, and it'll take a little longer to bring about penetration into the storage side of customers' shops."
Dig Deeper on Data Backup Resources
PRO+
Content
Find more PRO+ content and other member only offers, here.