News
Stay informed about the latest enterprise technology news and product updates.
EMC repackages Avamar data deduplication
EMC announces new packaging for its Avamar data deduplication software, including a virtual edition and two new storage hardware products OEMed from Dell.
This Article Covers
RELATED TOPICS
Looking for something else?
EMC Corp. announced two storage hardware products built to integrate with Avamar Technologies' data deduplication software, as well as new packaging of Avamar's software for deployment on VMware virtual machines.

Download this free guide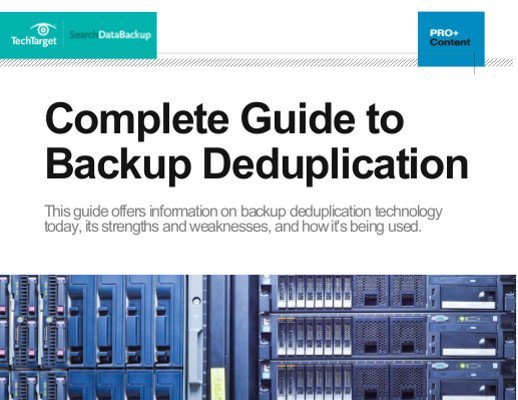 Free Download: Complete guide to backup deduplication
Access all of the 31 articles in our Data Deduplication Essential Guide by downloading our comprehensive PDF version so that you can access all of this expert content in one, easy-to-read resource.

By submitting your personal information, you agree that TechTarget and its partners may contact you regarding relevant content, products and special offers.

You also agree that your personal information may be transferred and processed in the United States, and that you have read and agree to the Terms of Use and the Privacy Policy.

Avamar Virtual Edition is a bundle of Avamar software and Red Hat Linux OS that has been revised to recognize virtual disks and virtual configuration files. It's available on a hard drive or DVD, or from an EMC FTP site. Avamar Virtual Edition assumes that the user is running VMware ESX and already has shared storage deployed. It can dedupe both within and across virtual machines.

"Being able to run dedupe inside a virtual machine, in addition to deduping virtual machines [themselves], makes Avamar unique in the industry at this point," said Lauren Whitehouse, analyst with the Enterprise Strategy Group (ESG).

The Avamar Virtual Edition for now is a "small version" with support for up to 1 TB of physical storage, which Avamar claims can hold up to 35 TB of traditional backup data. According to co-founder and EMC vice president of product management Jed Yueh, there are still performance barriers when it comes to hosting full versions of certain applications on virtual machines, a concept known as virtualization drag.

The problem of storage performance limitations for virtual machines has also been encountered by FalconStor Software Inc., which left storage virtualization out of its version of IPStor for virtual machines and limited the number of host connections that its virtual appliance will support.

Unlike FalconStor, Avamar Virtual Edition is not certified with VMware as an appliance due to technicalities in licensing regulations. EMC's licensing agreement with Red Hat requires it to pay for each instance of the OS running beneath Avamar, which means it can't bundle a copy of the OS with Virtual Edition. As a result, Avamar Virtual Edition misses the requirements for official certification with VMware and therefore won't be available as a free download from VMware' Web site, unlike other VMware-certified virtual appliances.

Technically speaking, Yueh claims there's little distinction in terms of deployment between the Virtual Edition with a bundled-in OS from EMC and the licensed download from VMware. "There's no significant distinction between the two; it's a matter of shades of definition," he wrote in an email to SearchStorage.com.

Avamar Data Store: New hardware package from EMC and Dell

EMC acquired Avamar last year for $165 million, and has already integrated Avamar software with its Celerra NAS array. Further integrations with other EMC existing hardware, as well as with its backup software, are planned, said an EMC spokesperson. However, rather than offering the ability to front Clariion or Symmetrix with Avamar, as some in the market were expecting, the latest EMC announcement includes two new storage hardware offerings from EMC based on products from Dell Inc.

"Over time, we'll see more consolidation of platforms," Yueh said. "But as things stand right now, there wasn't a logical fit with any of EMC's existing storage systems," since the new Avamar Data Store also includes servers.

The Avamar Data Store comes in two single-node and multinode configurations. The single node is a Dell PowerEdge 2950 server with 4 GB of RAM, 3 GHz processors and 1.8 TB of raw storage. The multinode Data Store is a preracked, preswitched, preconfigured system of two to 17 nodes, plus one spare node. Nodes are added to the multinode systems in two-node configurations.

Because the multinode system also uses Avamar's RAIN for parallel access to storage and includes dedupe, Yueh acknowledged it's similar to the HydraStor product from NEC Corp. of America, released in March.

As a "drop in" system, it's also more similar now to the prepackaged appliances sold by Avamar nemesis Data Domain Inc., Whitehouse pointed out. "I think this product is somewhat in response to pressure coming from target vendors, like Data Domain and ExaGrid, which have been able to drop their systems into customer environments, while the complexity issue is the biggest objection Avamar has to overcome."

The fact that the system includes so many moving parts -- servers, cables, switches, HBAs, storage nodes and all their attendant connections -- suggests how difficult it can be to deploy a software-only system that relies on complex hardware configurations and has unusual performance requirements because of the data deduplication feature.

According to Yueh, EMC customers said, "We shouldn't have to do all this assembly when EMC has the technical expertise and supply chain to ship a system that's preconfigured and ready to roll."

"It's also going to make it easier for EMC to support, making it a more repeatable configuration, rather than having to qualify, certify and support all the possible combinations of devices you can use with this," Whitehouse said.

Joe Martins, managing director of the Data Mobility Group, agreed that the "handpicked" hardware will ease a lot of headaches, but said he still hopes to see EMC's existing arrays, like Clariion, become available for use as data stores with Avamar as well. "The impression I get is that this is the [final] Avamar-focused product," he said. "But some customers might want to repurpose hardware they already have."

Avamar customer references did not respond to requests for comment as of press time.

Pricing of Avamar Virtual Edition

Avamar Virtual Edition for VMware is based on Avamar v3.7.1, which is licensed and priced based on deduplicated backup capacity. Pricing will start at $17,000 for 1 TB of deduplicated backup capacity (equivalent to approximately 35 TB to 50 TB of traditional backup capacity). The product will be generally available in November. List pricing for the Avamar Data Store starts at $30,000. That product is available now.
Dig Deeper on Data reduction and deduplication
PRO+
Content
Find more PRO+ content and other member only offers, here.