News
Stay informed about the latest enterprise technology news and product updates.
Eight guidelines to Windows-based snapshots
Snapshots can play an important role in backing up data, disaster recovery and populating a secondary server with live data. In this tip, Dilip Naik offers eight important guidelines to consider when implementing Microsoft's version of snapshots -- Volume Shadow Copy Service.
This Article Covers
RELATED TOPICS
Looking for something else?
With the increasing emphasis on data availability, the Windows Server 2003 Shadow Copy Service is expected to play an important role in corporations that deploy Windows Server 2003. Volume Shadow Copy (this article uses the terms "shadow copy" and "snapshot" interchangeably) is both an infrastructure as well as a feature.

Download this free guide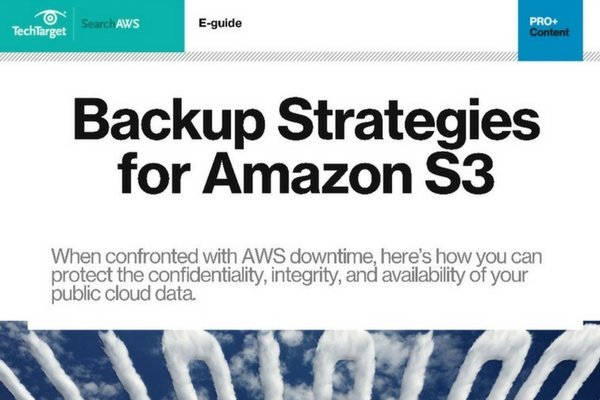 Amazon S3 in the spotlight: Your 34-page backup guide
In this guide curated by the SearchAWS.com editors, you'll evaluate and overcome the DR tradeoffs associated with Amazon S3, with guidance on solidifying an AWS backup plan and securing S3 buckets. Download your copy now.
By submitting your personal information, you agree that TechTarget and its partners may contact you regarding relevant content, products and special offers.
You also agree that your personal information may be transferred and processed in the United States, and that you have read and agree to the Terms of Use and the Privacy Policy.
The infrastructure benefits storage array vendors, providing them with a reliable way of defining a point-in-time where they may implement a snapshot in their hardware.
The feature, for the benefit of system administrators, is a fully functional snapshot using a copy-on-write software driver provided by Microsoft as part of the server operating system. Snapshots can play an important role in backing up data, disaster recovery and populating a secondary server with live data.
Snapshots using a copy-on-write technique require some location where the snapshot metadata and copied data can reside. This location is referred to as a "diff area" short for difference area. As the name implies, Volume Shadow Copy Service creates a snapshot on a per volume basis for NTFS volumes.
Here are eight important guidelines to consider when implementing the Volume Shadow Copy Service:
Allocate the "diff area" on a different volume and spindle. The simultaneous I/O to the volume that was shadow copied, and the "diff area" volume where copy on write I/O is done should help performance.

Do not snapshot the "diff area" volume. The snapshot would succeed, but what would you do with it? Can you understand what would happen if you used the snapshot to do a restore of the "diff area?"

Do not dismount the "diff area" volume. The integrity of the snapshot created will be lost, since data can no longer be written to it in a copy-on-write fashion

Do not snapshot a volume that contains volume mount points. The volume mount points will not show up if you restored the volume using the snapshot
Allocate space for the "diff area" carefully – if the area is too little, the oldest snapshot will get deleted

Space freed up by deleting snapshots in the middle is not reused. For example, if you create four snapshots of a volume and then delete snapshots two and three, the area freed up is not reused

Be careful when you defrag a volume -- if the volume cluster size is less than 16 KB, you may lose older snapshots

Do not mix regular data files and database files on the same volume. Problems may occur when you try to create a volume shadow copy. The database may fail creating the shadow copy volume because it cannot halt I/O. Microsoft SQL Server has been known to fail while running in full recovery mode. This may occur because of its heavy disk I/O while logging all operations

About the author:
---
Dilip C. Naik has more than fourteen years of experience in various roles at Microsoft, including software engineer, program manager, and technical evangelist. His contributions include writing CIFS/SMB code, CIFS-related RFCs, code and documentation for the Windows NT Installable File System Kit, as well as Windows Management Instrumentation (WMI) and performance/management (including storage management) features for the Windows platform. Dilip has also represented Microsoft on a number of industry standards organizations.

Dilip has recently authored "Inside Windows Storage" from Addison-Wesley Professional. For a free chapter on Windows backup, click here.
Dig Deeper on Backup and recovery software
PRO+
Content
Find more PRO+ content and other member only offers, here.