News
Stay informed about the latest enterprise technology news and product updates.
Storage Clips: Crossroads launches database security appliance
Crossroads enters the security market with an appliance designed to stop authorized users from misusing database information; U.S. plans data mining operation.
This Article Covers
RELATED TOPICS
Looking for something else?
Daily compilation of storage news: Crossroads unveils database security appliance
Storage router maker, Crossroads Systems Inc. is entering the security market with its StrongBox SecurDB (SecurDB) appliance designed to stop "authorized misuse" of database information, according to the company. The product will be generally available in April for under $50,000.

According to Crossroads, the majority of database breaches are undertaken by people with authorization, meaning that there is no way within the database itself to prevent this misuse.

Download this free guide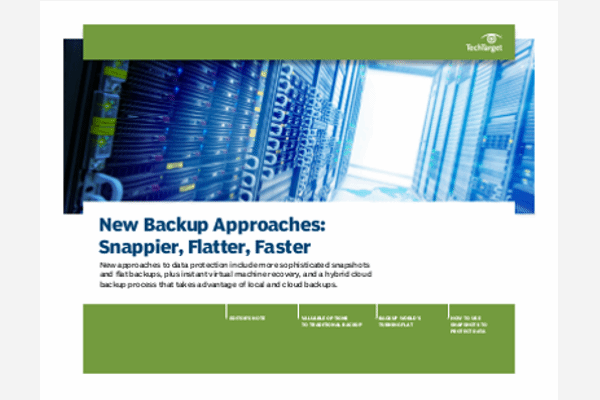 Drill down into today's new backup approaches
Due to the features of most modern backup software – which include snapshot management, DR elements, cloud support, VM protection – backups can do so much more than simply restoring data in the event of a storage or server failure. Download this guide and not only discover the latest upgrades to today's top enterprise backup vendors, but also learn where backup software works best in your computing environment.
By submitting your personal information, you agree that TechTarget and its partners may contact you regarding relevant content, products and special offers.
You also agree that your personal information may be transferred and processed in the United States, and that you have read and agree to the Terms of Use and the Privacy Policy.

SecurDB sits in-band or out-of-band, and monitors all SQL traffic to expose any suspicious activity. A customizable policy engine allows users to create rules, such as "alert me when a request appears for more than 10 records containing Social Security numbers" or "alert me when patient records are being asked for," to determines what information is suspicious. Automated audit reporting and forensic capabilities enable companies governed by regulations to keep an audit trail of who had what access to the database and when.

Crossroads also announced it has joined Carnegie Mellon University's CyLab, an academic research center dedicated to developing new technologies for secure computing and communications.

U.S. plans huge data mining operation
The U.S. government is developing a massive computer system that can collect huge amounts of data, purportedly in order to search for patterns of terrorist activity. The data store will troll for information from blogs and e-mail to government records and intelligence reports, according to a scoop by the Christian Science Monitor already being debated at water coolers around the nation, as privacy concerns clash once again with security initiatives.

The computer system being used in this effort is called Analysis, Dissemination, Visualization, Insight and Semantic Enhancement (ADVISE), designed to archive and analyze a vast array of corporate and public online information -- from financial records to CNN news stories -- and cross-reference it against U.S. intelligence and law enforcement records. The system would then store it as "entities" -- linked data about people, places, things, organizations and events. The storage system is reportedly enough to retain information about 1 quadrillion entities.

IBM partners to store medical images
IBM announced it will partner with i3Archive Inc. to jointly market disaster recovery and business continuity services to the medical imaging industry. Under this new agreement, i3Archive and IBM team up to promote medical imaging data management services to healthcare institutions with limited financial resources.

BridgeHead announces pact with Amicas
BridgeHead Software announced a partnership with Amicas Inc., which will see BridgeHead's storage management software integrated into Amicas' picture archive and communications systems archive for data backup and restore. The product can also be used for the Health Insurance Portability and Accountability Act compliance, as BridgeHead has also developed a system for backup and disaster recovery replication of data stored with Meditech medical archiving software.

Isilon stores Olympics pictures
Isilon's IQ clustered storage will be used as the primary storage platform for the Olympic Winter Games in Torino, Italy. Isilon will also be used for primary storage by Sports Illustrated at the games. Sports Illustrated also used Isilon during the the Summer Olympics in Athens in 2004.

Dot Hill, AMCC see boardroom changes
Dot Hill Systems Corp. announced that its vice chairman and CEO, James L. Lambert, will retire from his 22-year executive role with the company, effective March 1, 2006. Dana W. Kammersgard, Dot Hill's president, will succeed Lambert as CEO, and will also join the board of directors.

Meanwhile, Applied Micro Circuits Corp. (AMCC) announced today that Faye Pairman, senior vice president and general manager of the storage business, is leaving the company. Effective immediately, Barbara Murphy, vice president of marketing for the storage business, will assume the general manager responsibilities.

AXS-One teams with MailFrontier
E-mail security startup MailFrontier and e-mail archiver AXS-One announced a partnership to offer a joint product that will unite MailFrontier's security gateway with AXS-One's compliance platform.

Kodak to support Nexsan
Kodak Service & Support, Eastman Kodak Co.'s worldwide service organization, has been named the global provider of warranty service for storage devices manufactured by Nexsan Technologies in Europe, the Middle East and Africa, the companies announced.

Softek consolidates data migration tools
Softek announced it has consolidated its on-line data migration software for distributed mainframe and open system environments under one brand -- Transparent Data Migration Facility (TDMF). The company also announced a new product, Softek TDMF IP, designed to perform data migration over distance for Unix and Windows environments.
Dig Deeper on Data backup security
PRO+
Content
Find more PRO+ content and other member only offers, here.