News
Stay informed about the latest enterprise technology news and product updates.
BakBone branches into SRM
Version 3 of BakBone's NetVault Report Manager includes SRM capabilities, such as disk utilization reporting, forecasting and data migration between tiers.
This Article Covers
RELATED TOPICS
Looking for something else?
BakBone Software Inc. introduced Version 3 of its Report Manager software this week, adding support for more operating system (OS) platforms, disk space utilization reporting, forecasting and a data manager option that allows for the automated migration of data between tiers.

Download this free guide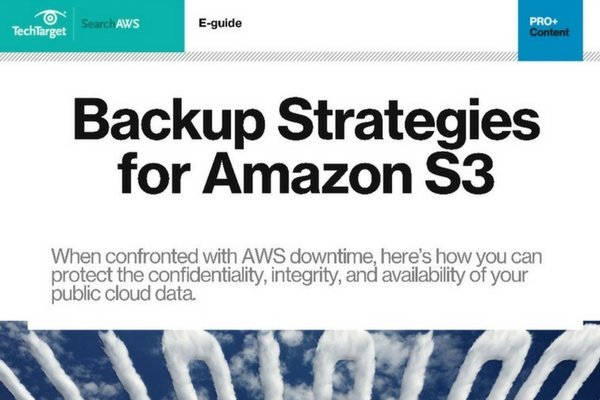 Amazon S3 in the spotlight: Your 34-page backup guide
In this guide curated by the SearchAWS.com editors, you'll evaluate and overcome the DR tradeoffs associated with Amazon S3, with guidance on solidifying an AWS backup plan and securing S3 buckets. Download your copy now.

By submitting your personal information, you agree that TechTarget and its partners may contact you regarding relevant content, products and special offers.

You also agree that your personal information may be transferred and processed in the United States, and that you have read and agree to the Terms of Use and the Privacy Policy.

The software, first released in Version 2 last November, was the result of a partnership between BakBone and U.K. software developer Otium Software Ltd., previously monitored backup jobs on each application server, but administrators had to log in separately to specific servers that reported problems in order to troubleshoot. Version 3 allows the administrator to "drill down" through the Report Manager console into the server logs to identify the cause of a backup failure. The software will also newly support Snap Appliance's Snap Guardian OS.

Version 3 has also added Report Manager for Disk Space, which monitors disk utilization on storage systems and alerts administrators when preset thresholds are being reached. A similar brush-up on the tape side now means that the software can tell an administrator when more tapes will need to be purchased according to utilization rates and retention policies.

Finally, as part of Report Manager for Disk Space, BakBone has added the NetVault Report Manager Data Manager Option (NRDM), a feature that monitors frequency of access to files and sends data to archives -- whether on a disk system or tape -- according to user-determined policies.

"We wanted to put this at the file system level for more granularity than the previous device-level monitoring," said Charlie Keiper, vice president of product marketing for BakBone. "But if we were to migrate data at the block level, we would only be able to see occupied and unoccupied blocks. We'd rather be able to associate whole files with particular users and applications, so that people can see not only utilization of their storage, but who's using what and why."

With this move, BakBone, which has been pushing its "integrated data protection platform" (IDP) vision since the third quarter of last year, is branching beyond backup and into the storage resource management (SRM) field, according to users and analysts.

"For me, it replaces [Hewlett-Packard Co.'s (HP)] OpenView," said Chip Olsen, senior systems engineer for Idaho-based Woodgrain Millwork, one of the world's largest millwork companies. Woodgrain currently has five of its seven terabytes of primary storage on an HP EVA 5000 and is running its enterprise resource planning (ERP) system on an HP 9000 server.

Olsen said he tried OpenView several years ago but found it overwhelming for his purposes. "OpenView does quite a bit more, especially in terms of provisioning and other aspects of storage management, and it allows a lot of flexibility in setting what kind of reports you want" he said. "But I don't have all that big an environment, and OpenView allowed almost too much flexibility for me. It's much simpler for me to use the canned reports that come with the BakBone Report Manager."

According to Arun Taneja, founder and analyst with the Taneja Group, the additions to Report Manager have pushed it over the edge from strictly data protection management into SRM, an area currently dominated by HP's OpenView and others.

"They're definitely reaching into the SRM space," Taneja said. "The SRM features only work for their own product, which is a difference between them, and what HP is trying to do, but there's a serious utility in having that kind of functionality within its own product, since BakBone mainly focuses on midsized companies who are much more likely to have them as the only backup vendor anyway."

Which doesn't mean the product is necessarily spreading itself too thin on the data protection management side, either, Taneja said. Third-party backup reporting tools are catching on among users with larger and more complex environments. (See, Users tame backup systems with reporting tools, July 10). But according to Taneja, there's still a need for users with smaller environments and loyalty to one backup vendor to have better tools.

"Third-party tools do have the advantage of having more of a 'bird's eye view' on the environment, but users have been telling vendors, 'you should be giving us a more sophisticated view within your own product of what failed and what worked," he said. "On the basis of what I've seen from BakBone, especially on the file side, they're probably ahead of the curve."

Olsen said he has been using Report Manager since its initial release last fall, but that Version 3 came to him automatically as part of the upgrade assurance package he signed up for with the NetVault backup software.

If anything, he said, he's looking for ever more automation from BakBone. His only complaint about the product, he said, is that though the software's agents install themselves automatically on clients, "I have to go back and tell the backup server to query the clients and schedule the reports by hand," he said. "Otherwise the client sits there, running great, but with no visibility into the data."

"We're looking into ways to do that," said Keiper. "Right now the issue is load balancing -- we don't want an automated report scheduler to go out to 100 servers all at midnight for data."

Olsen also said that he doesn't use the BakBone software for his 20 remote sites because the Report Manager does not currently have a Novell Inc. agent, which is the primary OS in his shop.

Keiper said that users should be on the lookout for "rapid release cycles" for the Report Manager software every six to eight months from now on, and that increased automation would be among the features it would look to add, along with application awareness, beginning with Microsoft Exchange.

"Right now, we can tell you that your Exchange Store is 750 GB," Keiper said. "But going forward we want to be able to look inside the file and tell you how many mailboxes and how many duplicate attachments there are inside them."

And yes, Keiper said, being able to see the duplicate attachments would be the first step toward adding deduplication capabilities to its products.

"That functionality probably wouldn't be included in the Report Manager itself, but it's definitely something we're looking to add to our other software products and integrate with Report Manager as part of our [Independent Data Protectin (IDP) strategy," he said.

As for further expansion in the SRM space, Keiper said it would remain fairly limited. "We already think of Report Manager as an SRM tool in many ways," he said. "But as far as things like provisioning, they're already pretty well covered -- we're not looking to get into that space."

BakBone is not alone in the integration push with its software, or in its focus on blurring the lines between management software sets. Its nearest competitor in the midmarket, CA Inc., has been on an acquisition tear of late, adding MDY International Inc. on June 14 and acquiring replication software maker XOsoft Inc. July 11. (See CA acquires MDY for records retention management and CA acquires XOsoft, adds replication to ARCserve). EMC Corp., too, has been folding in acquisition after acquisition, with the goal being "Intelligent Information Management" or IIM, a strategy similar to BakBone's IDP.
Dig Deeper on Backup and recovery software
PRO+
Content
Find more PRO+ content and other member only offers, here.