News
Stay informed about the latest enterprise technology news and product updates.
University of Miami students subscribe to Atempo backup
Some 1,000 students at the University of Miami have signed on to have data from PCs and laptops backed up and encrypted using Atempo's CDP software.
This Article Covers
RELATED TOPICS
Looking for something else?
TECHNOLOGIES
Gone are the days of pencils and books as the primary tools of the trade on college campuses; today's college students tote their lives around in bits on hard drives instead. The University of Miami, Fla., took a proactive approach to the increase in the amount and importance of students' electronic data by offering continuous data protection (CDP), encryption and centralized storage on a subscription basis using a storage area network (SAN) from Intransa Inc. and Atempo Inc.'s LiveBackup Express software.

Download this free guide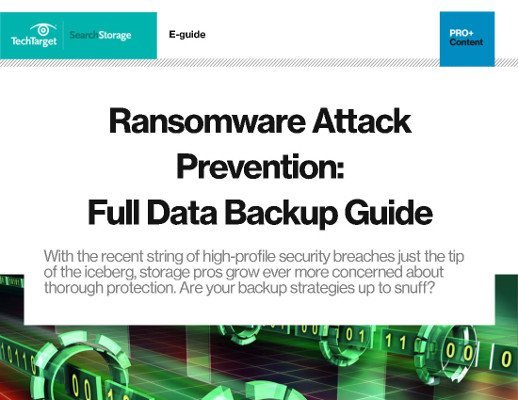 SearchStorage writers evaluate backup's role in ransomware detection
WannaCry, NotPetya, the list of dangerous ransomware viruses goes on and on, well beyond the most highly-publicized attacks. Use this guide to learn about the extent of the threat posed by ransomware, and bolster protection of your data, apps, and systems by using the backup strategies detailed within.

By submitting your personal information, you agree that TechTarget and its partners may contact you regarding relevant content, products and special offers.

You also agree that your personal information may be transferred and processed in the United States, and that you have read and agree to the Terms of Use and the Privacy Policy.

"It's like providing [students] a place to eat," said the university's executive director of technical operations, Freddie Robinson. "We've gone from big clunking PCs in labs to a completely wireless campus, and you see students in the cafeterias, on the commons, by the pool, by the lake, all with laptops open, doing work."

After a harsh hurricane season in 2005, when Hurricanes Katrina and Wilma both roared through the Miami area, Robinson said he and the rest of IT management on campus decided that the university should provide a better "disaster recovery" option for students. Around the turn of the new year, it set up the Intransa SAN (the university is standardized on IBM mainframes for other data) it had been evaluating and set about finding backup software for laptop and PC data.

Though an IBM shop, Robinson said the university eventually decided on Atempo over IBM's Tivoli CDP product and CA Inc.'s Brightstor because both of those products require some scheduling of snapshots and because Atempo comes with features, like compression and encryption, built in. The Intransa SAN is then backed up along with the mainframes on IBM's mainframe virtual tape library (VTL) and a 3590 tape library using Tivoli Storage Manager (TSM).

"We don't want our students or our IT staff to be hands on with any of this," Robinson said. He added that his staff never sees or manages the students' data as it is sent between systems. "We spend the amount of time it takes to make a cup of coffee to manage it every week."

If students want to use the backup option, they sign up through the university's Web site-based backup program on the campus intranet, and pay a $60 subscription fee for the year. That fee gets them 2 GB of physical space on the SAN, which Robinson said translates into 7 GB or 8 GB because of the built-in compression with the Atempo software. The compression also helps the university control the storage growth associated with centralizing PC backups. He estimated less than 40% of the 8 terabyte (TB) Intransa system is currently being used.

The fee, which works out to $5 per month, is a very modest amount of the overall licensing the university is paying, Robinson said, and that number could go down as more of the campus' 15,000 students join in. So far, he said, 1,000 students have signed up -- some of them for an earlier $80 subscription fee, though the university refunded the $20 difference when it lowered the rate. Graduates can also use the system for the same fee after leaving campus; if the agent is on the PC, the system can be accessed from anywhere using the campus network.

After paying the fee, the student then downloads Atempo's agent onto the laptop or PC they want to protect. On the back end, Robinson's staff has set the software to exclude certain file extensions, like .bmp (a high-resolution picture file), .wav (certain sound files) and various video file extensions. Otherwise, he said, the software backs up everything on the hard drive aside from the operating system until it runs out of space. Atempo offers a "full" version of LiveBackup that can protect the operating system, but Robinson said he prefers to keep install CDs of various versions of Windows handy, if students need them instead, to save on storage space and licensing costs.

Students can opt to have the service protect their MP3 files, Robinson said, but it's not recommended.

"If they want to use their space for that, it's their choice," he said. "But we're more interested in modifiable files like Word documents or PowerPoints."

A few test cases

Robinson said it's hard to tell how many file recoveries students have made, since IT doesn't have to be involved. "We didn't want to put them in the position of having to contact someone at 2 a.m. to recover their data," he said.

However, Robinson said at least one case came to his attention, when a student left campus to visit her parents in Georgia over an intersession break, and her laptop hard drive crashed.

"She contacted us because she didn't realize she could do it herself," Robinson said. But after some instructions from the IT staff on campus, she recovered her data using her parents' DSL connection.

Robinson, who recently earned a master's degree from the university, said he had personally had to use the system while working on papers for two courses at once and overwriting one of the documents with the latest version of the other. Since the Atempo software keeps previous versions of each file it backs up, Robinson said he was able to restore the overwritten paper -- 12 pages -- representing days of work.

"From what I've heard, it's been tested in Mexico, it's been tested on cruise ships -- anywhere there's the Internet," Robinson said.

CDP is becoming more popular in the small and midsized business (SMB)/consumer market. Atempo has several competitors in the space, aside from Tivoli and Brightstor; Symantec Corp.'s Symantec BackupExec 10d is a true-CDP product, journaling and indexing data as it comes in, and like Atempo, allows users to restore their own files. Tivoli's product requires a bit more hands on management, according to users, but also offers options like the ability to designate high- and low-priority files, and the ability to set data retention periods. For more on CDP and a complete listing of vendors and products, please see our CDP Buying Guide.
Dig Deeper on Backup and recovery software
PRO+
Content
Find more PRO+ content and other member only offers, here.