News
Stay informed about the latest enterprise technology news and product updates.
Symantec tips hand on CDP roadmap
Symantec officials reveal details of integration plans for CDP with NetBackup, as well as new features coming for Storage Foundation, at the Vision conference.
This Article Covers
RELATED TOPICS
Looking for something else?
TECHNOLOGIES
LAS VEGAS -- It's no secret that Symantec Corp. plans to incorporate the continuous data protection (CDP) assets it bought with Revivio Inc. in November into its NetBackup product, but further details were not made publicly available until discussions Wednesday afternoon at the company's annual Vision conference.

Download this free guide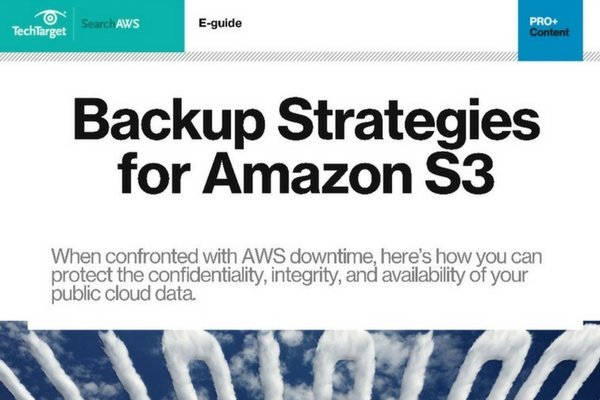 Amazon S3 in the spotlight: Your 34-page backup guide
In this guide curated by the SearchAWS.com editors, you'll evaluate and overcome the DR tradeoffs associated with Amazon S3, with guidance on solidifying an AWS backup plan and securing S3 buckets. Download your copy now.

By submitting your personal information, you agree that TechTarget and its partners may contact you regarding relevant content, products and special offers.

You also agree that your personal information may be transferred and processed in the United States, and that you have read and agree to the Terms of Use and the Privacy Policy.

According to Sean Macnew, senior director of the CDP and replication product group for Symantec, the company's Continuous Data Protection and Replication (CDP/R) product is currently being developed as a "joint venture" between his group and the NetBackup group. Each group, he said, has committed 10 engineers to the project, and 10 engineers from Revivio are also part of the team.

Symantec is planning to beta test the initial integration of the CDP feature with version 6.0 of NetBackup in August. That integration will allow NetBackup 6.0 users to request snapshots from any point in time from the CDP/R repository. Configuration of the CDP/R repository will be managed in its own separate console, called CDP/R Recovery Manager.

"This way, if the storage administrator controls the CDP/R repository, the NetBackup administrator can still take data from it," Macnew said.

For the release of version 6.5.2 of NetBackup, slated for Jan. 2008, NetBackup's Enterprise Disk Foundation, which controls policy-based lifecycle management features, will be able to request point-in-time snapshots from the CDP/R repository and automatically move them to other repositories. However, NetBackup 6.5 will not be able to control the configuration of the CDP/R repository, including which hosts and applications are protected using CDP.

Also, once the snapshot schedule is set within NetBackup, for example, for a snapshot every four hours, the user would not be able to retroactively change the policy and receive snapshots from every two hours at a later time. The CDP/R repository will still record every changed block, and applications will be recoverable from any point in time, but only within the CDP/R repository in that case.

According to Macnew, this is due to a fundamental difference between the NetBackup and CDP/R interfaces. "NetBackup can only see point-in-time objects," Macnew said, whereas CDP/R will be able to see data grouped by application on an object-oriented basis. "NetBackup will always need a quiesced, point-in-time view of a backup image," Macnew said.

But, by the time NetBackup 7.0 is released (slated for 2009), CDP/R Recovery Manager will become a "pane" within the NetBackup management console. Once that happens, NetBackup will be fully able to configure CDP/R and have an application-oriented view of its backups.

"The CDP/R console will become part of a DR-oriented option within the NetBackup management GUI," Macnew said.

Integration with Storage Foundation, Volume Manager, Veritas Cluster Server

The next step after integration with NetBackup will be integration with Storage Foundation version 6.0. This will allow users to configure an application-oriented view of replication for disaster recovery, and also make Symantec's replication more granular using CDP, which functions at the block level, rather than traditional replication, which functions at the byte level.

Symantec has changed the Revivio software so that CDP happens asynchronously and out-of-band in order to avoid performance bottlenecks in high-performing applications. In the first integration with Storage Foundation, users will have to use a host-splitter driver to send CDP data to the CDP/R repository.

However, by next year, there will be integration with Veritas Volume Manager, which will eliminate the need for the separate driver. Integration with volume manager will also mean that CDP policies can be set by volume, rather than disk or LUN.

"It's easier to set up CDP at the volume level because the volume level is the logical object you protect," Macnew said. "If you're protecting by LUN or disk, as file systems grow, administrators can forget to add new LUNs to the CDP group."

The final integration, Macnew said, will be with Veritas Cluster Server (VCS), also slated for next year, in version 2.1 of CDP/R. VCS has replication management as part of its Global Cluster feature, and the integration will allow VCS to control CDP/R replication. CDP/R will also be integrated with the VCS Fire Drill feature, which will allow users to create virtual point-in-time images for test environments without reserving storage space for another snapshot.

Partner reaction

At least one of Symantec's business partners is not happy with the timeline of integration with NetBackup -- even if it's as soon as later this year. "They bought Revivio six months ago, and Revivio already had a product on the market," said Mahesh Vaidyanathan, senior manager, solutions architecture, for STME, Symantec's largest channel partner in the Middle East.

"EMC [Corp.] is pushing Kashya, and [Network Appliance Inc.] is pushing Topio," Vaidyanathan said. "We're quite keen on Symantec having this product out, otherwise we may have to look for other solutions to offer customers."

"In large enterprises, CDP is only just starting to find a market," Macnew argued, adding that Symantec has had CDP for smaller enterprises as part of Backup Exec, since October 2005. He added, "Users don't want to buy another point solution; we don't want to release this unless it's integrated with other products."

New utilities for Storage Foundation

Also being discussed on the show floor at Vision were new utilities coming for Storage Foundation in future releases, including a new Linux installation utility, which is in the early stages of development and is currently dubbed Prep Utility.

The utility will port all of Symantec's compatibility lists for servers, operating systems and storage into a free software utility that will be downloadable from Symantec's Web site, as well as packaged with Storage Foundation, according to William Lang, principal software engineer for Symantec, who is currently putting together the code for the utility.

Storage Foundation has separate editions for Linux and Windows, Lang said, and the Windows version has its own compatibility discovery engine through Microsoft. "Eventually, we hope to put compatibility information into Storage Foundation from all OS types," said Jeff Martin, group product manager, storage and server management group. "That's still a vision, though it's not known yet what the technical challenges will be."

Still, Lang and Martin said they hope the new utility will provide a "one-stop shop" for users looking for compatibility information, rather than the process today, which requires searching through Symantec's Web site for compatibility information. The utility is also slated to include direct links to "ReadMe" information about each product or patch in the compatibility matrix.

Another feature that's coming will be a change to the Storage Foundation dynamic multipathing (DMP) process, which currently accesses third-party vendors' host bus adapter (HBA) drivers. The next version of Storage Foundation, Martins said, will access SCSI drivers in the server directly, improving performance.

Martin said Symantec is currently looking for users to participate in focus groups and beta tests of the new Prep Utility this summer. Interested users can contact Symantec.
Dig Deeper on Backup and recovery software
PRO+
Content
Find more PRO+ content and other member only offers, here.