News
Stay informed about the latest enterprise technology news and product updates.
Zmanda offers Amazon S3 as data backup option
Open source backup product lets users back up to disk, tape and Amazon's grid; Drobo networks desktop storage; Quantum claims full-height LTO-4 performance in half-height drive.
This Article Covers
RELATED TOPICS
Looking for something else?
PRODUCTS
Weekly compilation of storage news:
Zmanda offers Amazon S3 as data backup option
Open source backup startup Zmanda will offer its backup software users the option of backing up to Amazon's S3 grid in addition to disk or tape. The capability will be rolled out as an update to the company's Zmanda software and will be a free upgrade for existing customers. Zmanda officials say they plan to offer further online backup options in the future, including backup to S3 competitor Nirvanix's hosted storage grid and to planned offerings from Google and Yahoo when they become available.

Download this free guide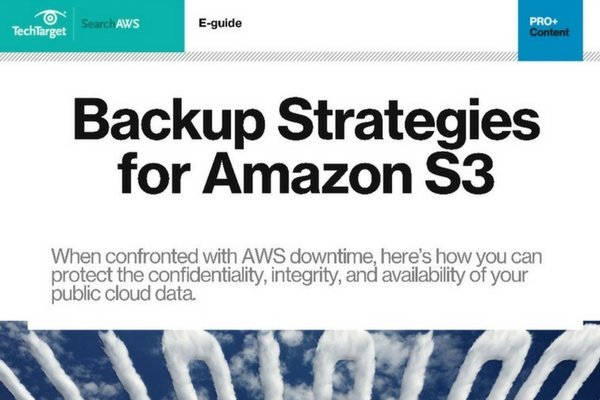 Amazon S3 in the spotlight: Your 34-page backup guide
In this guide curated by the SearchAWS.com editors, you'll evaluate and overcome the DR tradeoffs associated with Amazon S3, with guidance on solidifying an AWS backup plan and securing S3 buckets. Download your copy now.

By submitting your personal information, you agree that TechTarget and its partners may contact you regarding relevant content, products and special offers.

You also agree that your personal information may be transferred and processed in the United States, and that you have read and agree to the Terms of Use and the Privacy Policy.

Data Robotics launches NAS version of Drobo
Data Robotics rolled out a DroboShare NAS box that allows file sharing over a LAN. DroboShare will mount automatically on Windows and OS X and supports file systems, including NTFS (Windows), HFS+ (Apple OS X), EXT3 (Linux) and FAT32. The new box holds up to 8 TB of storage and will scale up to 32 TB as larger drives become available. The product is available today for $199.

Quantum claims speedy half-height LTO-4 drive
Quantum launched an LTO-4 half-height tape drive that it claims offers the same performance as full-height LTO-4 tape drives with up to 800 GB native capacity and transfer rates up to 432 GB per hour. According to Quantum, the new drive doubles the capacity and increases the performance by 50% over the previous generation LTO drive. The drive is available in internal, tabletop and 1U rackmount configurations and includes Symantec Backup Exec QuickStart software for a starting MSRP of $3,849.

SATA consortium plans host-powered eSATA
SATA-IO announced a new initiative called Power Over eSATA initiative that aims to provide power to eSATA devices from the host system without the need for a separate external power connection. Led by the organization's Cable and Connector group, the specification is targeted for completion in the second half of 2008.

PGP updates encryption
PGP upgraded its Encryption Platform with PDF Messenger that ensures secure email communication regardless of the recipient's infrastructure. The new release also includes whole-disk encryption; integration with endpoint encryption software from PGP, including NetShare and Desktop Email; compatibility with authentication applications from Aladdin, Gemalto and RSA; brushed up monitoring and reporting; and the ability to extend encryption policies outside the corporate firewall. The product is available immediately. No pricing was available.

Vormetric comes to encryption 'rescue'
Elsewhere in the encryption market, Vormetric is hoping to benefit from the demise of NeoScale, which was acquired for $1.8 million by nCipher in December. According to a Vormetric statement, "NeoScale abruptly closed up shop a couple of months ago and left many customers unsupported and those customers' vital data at considerable risk." A new Vormetric "rescue program" is being offered to former NeoScale customers, including assessment services and discounted pricing.

Steelbox announces surveillance storage
Steelbox brought out two new storage boxes for digital video surveillance applications, the Steelbox 1250 video appliance and the Steelvault 5300 storage array. The Steelbox 1250 video appliance is a network video recorder licensed for up to 250 cameras. The Steelvault 5300 storage array is NAS available in capacities from 4 TB to 16 TB, and includes hot-swappable drives, redundant power supplies, redundant fans and hardware RAID.

Service provider picks 3PAR
ExactTarget has purchased multiple 3PAR InServ Storage Servers to support its Microsoft SQL-based application services. For its permission-based, custom email delivery and tracking services, ExactTarget also chose 3PAR thin provisioning and 3PAR dynamic optimization.

Sporting goods company picks Netezza appliance
Outdoor sporting goods retailer Gander Mountain has selected the Netezza Performance Server appliance as its enterprise data warehouse. Gander Mountain will store data in the appliance for merchandising, supply chain management and financial planning analysis.

Storage vendors buff up Mac products
With MacWorld taking place in San Francisco this week, storage vendors were polishing their wares for the Apple workstation. Ciprico launched its MediaVault 5116 PCIe DAS box for video production and content creation projects, available in capacities of up to 16 TB. Atempo also announced that its Live Backup will support Mac OS X this spring and gave a preview at the show.
Dig Deeper on Cloud backup
PRO+
Content
Find more PRO+ content and other member only offers, here.