News
Stay informed about the latest enterprise technology news and product updates.
Tech Roundup: D2D backup
With data growing every day, and most IT budgets and staffs at a standstill, users are looking at disk, and its dropping price, as a way to shrink backup windows.
This Article Covers
RELATED TOPICS
Looking for something else?

Download this free guide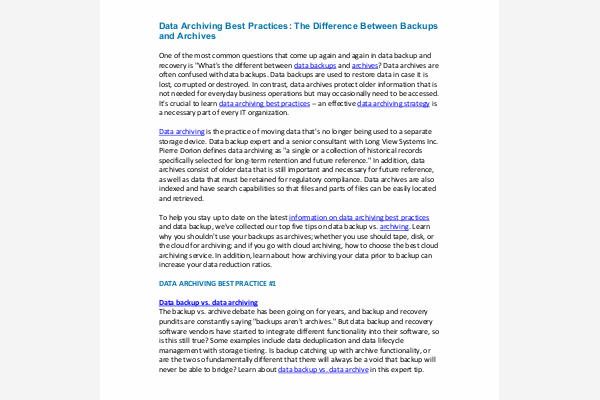 Archive vs. Backup and Why You Need to Know the Difference
Differentiating data backups from archives is one of the most common questions among IT pros when it comes to data recovery. Download this invaluable guide to discover why you need to know the difference between the two, and for important tips and best practices on building or refining the best data archiving strategy for your organization.

By submitting your personal information, you agree that TechTarget and its partners may contact you regarding relevant content, products and special offers.

You also agree that your personal information may be transferred and processed in the United States, and that you have read and agree to the Terms of Use and the Privacy Policy.

This Product Roundup discusses how disk-to-disk (D2D) backup is used, how it is evolving and what the competitive landscape looks like. Definition The intention of D2D backup is to make backups and restores faster. With D2D backup, the backup application uses disk as a target device rather than tape. D2D can restore lost files, folders or entire data systems in minutes. The clear advantage is that backup and restore windows are reduced. At a later point in time, the backups that reside on disk can be copied to tape. Some vendors have D2D products that are tightly integrated with tape drives and tape libraries. These systems are called disk-to-disk-to-tape (D2D2T) systems. Typically, D2D backup includes a disk system that is used for temporary archiving of data. Such a system would occupy a tier between primary disk storage for the most important data and tape or optical disk for data to be archived for a long time. According to Peter Gerr, senior analyst with Enterprise Strategy Group (ESG) in Milford, Mass., D2D can be used for actual backup or it can simply provide a mirror of primary data, while leaving that primary data intact. "Increasingly, users are choosing the former -- using secondary disk as a backup device," Gerr said. Key vendors and products The D2D backup space is flush with major vendors and startups. The two main types of D2D products are virtual tape systems (disk appears as tape to the backup software) and straight disk-as-disk (does not emulate tape). With virtual tape, the target device for backups is usually an ATA-based disk array that responds to software commands just as if it were a tape drive. Some vendors use proprietary software that works only with their own disk subsystems, while others use host-based software that works with any vendor's disk array. Notable companies selling virtual tape libraries libraries ( VTL) include Advanced Digital Information Corp. , EMC Corp., IBM, Maxxan Systems Inc., Overland Storage Inc., Quantum Corp., Sepaton Inc. and Storage Technology Corp.(StorgeTek). Vendors Bus-Tech Inc. and Luminex Corp. offer controllers that emulate tape drives and allow customers to use open systems disk on mainframe systems. Companies that provide exclusively virtual tape software are Alacritus Software, Diligent Technologies Corp., FalconStor Software Inc. and NearTek Inc. Another segment of the D2D market is "disk-as-disk." These are systems that do not emulate tape. The big players here are Avamar Technologies Inc., Data Domain, Network Appliance Inc., Nexsan Technologies and StorageTek. Gerr added that D2D backup appeals to a wide audience because backup and recovery continues to be a universal challenge. "The amount of data being created is outpacing IT departments' ability to protect and manage it, and companies large and small can no longer tolerate the inadequacies of tape," he said. Gerr mentioned that for all the talk about disk being more expensive than tape, much of the adoption of disk is in the small and midsized business market, where IT budgets and skills are most constrained. Eighty percent of respondents in ESG's most recent disk-backup research report stated they would begin to replace some of their existing tape infrastructure with disk within 24 months, with 40% saying they would do so within 12 months. Innovations and trends The D2D innovation that received the most attention over the past year was VTLs. Gerr said that the main appeal of VTLs is that they require minimal change to existing backup jobs, because "the backup software believes it is still writing data to the same tape device." He also said that VTLs are attractive financially -- particularly for large organizations that have invested a lot of money in backup software and tape -- because they can improve the speed of backups with disk and still use the same backup software. Tape can then be used solely for off-site archiving. Another hot D2D backup innovation is continuous data protection (CDP), in which backups are stored in a continually rolling database that keeps track of every single change made to data. "With CDP, if a virus were to hit, say, an Exchange server, an IT administrator can go back to a point-in-time copy of the Exchange database prior to the introduction of the virus," said Diane McAdam, a partner and senior analyst at the Data Mobility Group Inc. in Nashua, N.H. Some vendors in the CDP space include Alacritus Software, EVault, FilesX Inc., Mendocino Software, NSI Software Inc., TimeSpring Software Corp. and XOsoft. Gerr warned that when evaluating a D2D backup product, users should make sure that implementing it into their existing environment is possible, that their current backup software applications are supported by the D2D vendor and that any procedural changes to the backup and recovery process are addressed before buying the product. For more information about D2D backup, take a look at these SearchStorage.com resources: Tiered storage and disk backup budgeted for '05
Dig Deeper on Disk-based backup
PRO+
Content
Find more PRO+ content and other member only offers, here.