News
Stay informed about the latest enterprise technology news and product updates.
Hospital ditches Veritas, tape
A move from tape to disk-based backup frees a hospital's IT staff from constant tape troubleshooting.
This Article Covers
RELATED TOPICS
Looking for something else?
INDUSTRIES

Download this free guide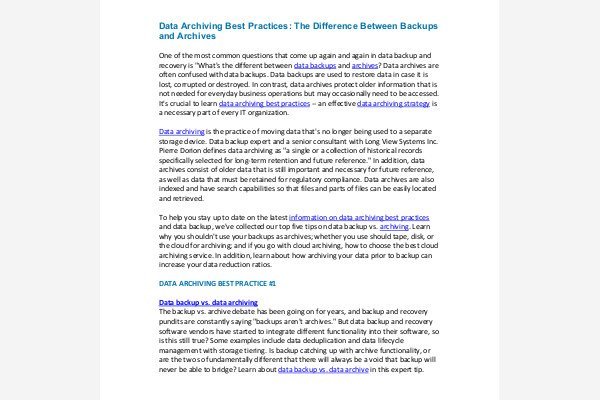 Archive vs. Backup and Why You Need to Know the Difference
Differentiating data backups from archives is one of the most common questions among IT pros when it comes to data recovery. Download this invaluable guide to discover why you need to know the difference between the two, and for important tips and best practices on building or refining the best data archiving strategy for your organization.

By submitting your personal information, you agree that TechTarget and its partners may contact you regarding relevant content, products and special offers.

You also agree that your personal information may be transferred and processed in the United States, and that you have read and agree to the Terms of Use and the Privacy Policy.

St. Peter's Hospital in Albany, N.Y., had an emergency -- and it had nothing to do with a patient in crisis.

Like many industries, health care has seen an explosion of data on its servers and taking up its storage in the past several years. In fact, health care may have seen even more data growth than other industries with the movement of X-rays and other diagnostic images from film to digital mediums. The hospital tried to back up its 130 Windows servers using first a Computer Associates International Inc. (CA) BrightStor ARCserve Backup and then a Veritas Backup Exec 9.0 with a Compaq/Hewlett-Packard Co. TL895 tape library. Neither had sufficed. "We were especially unhappy with Veritas Software Corp.," said Michael Fair, network administrator for St. Peter's. "Their product had very long backup windows and bad restores. We decided that we wanted to get rid of tape as much as possible." Fair estimated that his IT staff spent several hours a day troubleshooting the tape libraries, and even that effort was often wasted. Fair estimated that at least 10% of data was lost due to bad restores from tape with the Veritas product, a proportion he described as "small, but still totally unacceptable." St. Peter's evaluated several tape options to replace its system, but finally stumbled across a product from Avamar Technologies Inc. called Axion. From there, they began considering disk-based backup. "We looked at going back to CA," Fair said. "Their ARCserv product had a backup-to-disk option but without the commonality factoring that Avamar offers -- the disk requirements would have been huge. We would have ended up staging the backups to disk to shorten our backup window and then spinning them off to tape from the disk stage. "We also looked at some of the virtual tape systems," he continued. "But we wanted to get away from Veritas and tape altogether, and Avamar's Axion was the one solution that seemed to offer it all to us."

Fair said the Axion appealed to him because of the way it did deduplification -- at the client level rather than on the back end.

"(Other disk-based backup products) move all the data first, and then look for duplicates," Fair said. "You're saving the disk storage but you're still moving it across the network first." The Axion is available in three versions: a software-only version, a hardware appliance called Axion E and a more scalable box called Axion M. St. Peter's began with a 1.5 terabyte (TB) Axion E in February 2005, but moved to two Axion M boxes (a total of 3 TB capacity) by April. As of this month, Fair estimated the hospital was using a full 1.5 TB of the available storage. "The (Microsoft) Exchange piece on Axion is terrific," Fair said. "Veritas had 24 hour backup windows. The Axion takes 15 minutes to back up Exchange stores. "Restores were so painful with tape," he added. "With this, I can restore one file at a time if I want, and a 30 GB restore takes maybe an hour." Axion also has the ability to stripe data not only across disks, in the traditional RAID format, but can stripe data across devices in a process called random array of independent nodes, or RAIN. "Theoretically, I can lose a whole server because it stripes the data across the nodes," Fair said. "And I can drop more servers in the stack and it automatically spreads the load across all the servers." According to Fair, "Data integrity has been 100% so far. We just had a power failure this morning because of the heat and everyone running their air conditioners. We came back up, rolled back to yesterday's checkpoint and everything was perfect." St. Peter's is already feeling the changes. More IT employees can be used to staff the help desk and to troubleshoot for users. In other words, returning to their core mission. Following an upcoming move to a new site for the data center, the IT staff will be realigned completely, Fair said,. "We seem to be shorthanded in other areas of the operation, so I don't think we'll be lowering head count," Fair said. "But we should be seeing people deployed in more valuable places." Downside and drawbacks Fair concedes a few downsides to the Axion box. Its deduplification capabilities matter little in radiological imaging for which the hospital is bringing in a 10 TB EMC Corp. SAN. St. Peter's is also replicating its medical imaging system to 27 TB worth of EMC Centera disk.. "One thing the Axion system doesn't do very well is imaging, because you don't have a lot of commonality with images. That's why we're using EMC for that," Fair said. Fair also said he was brought in to an executive leadership council at Avamar's headquarters with other large accounts and early adopters this month and made several suggestions for improvements on Axion. One suggestion was a move from a Java-based user interface to one that is Web-based. "Java can be a problem," Fair said. "Different applications require different versions and it can be slow. Or sometimes, you run two or three different versions of Java to manage these things and they can conflict with each other." Fair said he would also like to see a better reporting tool for SQL databases. "I think they could make their search tools a little more powerful," he said. With Version 4 of Axion's software due out next year, Fair hopes to see a push feature for client updates "instead of having one of my guys have to go to 115 servers and install something," he said. Finally, Fair voiced his concern to Avamar about Axion's price structure, which can easily exceed $50,000 per box depending on whether the customer opts to purchase software or hardware and how much storage they're looking to use. "They need to make it a little easier to get into price wise," Fair said. "It's hard to step into." Still, "we're very, very glad we did it."
Dig Deeper on Disk-based backup
PRO+
Content
Find more PRO+ content and other member only offers, here.