News
Stay informed about the latest enterprise technology news and product updates.
CDP: The vendors
Downtime to recover terabytes of data can cost a company dearly in terms of income (and customer satisfaction). Continuous data protection (CDP) is emerging as an attractive supplement to traditional backup schemes when downtime isn't an option. It's clear that CDP isn't a perfect or universal backup solution. Some implementations involve agents, or can impact network performance. CDP users must also watch for potential configuration and interoperability issues. But CDP solutions are appearing and proving themselves in very demanding enterprise applications.
This Article Covers
RELATED TOPICS
Looking for something else?
TECHNOLOGIES
At this point, continuous data protection CDP products are currently available (or in development) from a selection of relatively small but aggressive vendors including -- in no particular order -- Storactive Inc., Mendocino Software, Revivio Inc., Asempra Technologies, TimeSpring Software Corp., XOsoft, and Network Appliance Inc. (NetApp). (NetApp recently acquired Alacritus and touts a snapshot-based approach). While NetApp, Asempra and a few other vendors are staying mum on emerging features, it's clear that each vendor is pushing hard to mold this fledgling technology to its own vision, and this has led to some early differentiation between products.

Download this free guide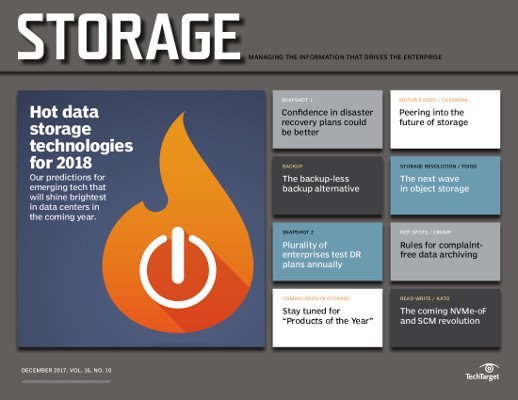 Snapshot of top 2018 backup tech: CDM, complaint-free archiving, ransomware detection vendors
The SearchStorage.com team names the most promising ransomware detection products, 4 rules for complaint-free archiving, how to use copy data management for effective recovery, and more. Download your e-zine copy here.
By submitting your personal information, you agree that TechTarget and its partners may contact you regarding relevant content, products and special offers.
You also agree that your personal information may be transferred and processed in the United States, and that you have read and agree to the Terms of Use and the Privacy Policy.
More than just a timeline
A number of vendors stress the idea of "recovery management" rather than simply CDP. The idea is that CDP tracks a timeline -- you see logs, but it's hard to tell what was taking place within the applications that CDP was protecting. Users are often left to discover the optimum point through trial and error. Mendocino seeks to remedy this by annotating the CDP timeline with tangible application activities. "We do leverage 'true' CDP technology, but we're collecting information from the applications all the time, and we're using that to annotate the timeline with labels so you know what was going on," Bergener says. "You could go back to any previous point in time with our product, or you could go back to some 'marked' point."
CDP Vendors

Storactive

www.storactive.com

Mendocino Software

www.mendocinosoft.com

Revivio

www.revivio.com

Asempra

www.asempra.com

TimeSpring

www.timespring.com

XOsoft

www.xosoft.com

NetApp (which recently acquired Alacritus)

www.netapp.com

Topio

www.topio.com
TimeSpring also emphasizes the "manageability" in its TimeData software product, allowing users to inspect and test data offline without impacting the production system. Both TimeSpring and Mendocino have suggested that such "offline replication" capability offers additional benefits to an enterprise beyond "data protection" -- such as replicating a current database into a business intelligence application or replicating the most recent system image into a lab for patch or upgrade testing. Products address specific applications

Some CDP vendors are striving for success by addressing more specific applications in their products. Storactive touts its client-server LiveBackup software product for automatic data backup, file recovery and disaster recovery on Windows-based PCs. Storactive's LiveServ software CDP product protects Microsoft Exchange servers (for e-mail backup and recovery) -- allowing recovery of individual e-mails. TimeSpring products are also software centric, offering versions of TimeData for SQL Server (database protection), the NT file system (general file protection under Windows) and Exchange (e-mail protection). XOsoft offers a third software solution called WANSync, specifically geared toward CDP between remote offices (a stand alone version of its CDP technology called Enterprise Rewinder is also available).

Where TimeSpring, Storactive, XOsoft and others focus on software solutions, companies like Revivio tout the hardware side -- releasing its CPS 1200 (continuous protection system) appliance as a block-based, out-of-band storage solution intended to ease integration concerns and minimize CDP's impact on application performance. Use care when choosing a product The bottom line here is that current CDP products are hardly ubiquitous. While all CDP products seek to perform the same essential task of "CDP", their features and focus are typically unique. "Making a product choice can be very difficult," says Brian Babineau, analyst at Enterprise Strategy Group. Product selection will require very careful consideration of business needs and current IT infrastructures. CDP may not be an appropriate choice for companies where lengthy recovery time objectives (RTO) are acceptable. Even when backup window, recovery point objectiveRPO and RTO objectives justify a CDP investment, users must match product offerings to their current IT infrastructure. For example, a Windows-only CDP product may not be suitable for a mixed OS environment. In other cases, a CDP product may be selected based on the need to protect specific enterprise applications, such as Storactive's LiveServ to protect Microsoft Exchange e-mail servers. The choice of CDP products will be further complicated by the inevitable influence of large IT players. Babineau is already seeing significant movement from some of the largest IT players. "I think that everyone is keyed on the Microsoft Data Protection Manager, just because they announced it about a year ago. And no matter what anybody thinks, they change the economics of software in general," he says. "We'll continue to watch [large players like] Veritas/Symantec, IBM and EMC [Corp.]. But the ones that I've paid attention to have been some of the innovators such as TimeSpring, Revivio and Asempra." Go to the next page: CDP: User perspectives

Or skip directly to another part of this article:

CDP: The vendors

Dig Deeper on Disk-based backup
PRO+
Content
Find more PRO+ content and other member only offers, here.