News
Stay informed about the latest enterprise technology news and product updates.
FalconStor VTL snags on writes to tape
Users claim that FalconStor's VTL does not allow their backup application to control writes to tape and, some are choosing alternative products.
This Article Covers
RELATED TOPICS
Looking for something else?
Users report that FalconStor Software Corp.'s Virtual Tape Library (VTL) inhibits the ability of their backup applications to control writes to tape, which is causing management headaches, they say.

Download this free guide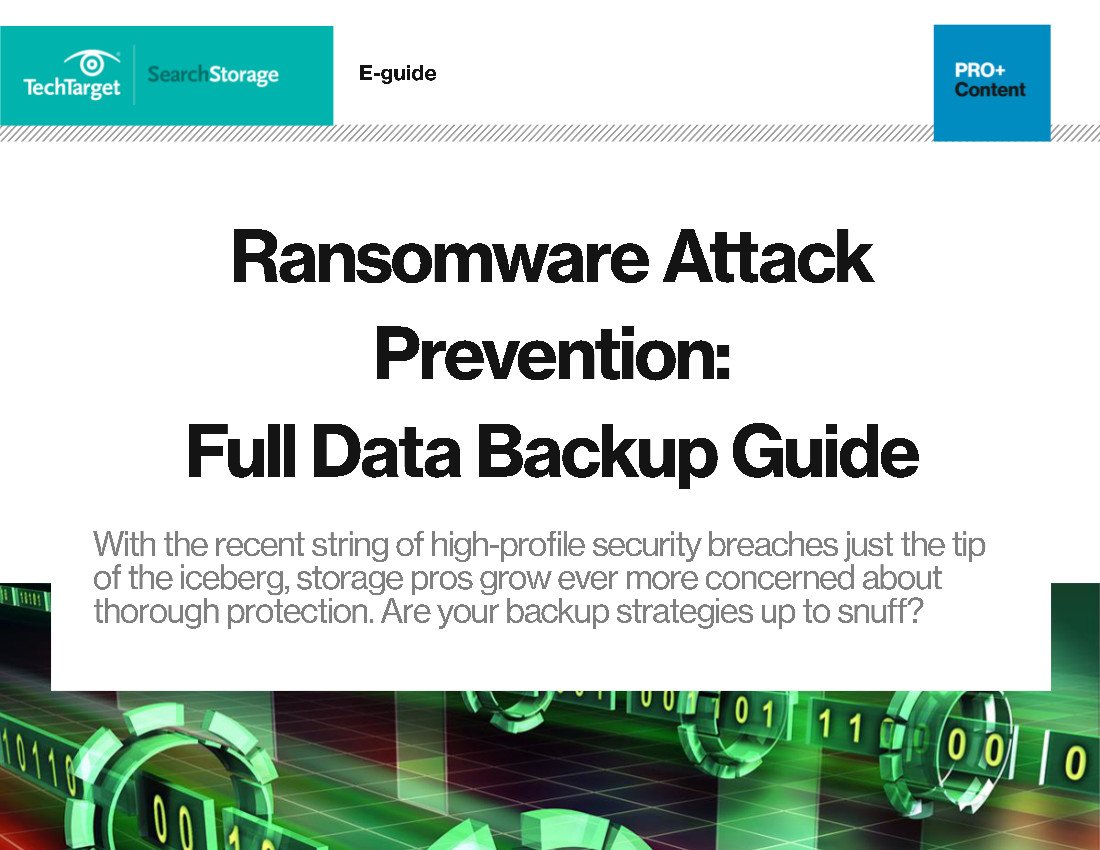 Protect Against Ransomware with Comprehensive Backup and Recovery
Download this handbook to learn how to prepare your backup system to handle the mounting ransomware threat. Inside, you'll discover the importance of adopting canary files for quick infection alerts, as well as the individual merits of using a cloud-based DR to repair selective files or folders versus full enterprise file sync-and –share, and more.

By submitting your personal information, you agree that TechTarget and its partners may contact you regarding relevant content, products and special offers.

You also agree that your personal information may be transferred and processed in the United States, and that you have read and agree to the Terms of Use and the Privacy Policy.

FalconStor's VTL is the most popular version of the year's hottest technology and as such is resold by several major vendors, including EMC Corp., which rebrands it as the Clariion Disk Library and IBM, which calls it the Virtualization Engine TS7510. Copan Systems Inc. has also integrated FalconStor's software as the basis for its Revolution 200T and XT VTLs.

But regardless of whether the product is sold directly by FalconStor or one of its OEM partners, or which backup application they are using with it, users so far unanimously report that if the VTL controls the writes to tape media, the backup application cannot control the process, and in many cases, can't even see it. This is also the case, users say, whether the writes to media are performed through a direct connection between VTL and tape library or a data path from VTL through the SAN fabric to the tape library.

Meanwhile, however, FalconStor's representatives have disputed the issue. According to vice president of data protection, Prakash Babu, the software offers the "option" of writing to off-site media and is "fully flexible." Babu also contended that many users deploy the FalconStor VTL without the need for a writes to tape, and that it was also "suitable as a standalone product."

When questioned further on the tape issue, however, Babu pointed out a feature announced last year by FalconStor to address the problem -- the addition of a bar code that the backup software can track between both the virtual and the physical tape.

It's a step in the right direction, certainly, but still not what users are looking for.

"It's a matter of convergence between physical backup and the virtual tape system," said FalconStor user Mark W. Stewart, backup and recovery storage administrator for Randolph Air Force Base. "I need to have my backup software not only be able to track, but be able to control the entire backup process."

In response to this request from users, Babu suggested to SearchStorage.com that users mount their backup application on the same physical server as the VTL. "We might need to educate our customers a little better on how they can use the software with their backup applications," he said.

But Stewart said he was skeptical that the server he uses for his FalconStor VTL would be able to support his backup application, Hewlett-Packard Co.'s (HP) OpenView Data Protector 5.5. "I would be surprised if one of four Linux hosts could run the backup manager and be aware of the physical tape environment, as well as support the rest of what the backup manager needed to do," he said. "At best, it would entail bringing in someone from HP, to make sure it would be supported on this platform, and someone from FalconStor, to make sure it was configured correctly.

"It's certainly not an experiment I'd be willing to perform on site without some serious professional assistance."

FalconStor was not able to provide a customer we could talk to with such a configuration in their shop as of press time.

Moreover, Stewart said, this option had not been presented to him by his FalconStor representative when he installed the boxes. "I actually did bring up how physical media was going to be handled when I was installing the systems," he said. "But the subject was just dropped."

Met Life Insurance avoids FalconStor

According to Jesse Correll, manager of IT infrastructure for Met Life Insurance, he went with Quantum Corp.'s DX-30 VTL instead of FalconStor for this very reason. "I don't have people around at night to monitor jobs," he said. "I needed to be able to write to both the VTL and tape with the same process -- I didn't have time to do anything else."

Using Veritas Software Corp.'s Backup Exec 10.0 mounted on its own application server, Correll says he backs up 1 terabyte (TB) of data from his four HP SAN fabrics a night through the Quantum VTL to about 15 TB of HP StorageWorks MSL5060 tape libraries.

"Backup Exec controls and monitors the source and destination data," he said. "According to our backup schedule, it copies data to the VTL and then directs the VTL to write to our tape libraries. It controls and monitors the entire process."

Another user, speaking at the Storage Decisions conference in Las Vegas last week on the condition of anonymity, reported experiencing the same issue in both FalconStor's branded product and the EMC version of the software.

"VTLs have been the product this year," he said. "But nothing out there is really adequate quite yet. The amount of people rebranding FalconStor says something about its quality, but also says there's a lack of innovation from the major vendors in this space."

NearTek has a fix

NearTek Inc., a software only, open systems VTL provider, has found a way to address the media management problem in the latest version of its Virtual Storage Engine (VSE) 3.0 product.

The company announced Monday that it has incorporated several new features into VSE 3.0, including the ability to maintain the backup media server's knowledge and control of the physical tape's location and status without affecting host or network performance.

Data migration from virtual tape to physical tape is accomplished via an "on-board" media agent (another backup software license) on the VTL to eliminate any potential burden to backup servers during the migration process, NearTek officials said. Copies of virtual media to physical media as well as ejection management are handled by the backup application. Data recovery occurs without the need for VSE.

"It doesn't run out of the box, we had to do some custom work to make this happen," said Lauren Whitehouse, vice president of marketing at NearTek.
Dig Deeper on Disk-based backup
PRO+
Content
Find more PRO+ content and other member only offers, here.