News
Stay informed about the latest enterprise technology news and product updates.
NetApp goes after EMC with new VTL
NetApp came out with its own version of a VTL targeting offerings from FalconStor and EMC.
This Article Covers
RELATED TOPICS
Looking for something else?
TECHNOLOGIES
Network Appliance Inc. (NetApp) has officially announced its version of a virtual tape library based on its acquisition of Alacritus last spring, a product seemingly designed to attack OEM partners of FalconStor Software Inc., chief among them EMC Corp. and its Clariion Disk Library (CDL).

Download this free guide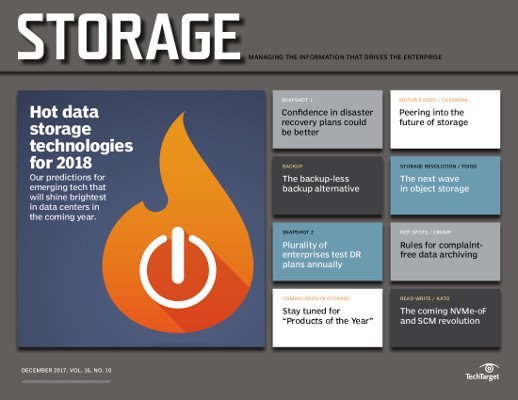 Snapshot of top 2018 backup tech: CDM, complaint-free archiving, ransomware detection vendors
The SearchStorage.com team names the most promising ransomware detection products, 4 rules for complaint-free archiving, how to use copy data management for effective recovery, and more. Download your e-zine copy here.

By submitting your personal information, you agree that TechTarget and its partners may contact you regarding relevant content, products and special offers.

You also agree that your personal information may be transferred and processed in the United States, and that you have read and agree to the Terms of Use and the Privacy Policy.

The clearest differentiator for the new NearStore VTL is that writes to tape are always triggered by a backup application's "eject" command. In other VTL implementations, writes to tape can happen independently of the backup application, which can cause discrepancies between the VTL and the backup application's media catalog. (See Users flag flaw in integrated VTLs and FalconStor VTL snags on writes to tape.) Like the FalconStor, the NearStore VTL also allows the backup applications to track physical tapes using a bar code system.

"We don't have to pull all the data back through the media server to allow the backup application to control writes to physical tape, unlike some competitors' products," said NetApp's senior vice president of emerging products Jay Kidd.

Kidd was coy when asked if the VTL was designed with the CDL specifically in mind. "This is positioned to compete with all the other VTL products out there," he said, but admitted, "EMC is the one we compete with most."

Meanwhile, a media kit by NetApp dropped more hints as to what NetApp has in mind when it talks up its VTL, including a picture of the CDL next to NetApp's new box and frequent references to NetApp's "ownership of technology" -- as opposed to EMC, as well as IBM and Hewlett-Packard Co. (HP) who have OEMed software from other companies for VTL offerings.

"The bottom line is that if someone is heavily invested in NetApp, and has a lot of it in their shop, they can add this easily," said Greg Schulz, founder and analyst with the Storage Group. "On NetApp's side, it keeps out competitors if a customer wants a VTL."

The NetApp product also includes what it calls "tape smart sizing," which samples backup data and estimates its compression ratio before writing it to a virtual tape so that physical tapes can be used more efficiently. FalconStor's VTL offers software-based compression but performance may take a hit as with any software-based compression, while hardware-based compression comes at a high cost.

"Generally, this VTL isn't terribly unique," Schulz said. "Most others have similar capacities and it has most of the features I'd expect to be there. But the last thing you want with a VTL product is a performance bottleneck -- anything you can do to enhance it is a good thing."

Finally, NetApp is also touting a capability it calls "continuous self-tuning" on the VTL, i.e., load balancing when writing to the VTL's disk using large sequential block reads to mimic tape.

"That's another subtle advantage for a customer with a VTL in a big environment," Schulz said.

It's a no-brainer for NetApp to go after FalconStor's offering, which is the most popular tool used for VTLs to date. But the use of Alacritus isn't necessarily a slam dunk for NetApp either, say experts. The company was floundering when NetApp bought them, and hadn't gotten much traction in a hot VTL market.

"You can bet the competition will really be fanning those flames," Schulz said. "There's going to be some good FUD (fear, uncertainty and doubt) on this product from the other major players."

Moreover, Schulz added, it doesn't make much difference whether a product is OEMed or comes from an acquisition.

"They might have more control and can integrate the technology more tightly with their other products," he said. "The downside of that, though, is that NetApp has a very full plate of things to integrate -- Spinnaker, Decru, and Alacritus, to name some. The challenge is not to become burdened with it and lose sight of the core business."

The NearStore VTL comes in two sizes: the VTL600, a 4.5 terabyte (TB) one controller box able to hold a maximum of 256 virtual libraries, 1,500 virtual drives and 10,000 virtual cartridges; and the VT1200, which doubles the capacity of the 600 -- two controllers, 9 TB, 512 virtual libraries, 3,000 virtual drives and 20,000 virtual cartridges. The VTL600 claims a sustained throughput of 1.8 TB per hour; the 1200, 3.6 TB per hour. The starting price for the VTL600 is $114,000.

It enters a packed market with VTL competitors, including EMC and IBM (both of whom OEM FalconStor), and HP, which OEMs a product from Sepaton, as well as startups Diligent Technologies Corp. and MaXXan Systems Inc.; and tape vendors, including Advanced Digital Information Corp., Quantum Corp., Overland Storage Inc. and Storage Technology Corp.
Dig Deeper on Disk-based backup
PRO+
Content
Find more PRO+ content and other member only offers, here.