News
Stay informed about the latest enterprise technology news and product updates.
NYC sanitation dept. taps Microsoft for cleaner backup
Fed up with failed backups, the Bureau of Motor Equipment at the NYC Dept. of Sanitation is relying on Microsoft Data Protection Manager, not its existing NetBackup application.
This Article Covers
RELATED TOPICS
Looking for something else?
The New York City Department of Sanitation's Bureau of Motor Equipment (BME) is so tired of backup jobs failing and wasting time trying to recover lost files, that it's increasingly relying on Microsoft's disk-based backup and recovery software, instead of its existing Symantec Corp. NetBackup (NBU) application, to recover data.

Download this free guide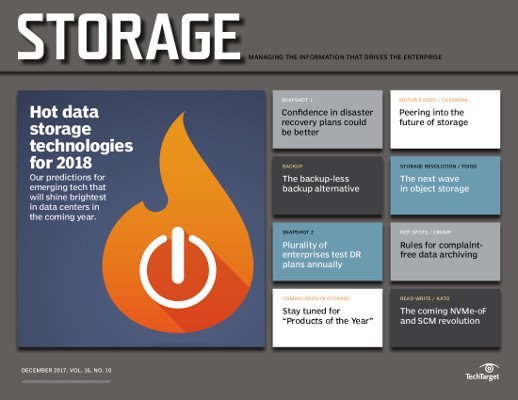 Snapshot of top 2018 backup tech: CDM, complaint-free archiving, ransomware detection vendors
The SearchStorage.com team names the most promising ransomware detection products, 4 rules for complaint-free archiving, how to use copy data management for effective recovery, and more. Download your e-zine copy here.

By submitting your personal information, you agree that TechTarget and its partners may contact you regarding relevant content, products and special offers.

You also agree that your personal information may be transferred and processed in the United States, and that you have read and agree to the Terms of Use and the Privacy Policy.

The 10-person IT staff at BME runs some 6,000 plus collection trucks, mechanical street sweepers, snowplows, salt spreaders and other vehicles that make up the department's fleet. "In a snow emergency, if a truck breaks down, the mayor doesn't want to know about it," said Marc Williams, supervisor of server operations at BME. "We just have to get a replacement out fast."

BME's key IT resources include: 51 Windows 2003 servers supporting 350 workstations, SQL Server, 2.5 terabytes (TB) of EMC Corp. Clarrion storage (sold by Dell Inc.) and Symantec NetBackup 5.0 (running maintenance pack one). In addition, for the past year BME has been using Microsoft's Data Protection Manager (DPM) for file recovery and now with the latest release, SQL Server recovery. [For the full story on DPM v.2, released in a public beta this week, click here.]

"We just need to be able to recover our data," said Henry Ferranti, network infrastructure specialist at BME. "You've got to be sworn into the elite force of backup to operate NetBackup." By contrast he said DPM has been easy to get to grips with and is working well. "We're not looking at NetBackup as a full solution anymore," he added. Right now BME is backing up 850 GB of file data.

Ferranti acknowledges that many of the problems BME has experienced with NetBackup, such as backup sessions timing out without any alert, are probably fixed in NBU v.6. "But we're afraid to move to 6.0," he said, having heard of some of the problems with it. [See this article for more details.]

Meanwhile, Microsoft has extended DPM to backup and recovery of SQL Server and Exchange, and has added support for disk-to-disk-to-tape. BME is hoping Microsoft will also add other media formats, such as DVD, to help them move off tape all together.

More and more the organization realizes it is relying on DPM and not NetBackup for data protection. "DPM is working day to day, which is making me not even look at NetBackup," Ferranti said. Recently, BME had a tape issue that was caught by DPM v.2 and not NetBackup. A faulty storage processor in one of its Clariion arrays was causing the tape unit to go on and offline. "Veritas didn't see that it was offline, but DPM could see that it wasn't working and informed us," according to Ferranti. BME had a Symantec engineer on site all day, but he apparently blamed Windows for the problem.

Jason Buffington, senior technical manager for DPM at Microsoft, noted that DPM v.2 is the company's first generation product to touch tape. And that might be where Microsoft has an advantage it's rarely used to. Without a giant legacy application to maintain, it can focus on the essential task of backup and recovery. "There's no need for all the bells and whistles you get with a lot of these legacy backup applications," Buffington said.

DPM is far from perfect, however. Performing continuous or near-continuous snapshots means users need to buy more disk storage and so far, there are no plans to support single instancing in DPM. There's also no policy-based recovery. For example, if a user needs to recover all files that the finance team has been working on in the last 24 hours, that's not possible yet. And perhaps the most significant limitation of DPM is that it does not support any other platform besides Windows.

Symantec did not return a request for comment on this story by press time.
Dig Deeper on Disk-based backup
PRO+
Content
Find more PRO+ content and other member only offers, here.