News
Stay informed about the latest enterprise technology news and product updates.
Data Domain pushes on with data deduplication
Since EMC gobbled up Avamar, Data Domain might look second best in the data deduplication market, but its users beg to differ.
This Article Covers
RELATED TOPICS
Looking for something else?
Data deduplication has become a red-hot technology this year, and the big companies are starting to take notice, striking deals or outright acquiring the startups who have piloted the technology. Diligent Technologies Inc. has an OEM deal with Hitachi Data Systems, and EMC Corp. announced a blockbuster acquisition of dedupe backup software maker Avamar Inc. in October for $165 million.

Download this free guide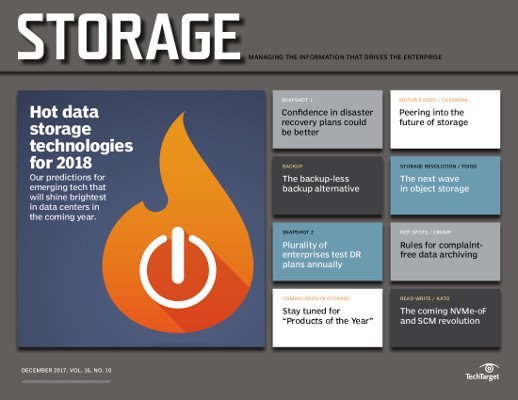 Snapshot of top 2018 backup tech: CDM, complaint-free archiving, ransomware detection vendors
The SearchStorage.com team names the most promising ransomware detection products, 4 rules for complaint-free archiving, how to use copy data management for effective recovery, and more. Download your e-zine copy here.

By submitting your personal information, you agree that TechTarget and its partners may contact you regarding relevant content, products and special offers.

You also agree that your personal information may be transferred and processed in the United States, and that you have read and agree to the Terms of Use and the Privacy Policy.

Of the successful data deduplication startups, Data Domain stands as the only company as yet without a major dance partner. Still, in the third quarter of this year, the company announced more than 200 new customers (though only 14 were referenced by name), and over the last few weeks, two of those users have spoken to SearchStorage.com about how they're using the company's disk-based backup and replication features to save big bucks on remote-office backup.

Replication still has some kinks

International law firm Troutman Sanders eliminated tape backup altogether for some 10 terabytes (TB) of production data when it implemented various Data Domain boxes at 11 sites including London; Hong Kong; New York; Richmond, Va.; Virginia Beach, Va.; Norfolk, Va.; Washington, D.C.; Tyson's Corner, Va., Raleigh, N.C.; and its headquarters in Atlanta. The company was also a beta tester for Data Domain's DDR series of boxes that have replication built in.

Troutman Sanders' IT manager John Thomas originally looked at a virtual tape library (VTL), Diligent's ProtecTier, as well as network attached storage (NAS) with built in replication from NetApp; but Data Domain's product was the only one that could do both data deduplication and replication, Thomas said. The company implemented DDR 410s, 430s and 460s at 10 of the sites, and deployed a DDR560 at its headquarters in Atlanta after beta testing the replication feature in February.

While he streams the backups to the central data center and says the embedded replication is working fine, Thomas said he has one quibble with the Data Domain replication feature: The lack of a central management console for all of his sites.

Still, Thomas said he is a believer in Data Domain's "Tape Sucks, Move On," marketing slogan. "I don't want to be dealing with tapes going bad, tape getting stuck in the changer, dealing with the rotation, ever-increasing capacity and media costs going through the roof," he said. "The big thing for us is being able to keep everything on disk."

Disk as disk gains popularity

Another enthusiastic new participant in the "tape sucks" movement is Thomas Weisel Venture Partners, a San Francisco-based investment bank (not invested or connected financially with Data Domain). And, according to its director of engineering services Kevin Fiore, that includes virtual tape as well.

Originally, Fiore said, when he decided to overhaul his backup infrastructure late last year, he went looking for a VTL, evaluating products from EMC, IBM and HP. But, by the time he was ready to purchase in the late first quarter of this year, he said, he'd been turned off the VTL approach to disk-based backup.

Part of the reason, according to Fiore, was the sheer size of the backups his firm produces -- some 80 TB per month, including between 8 and 9 TB per week at headquarters, with the balance made up of backups from offices in Boston, New York and Mumbai, India. That amount is stored on a DD460 at San Francisco headquarters, in 4 TB of physical space.

"If I'd gone with a VTL, I'd have been paying for [80 TB of] disk capacity," Fiore said.

In addition to man-hours saved (10 hours per week in each location), $25,000 per year in tape media purchases and $30,000 per year in offsite vaulting fees, Fiore said he saved around 35% of his initial backup software purchase with CommVault (the company replaced its backup software at the same time it replaced the tape hardware with Data Domain).

"If I'd gone with a VTL, I'd also have been paying for the privilege of writing to it," Fiore said. Overall, by eliminating the vast majority of his tape backups and the tape interface, Fiore said he expects to save an estimated $900,000 over the next three years.

CommVault actually licenses VTLs at a slightly lower cost-per-terabyte than disk-to-disk backup, but according to CommVault's director of Market Strategy Chris Van Wagoner, in an email to SearchStorage, "on VTL…there can be wasted capacity, ergo higher costs…if a user finishes a backup and the virtual tape isn't full…Costs for VTL may actually look greater, depending on whether or not they are …filling the virtual tapes to capacity." Still, unlike Thomas, for Fiore, tape is clinging on. The trickiest part of his implementation, according to Fiore, is when the company still has to do tape backups for compliance and archival purposes -- a process which takes more than 24 hours for the monthly write to tape in San Francisco. But, he added, the backup job is done from the Data Domain box using CommVault software, without ever going near his production servers.

"Since we only make tape backups once a month and aren't relying on them for everyday restores, we're not worried about a backup window," Fiore said.

Traction slower so far for latest Data Domain box

Neither of these large companies, however, is using or planing to use Data Domain's newest product, the DDX array. Although storage growth is continuing, and the product is new, the massive DDX box might as yet be just too big for its own good; both Thomas and Fiore said the box would be overkill for their needs.

"We have a lot of data we're backing up, but it's nothing compared to what that box would do," Fiore said.

The company has announced one DDX customer, Telecom Italia, which reportedly has more than 10 petabytes of data spread over multiple sites stored on the DDX arrays, but was not available for an interview.

At least one analyst isn't concerned about the fact that Data Domain has yet to snag a blockbuster OEM deal or be acquired by one of the big players.

"They have been rocking all by their lonesome," said Steve Duplessie, founder and analyst with the Enterprise Strategy Group. "They were really the first with serious [data deduplication] technology on a device and as such got a pretty huge footprint in the market. I'm sure they would love a giant to grab them but seem more than happy to keep going it alone if necessary."
Dig Deeper on Disk-based backup
PRO+
Content
Find more PRO+ content and other member only offers, here.